20 Quick and Easy Trunk or Treat Ideas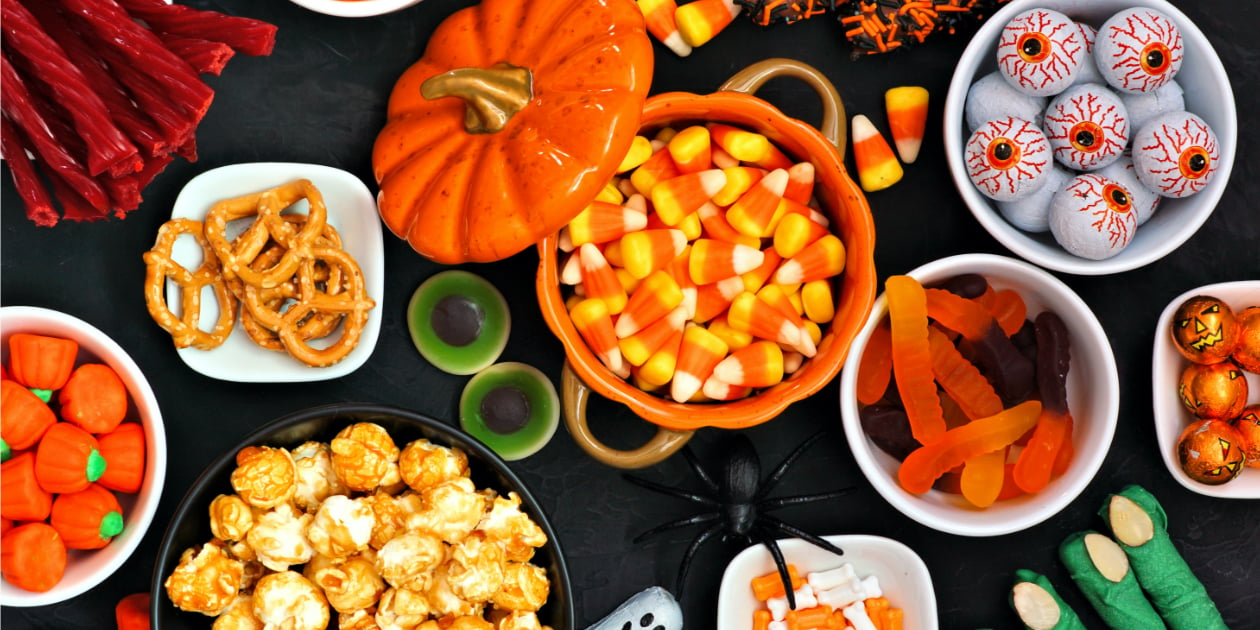 Halloween is a favorite holiday for both kids and parents, but all the planning can be a little scary. With trunk or treat get-togethers growing in popularity, try one of these quick and easy ideas you can pull together at the last minute.
Celebrate the Outdoors
Camping - Set up your tent and some lawn chairs around a makeshift campfire (check to make sure your venue allows this) and make some smores while you pass out the treats. A Hershey bar would go well with this theme! Don't forget to tell a few good ghost stories.
Day at the Beach - Throw on your swimsuits (or tropical shirts) and shades, grab beach chairs and towels and a fun float and make everyone feel like the surf's up. 
Under the Sea - Fill your trunk with blue balloons and enlist the kids to make some colorful fish out of construction paper.   
Gone Fishing - Grab your fishing rod and tackle box and make sure to dress the part. (Bonus points if you can find Swedish fish candies to give away.)
Ahoy Matey - Find a favorite stuffed animal and put a patch over one eye to turn it into a lovable pirate. Design a treasure map with an "X" for kids to follow and discover a treasure chest full of candy.
Organize a scary fun trunk or treat event with an online sign up. View an Example
Non-Spooky Fun
Slumber Party - Fill the trunk with pillows and sleeping bags and make sure to wear your favorite pj's when you pass out the candy.
Let's Dance - Dig out old costumes from the kids' dance recitals – especially a tutu and ballet shoes and hang them around the trunk. Ask the kids for help creating a playlist and get the dance party started!
Take Me Out to the Ball Game - This may be the one time it's helpful to have all the sports equipment you own in the trunk of your car. Dress as a referee and you're all set. Bonus points if you have a mini basketball hoop or goal you can set up next to the car.
Superheroes - From Superman to Spiderman, Captain America and Wonder Woman, just about every kid has one of these costumes in their closet. Cut out a handful of big shiny stars and words like "Pow!" and "Bam!" and add some red, yellow and blue balloons to give your trunk extra superpowers.
It's a Zoo - Collect all the stuffed animals and turn your trunk into a mini zoo. Use an old baby gate to make a cage.
Consider Other Holidays
Patriotic - Celebrate two holidays in one with a nod to the Fourth of July. Grab some red, white and blue streamers and balloons and strategically place a few flags around your car. Make sure to coordinate your outfits with the theme as well. Bonus points if you have an Uncle Sam hat or Lady Liberty crown to add to the mix.
Ghosts and Goblins - White sheets will go a long way to bringing this to life. You can also find balloons in the shape of ghosts at most party stores to fly above the trunk. Grab a few battery-powered jack-o-lanterns to complete the mood.
Graveyard - Turn your trunk into a spooky graveyard with some fake headstones (easy to pick up at the party store or find online). If you're feeling crafty, you can also use giant construction paper or poster board to cut out headstones and customize the sayings.
Christmas in October - Raid your attic for all the Christmas decorations and decorate your trunk as if Santa Claus was already on his way to town.
Winter Wonderland - Ask the kids to cut out as many snowflakes as possible then fill the trunk with them. Add some silver tinsel for an icy look.
Simplify planning for your fall festival with an online sign up. View an Example
Kid-Favorite Themes
Hats Off - From cowboy hats to baseball caps, beach hats and more. Collect them all and fill the trunk.
It's a Small World - Take kids on a trip to Disney with Mickey, Minnie and other favorite characters.
Dollywood - Gather up as many dolls as you can find (an actual dollhouse is great if you have one!) and artfully arrange them in the trunk.
The Princess Diaries - It seems like almost every little girl wants to dress as a princess at some point. Collect as many princess dresses as you can to display and make sure to include a crown or two for princes.
A quick survey of your house and a little imagination can go a long way in creating a festive trunk for giving away the treats. Have fun!
Michelle Boudin is an investigative reporter for WCNC TV and a freelance writer.