50 Easter Brunch Ideas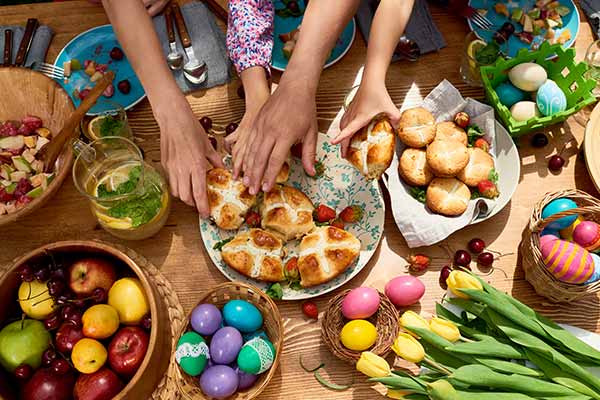 Sharing brunch with family and friends is the perfect way to celebrate Easter and create new traditions. We've gathered some fresh and fun ideas to help get you started.
Party Prep: Just Hop to It
Understand Your Timing - Make sure you're aware of all your guests' early morning plans, which may vary greatly by family. Have realistic expectations of your guests' Easter bunny time and the varying length of any church services. Pick a time that doesn't leave everyone either rushed or starving.
Prepare a Plan B - Remembering the unpredictability of spring showers, be sure that your have enough indoor activities and crafting options available if activities have to quickly shift inside.
Plan Low-stress Food Items - Instead of individual omelets, offer egg casserole or a quiche — or whatever allows you to spend more time with your guests than over the stove on Easter morning.
Have Small Appetizers Ready - Remember that the Easter morning rush may mean some of your guests will arrive on empty stomachs and a candy sugar rush, so be sure a protein-rich snack is quickly available. Grandma's famous deviled eggs can be a great way to hold them over to the main meal.
Let Your Guests Participate - Ask your guests to pitch in and bring items to give everyone a part in Easter brunch. Genius Tip: Create a sign up that lets guests pick their favorite dish to share.
The Food: Plan an Eggs-cellent Easter Menu
Eggsactly - Offer a variety of easy-to-prepare egg combinations that can be put together the night before and only require oven time to complete. Some favorite ideas: quiches, tarts and sausage breakfast combo casseroles.
Sweet Rolls - Just the smell alone of cinnamon rolls is enough to entice your guests to the table. The great thing about these sweet treats? You can take the time to make them from scratch or pop frozen ones into the oven.
Carrot Cake Muffins - For something with a spring flair — but not quite as sweet as carrot cake cupcakes — try your favorite recipe as a muffin.
Fruit Fun - Platters of fresh fruit provide an excellent break to the processed sugar of Easter morning. Consider arranging your fruit variety into different Easter shapes on a platter — bunnies, chicks, Easter eggs — for extra fun.
Hash Brown Casserole - What brunch would be complete without some sort of potatoes with a cheesy topping and decadent deliciousness? This simple recipe is low maintenance since you can make ahead the night before.
Smoothie Sensations - Make these ahead of time and then pour them into small plastic cups the morning of. It will make a refreshing treat.
Waffle or Pancake Bar - Provide a variety of yummy toppings such as flavored syrups, whipped cream, fresh berries and nuts. If you've got a waffle maker, you can make this serve-yourself to lessen stress.
---
Coordinate Easter brunch potluck items and guest RSVPs with a sign up. SAMPLE
---
French Toast Casserole - This French Toast creation is another favorite brunch item that is simple to make ahead of time. Like the waffle and pancake bar, you can include toppings so guests can customize their flavors.
Ham it Up - Warm some thick country ham slices for a hearty Easter brunch favorite. This goes perfectly with that hashbrown casserole from above.
Cheesy Grits - For a Southern-feeling affair, go for the stone ground kind (not the quick-time ones in a box). Serve with over medium eggs on top.
Rainbow Carrots - For a bright and nutritious side, consider the taste and presentational beauty of colored carrots. The bright yellow, purple and red varieties are delicious when honey glazed, herb roasted or sautéed in maple syrup.
Cocktails or Mocktails - Mimosas may be the traditional go-to, but there are so many other options using refreshing combos of juices and mixers. Some ideas to wet the whistle: raspberry-lemonade punch, pink grapefruit and limeade spritzers or apple cider sparklers.
Lettuce Bites - You'll want something green at your meal. In honor of the big bunny, make lettuce cups that are filled with springtime favorites such as strawberries, feta cheese and more.
Tater Tot Casserole - Remember what we said about cheese and potatoes? Make this classic casserole ahead — and sprinkle bacon bits on top.
Buttermilk Biscuits - Whip up these from scratch or cheat and buy them frozen. Really impress your guests with flavored butter — add some honey for a sweet twist — and jams.
Granola and Yogurt - For a lighter brunch, offer fresh granola, plain yogurt and a variety of fruits that guests can mix in to customize the flavor.
Peas with Mint - It doesn't get more spring-like than fresh peas. Visit the farmer's market the day before Easter and grab fresh peas that you can shell. Cook with olive oil and onion and sprinkle shredded mint leaves on top.
Biscuits and Gravy - Pair your favorite biscuits with a creamy sausage-based gravy that will have guests reaching for seconds. You can make the gravy the day before and reheat the morning of for simplicity.
Pimiento Cheese Sandwiches - A golf course favorite, these bite-size or full-size cheese sandwiches make a great appetizer. They also go well for a more casual brunch where guests are mingling while they eat.
Breakfast Sliders - Not just for burgers, make a smaller breakfast sandwich with bacon, sausage, ham, cheese and eggs as potential fillers.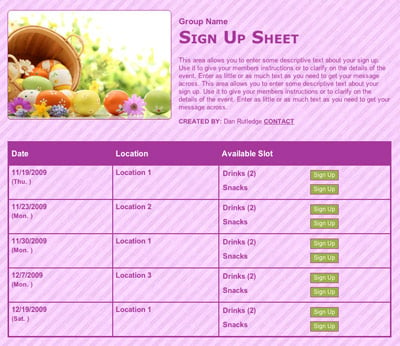 Decorations: Spring into Action
Flower Power - This is the time of year to take advantage of the beautiful difference a few colorful flowers can make, whether they're bright tulips, daisies or fresh wildflowers from the yard. Look around your home for containers and vases of all shapes and sizes to create a welcoming atmosphere.
Use Mini Flowerpots for Candy - After painting mini pots in a variety of soft pastels, fill them with chocolate foil-wrapped eggs or jellybeans, perfect for snacking and decorating.
Easter Egg Trees - There's a centuries-old tradition in Germany involving hanging decorated eggs on tree branches in preparation for Easter morning. Today, many continue this tradition around the world hanging decorated eggs indoors on small real or artificial tree branches.
Easter Piñata - Either buy or make your own piñata for the occasion. It is a great activity for your young and young-at-heart guests, as well as a festive decoration.
---
Organize volunteers for a church Easter brunch with a sign up. SAMPLE
---
Prepare Take-home Treats - These can also serve as decorations. For instance, colorful jellybeans in a variety of glass or plastic containers are always a favorite. Consider decorating mason jars with colorful ribbons and layering jellybeans in color-based patterns.
Use New or Repurposed Baskets - There is no shortage of baskets to be found in spring, and even old baskets with newly woven ribbons work beautifully. Fill with dyed eggs, candy or flowers and place them in all sorts of places around the house.
Try a Garden Theme - Bright flowers in a leafy head of lettuce (use varieties with shorter leaves and frilly edges) with a few carrot tops sticking make adorable centerpieces.
Craft Perfect Place Settings - Tying a fresh flower (tulips are especially nice) to a napkin with a festive ribbon is one simple way to brighten an Easter table.
Yummy Napkin Rings - Using a thick gauge wire, string jellybeans to create a fun napkin ring. Just twist the ends of the wire for the right fit around a cloth napkin and cut off the ends.
Edible Place Card Holders - Marshmallow chicks can make finding your seat at the Easter table delicious. Simply slice small slits on their tops and insert a name card.
Easter Crafting: Fun for Every Bunny
Decorate Baskets - Before the big hunt begins, provide opportunities for kids to decorate and personalize their baskets, bags, pails or whatever other creative containers you can find. Do this outside if your materials are messy or set up an area that's contained and ready for little hands.
Create an Easter Egg Decorating Station - Kids of all ages look forward to this fun activity every year and there are so many ways to make it new. Try creative designs using string, stickers and electrical tape to wrap the eggs before dipping, then be amazed at your stunning designs.
Make Bunny Ears - Get into the Easter spirit with a handmade set of bunny ears made of inexpensive plastic headbands (check the dollar store), floral wire or pipe cleaners and some felt.
Create Butterfly Adornments - Great for flower centerpieces, decorative egg trees, place settings and more, design your own cheery spring butterflies. Fold two colorful paper baking cups in half twice for the wings, then attach a painted clothespin in the center for the body (this also provides an easy way attach to decorations).
Display an Egghead Family - It's a great craft and decoration, too. Make replicas of your family using dyed hardboiled eggs, construction paper cutouts (make bowties, hair bows, ties, glasses and other distinguishing items for each family member), markers and googly eyes.
Easter Activities: Egg Hunts and Beyond
Scavenger Egg Hunt - Looking for a way to make the fun last a little longer? Insert paper strips with clues into plastic eggs directing hunters to their next spots. Let the last clue lead to a bigger prize, such as a large chocolate bunny, book or game.
Color-coded Hunt - Color-coded hunts are especially helpful for groups of children in different age ranges. Assigning each child a specific color of eggs gives younger kids a better chance — and gives older children opportunities to find eggs in more difficult hiding spots.
Easter Egg Puzzles - For a new twist, have kids hunt for plastic eggs each filled with a puzzle piece, then work together to build the puzzle. With a large enough group, play in teams to see who can complete their puzzle first.
Glow-in-the-Dark Eggs - Host a nighttime hunt for older kids by placing glow sticks or bracelets inside plastic eggs.
---
Recruit volunteers for a neighborhood Easter egg hunt with a sign up. SAMPLE
---
Easter Egg Rolling Race - It's been an annual tradition at the White House since 1878. Each player begins with a hardboiled egg at the starting line and then uses a wooden spoon to roll the egg down a lane trying to be the first to cross the finish line.
Bunny Relay Races - Use burlap potato sacks or pillowcases and watch guests of all ages hop to the finish line.
Easter Egg Toss - Teams of two throw the eggs back and forth, stepping farther back after each successful throw. Raw eggs are always fun (outside), but plastic eggs filled with wrapped candy make a great alternative.
Jelly Bean Balance Relay - Divide players into two teams. Each team gets a spoon, an empty basket and another basket filled with jellybeans. Players must balance as many jelly beans as possible on their spoon and race back to the next teammate depositing the jelly beans in the empty basket and passing off the spoon to the next player. If any jellybeans are dropped on the way over, they must begin again. The fastest team with the most jellybeans wins.
Unscramble the Eggs - Especially fun for younger guests, have kids work in pairs to see who can correct all the color mismatched plastic eggs the fastest.
Blindfolded Taste Test - Blindfolded, players must identify different flavors or types of Easter candy. Players score a point for each correct guess and the chance to win Easter candy, of course. This game can easily be played with gourmet-flavored jellybeans alone.
Your guests will be happy they hopped by when you put these ideas into practice. Let the cooking begin!
Laura Jackson is a freelance writer based in Hilton Head, S.C., with her husband and two teenagers.