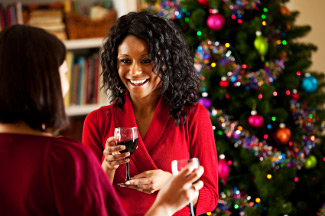 The holiday season is a time to reconnect with those who mean the most to you... those you may have lost touch with, but who have never lost a place in your heart. Make it a truly festive time by planning ahead and gathering your family and friends for a magnificent Christmas party!
Like most people, you might be a bit last-minute rushed, which is part of the fun of the season, but it is really worth getting ahead and staying organized by doing as much as possible ahead of time. With a little preparation, you can develop a plan that allows you to truly enjoy the spirit of the season.
Make a List and Check it Twice
The ultimate lifesaver of every party planner is a party planning journal. Designate a notebook just for your parties. Throughout the year jot down ideas, cut out pictures, paste in recipes, etc. Use it as a planner to fine tune details like the date, guest list, table style, menu, music and favors. Use it to define what celebrations and traditions make the holidays special for your family.
Savor the Season
With lots of delicious options you can stage a wine-and-cheese party, serve a multicourse Christmas dinner, host a New Year's feast, present a beautiful buffet, bake up a dessert bonanza or invite your guest to a fantastic cookie exchange.
Holiday Trimmings
One way to organize the perfect Holiday party is to make it a potluck affair. Since you'll be having your close family and friends over, why not ask them each to bring a different dish? You can take care of the main dish, but appetizers, side dishes and desserts can easily be prepared and bought by your guests. Even the tightest budgets are no bar to entertaining this holiday season.
---
SignUpGenius can help plan your family gathering, school party, cookie exchange or office potluck.
Learn More
.
---
May Your Season Be Bright
Take this time to check china, tableware, and other supplies to make your home guest ready and gorgeous. Plan your indoor and outdoor holiday decorations. Whether you incorporate handmade items as part of your decor, celebrations, or gift giving, adding a personal touch to Christmas makes the holiday season even more special. Find easy and inspirational ways to help beautify and personalize your holiday season.
Nostalgic Delights
Don't worry about perfection. Remember, the best thing about a holiday gathering is re-connecting with family and friends and creating memories that last a lifetime.
Though it's been said many times, many ways....Merry Christmas to you!