20 Christmas Party Themes and Ideas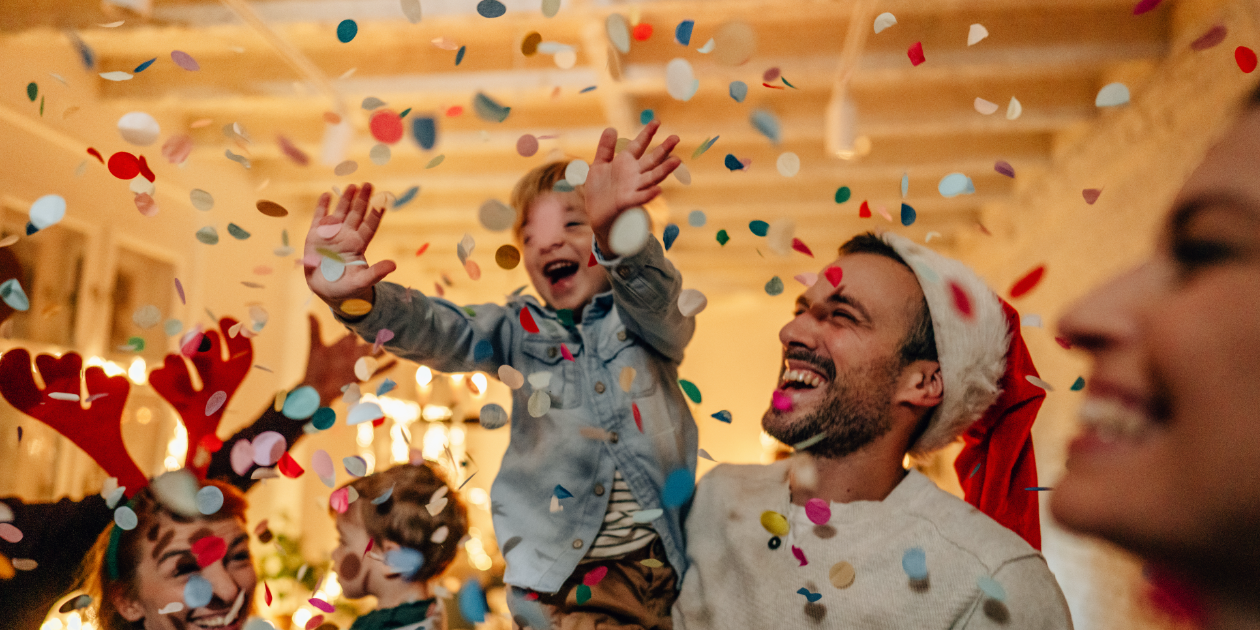 'Tis the season…for Christmas parties! Who doesn't love an ugly Christmas sweater party or that swanky annual Christmas Eve black-tie bash?! But, even if everyone loves the old standbys, you might be looking to start a new tradition or mix up your party theme this year to make the season extra special.
If you're looking for a new Christmas party idea for a soiree everyone will remember, look no further. Here are 20 Christmas party themes and ideas to inspire your planning!
Family Friendly Christmas Party Ideas
Gingerbread House Decorating Party - This festive party idea will make memories for many years to come. To bring this idea to life, buy a variety of gingerbread house kits and pair guests up into groups of 2-4. Separate groups in different areas, so you can't spy on each other. Set the timer and let the teams make their grand creations. Let a panel of judges decide the winners. Prizes are optional; laughs are guaranteed.
Toy Shopping Party - This party celebrates the giving spirit of the holiday season. Collect tags from a local angel tree or get a list of wishes from a local family shelter or foster care network. Then, give everyone a child to shop for and hit the store! Holiday attire is encouraged. After shopping, make hot cocoa and wrap the gifts with lots of love.
Mini Tree Decorating Party - Pick up a bunch of mini trees, real or fake, and all the trimmings: mini ornaments, ribbons, garland and more, for a decorating party where everyone leaves with their own creation. Set the ambiance with Christmas music and lots of treats and give everyone a chance to show off their tree.
Family Recipe Showdown - It's time to finally put those family recipes head-to-head in a holiday cook off. Have every family or person bring that one family dish that they swear is the absolute best. Put them all out and spend the evening tasting recipes and writing down your favorites. You can designate categories for best appetizer, entrée, dessert and an overall winner. A blind vote decides the winners who get to take home a special holiday plate, Christmas dish towels, or another kitchen favorite as their prize.
Christmas Cookie Decorating - Take Christmas baking to the next level with a massive table of cookies, frostings, and toppings for your guests to craft their own perfect treat. If you want to add an element of friendly competition, everyone can vote on their favorite cookies. Have to-go boxes ready for each family to take their creations home.
Plan a festive Christmas cookie exchange with an online sign up. View an Example
Wreath Making Party - The new popular party idea is the wreath-making party. Who doesn't love a beautifully decorated wreath? Plus, they are even better when you can make them exactly how you want. Guests can watch YouTube videos to learn how to attach decorations or you can watch them yourself in advance and do a quick tutorial. Have everyone bring a wreath and provide the decorations or switch it and have everyone bring some decorations to share and have the wreaths ready to go.
Holiday Talent Show - One of the easiest, but most fun, party ideas ever is the talent show. Give everyone plenty of time to prepare their talent act and be sure to ask in advance if they need anything special to showcase their skills. Then, after everyone has arrived and enjoyed some snacks and drinks, it's time for the show to begin! You can award prizes for categories like most enthusiastic, most original and the Buddy the Elf Christmas spirit award.
Christmas Costume Party - Costumes aren't only for Halloween. Celebrate with a Christmas and holiday-themed costume party where everyone comes dressed up as a festive character. Take pictures in a photo booth area with props and create a hashtag for guests to use on social media. If you have a Polaroid-type camera, you can immediately clip photos on to string lights for a special touch.
Holiday Karaoke Party - Give guests the chance to show off their talents to the best karaoke soundtracks from Mariah Carey, Michael Bublé, and all your holiday favorites. Set up the stage and microphone area, provide plenty of refreshments and let people have some fun!
Christmas Movie Marathon - Plan a marathon to watch a few favorite holiday movies. Try classics like A Christmas Story and more recent hits like Elf and Christmas Chronicles. Ask guests to come dressed in comfy clothes and serve movie snacks like popcorn, cookies, hot cocoa and more. Prep a movie bingo game with things from the movies you're showing and have some fun prizes for guests who can mark all the squares.
Coordinate a holiday toy drive with an online sign up. View an Example
Adult Christmas Party Ideas
Christmas Candle Making Party - Candle making is surprisingly easy if you have the right tools and supplies. Stop by your local craft shop to find bulk wax, wicks, jars and other candle-making necessities. Paired with holiday fragrances and beautiful details like mini pinecones, mini candy canes, and more, you'll have everything needed to create incredible scented holiday candles that your guests will be thrilled to take home.
Christmas Fondue Party - Fondue is such an engaging way to enjoy a meal and is a natural conversation starter at a party. Create a holiday fondue experience with prepped foods for dipping and a series of delicious sauces. Cheese sauces work especially well with vegetables, bread cubes and more, while chocolate sauces are perfect for a delicious dessert fondue table.
Christmas Murder Mystery - A murder mystery party is so much fun, but it does require some planning in advance. Buy a holiday-themed murder mystery party kit online and be sure to give the character details to guests so they have enough time to get costumes and practice their role. Then, get ready for a night of holiday fun and thrills everyone will remember.

Sample Sign Up

Holiday Gift-Wrapping Party - Calling all parents! You have to wrap those presents, so why not make it an event? Have everyone bring some wrapping paper and bows to share, along with a bag of gifts they need to wrap. Everyone can share supplies, wrap gifts, eat snacks, enjoy some Christmas music, and make this necessary chore a festive night together.
Christmas Candy Making - Do you have delicious candy recipes that everyone loves? Why not get all the ingredients and set up a fun party for friends to bond over coffee, toffee, truffles and fudge? Laminate recipes so they are easy to clean and have stations arranged for friends to group up and whip up their desserts. Make sure to enjoy some of the treats before the party ends!
Christmas Pampering Party - There are a million ways to spend an evening together while you relax. After all, the holiday season is exhausting. Why not plan time together to enjoy some much-needed self-care? Come up with a menu of pampering ideas for your group and set it up or make mani-pedi or massage appointments for everyone to enjoy together.
Holiday Happy Hour - Keep it short, simple and swanky with a holiday happy hour full of delicious seasonal drinks. Hire someone to come and serve or set up stations for guests to mix and shake the creations themselves. The result? A much-needed and holly jolly break from the hustle and bustle.
Invite your team to the company holiday party with an online sign up. View an Example
Work Christmas Party Ideas
Holiday Tasting Event - Choose a food that most of the team enjoys and hire a catering company to do a special tasting event. Does your staff love beer, wine or coffee? A special flight of their favorite beverage, plus a menu of matched snacks, is sure to be a hit without costing an arm and a leg. Keep the event short, think around 2 hours, and employees will still be feeling merry when the event is over.
Charity Gift Exchange - Though it's fun to have a white elephant gift exchange, nobody needs another hilarious coffee mug that will gather dust in their cabinet. Why not bring a little heart to your gift exchange and have each person draw a coworker's name. Then, ask each person to donate $20 or a set amount to a cause that they care about in honor of the coworker they drew. Print out a short description of the cause, along with the donation, and put it in an envelope. At the Christmas party, give out the envelopes so everyone can see the charities that were honored.
Christmas Giving Party - Another great way to spend time together is by helping others during the holiday season. Set up a time when your team can go and volunteer together for a good cause, such as serving at a soup kitchen, packaging blankets and supplies for the homeless, or wrapping gifts for foster children. This will make the time feel meaningful and bring people together in a way that a typical party never could. Alternatively, you could set up an Amazing Christmas Race activity where different groups go and volunteer different places before coming together for a nice meal to share their experiences.
When it comes to planning your holiday party, think beyond the classics for an opportunity to create something fresh, give back and make memories together. Having time to celebrate with family, friends and colleagues is something we can all be grateful for during the holiday season.
Erica Jabali is a freelance writer and blogs over at ispyfabulous.com