Christmas Holiday Open House Checklist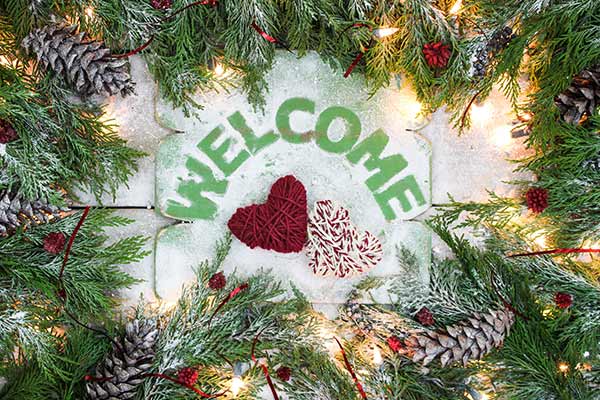 'Tis the night before your holiday open house: Are you trembling with stress or dancing beneath the mistletoe? You can stay jolly at your holiday open house by using this easy-to-follow checklist for a gathering that will be merry and bright. 
One Month Before 
Send Invitations - Be sure to clarify an ending time so guests don't arrive after all the action is over, and communicate if children are invited. Genius Tip: Three hours is generally a good time frame for a party. If you will have a special event at a certain time, include that as well (e.g., a visit from Santa or caroling with the kids).
Set a Party Budget - What food/drink/decor/services would you like to splurge on and where can you save? Create a high-low budget. Consider where you can DIY and where renting (e.g., stemware or linens) or paying for professional help (e.g., floral arrangements, dessert, musicians or professional bartender) might best meet your entertaining goals.
Plan a Stress-free Menu - Depending on your culinary skills, decide if a cookie buffet and hot chocolate will be fun or if you'd like to do something more sophisticated. You can never go wrong with finger foods — they save you the need for utensils! And don't serve any beverages you don't want spilled on your carpet. A word from the wise.
Reserve Any Rental Items - If seating is an issue, consider renting extra folding chairs and small tables for guests. If you will have a large crowd, tumblers are great for both water and wine!
Book Professional Services - This is the time to hire anyone you have in your high-low budget. Along with professional help, don't be afraid to ask some of your closest friends and family who are going to attend to help with an area they enjoy like baking, serving or staying around after for cleanup and conversation! 
Organize and Plan Decorations - Get your tubs out of the garage and attic and see if you are satisfied with your holiday decor. Make a binder of ideas or online visual list — or both! Purchase anything that might take a few weeks to ship.
Order the Greenery - Depending on your budget, consider ordering some fresh greenery from a local nursery (or from a charity selling greenery as a holiday fundraiser) to help decorate the mantle, stairway or entrance.
---
Send themed open house invitations with a sign up. SAMPLE
---
Three Weeks Before 
Bake Items That Can Be Frozen - Cookies (either baked or the dough), breads, large trays of potatoes (if you will be doing heavier food) and casseroles can be done ahead of time.
Complete a First Round of Decorating - The wonderful thing about the holidays is that many of the decorations take care of themselves — like the lighted tree and holiday tchotchkes from Christmases past. Plan a day of decorating and it will help you get excited for the fun to come!
Clean Serving Dishes and Linens - Doing this ahead of time gives you some leeway if there are surprise stains that call for extra treatment or serving pieces you need to replace or borrow.
Make a Master Shopping List - Determine everything you will need — from non-perishables to fresh food to decorations — and note the best times and stores to buy each item from. This will make your shopping trips more time- and cost-efficient!
Shop for Nonperishables - This is a good time to grab paper products, crackers, nuts and coffee. Be sure to use the online formulas for how much food and drink you will need per person if you are nervous about having enough.
Plan Games/Activities for Children - Keep the kids at your party busy by planning fun party games ahead of time, and shop for any supplies you'll need. Genius Tip: Check out these 25 Christmas party games for kids.
Finalize Your Party Outfit - Pull together your favorite holiday outfit or go shopping for some new trends. Getting your ensemble together before the party craziness begins will help ensure that you feel confident and put together.
Order Any Party Favors - Giving mini gifts to your open house guests? Complete any orders in advance, with extra buffer time in case delivery is backed up over the holidays.
One Week Before 
Deep Clean Your Bathroom - Time to knock out the important task of getting your guest bathroom squeaky clean for everyone to use! You can also add candles or a scented air freshener to keep it smelling pleasantly festive.
Send a Message to Guests with Any Updates - Send a custom reminder or text message to your guests to remind them of the location and time, along with any updates they need to know about parking, what to bring, etc.
Make/Buy Props for a Photo Wall - A photo wall practically guarantees a memorable party. Gather fun props — from Santa hats to quote signs to silly scarves — along with a festive background (use wrapping paper!) to set up in an open space.
Buy Frozen Items - Stock up on frozen meats, veggies and anything else from your list that you'll need to thaw before the day of the open house.
Clear Fridge for Party Food - Time to eat all those leftovers and throw out anything old/expired! You'll need plenty of space for delicious party food.
Buy Your Beverages - Scout out deals in local stores if you will be serving alcohol, and get your tubs for chilling wine, bottle openers and barware squared away. Ask if friends have decorative ice buckets and borrow anything (like tumblers or stemware) you won't use the rest of the year.
Confirm Any Professional Help - With this busy time of year, it never hurts to make sure they have you on their to-do list!
Coordinate a Holiday Playlist - Get ready to jingle bell rock by planning a merry background music playlist. There are also already-curated holiday party playlists on streaming sites like Spotify and Apple Music.
Buy Materials for Any Crafts/Games - Prepare for those fun holiday games and crafts by getting any materials you'll need ahead of time. Plan based on how many families have RSVP'd that they will bring children.
---
Throwing a family potluck is simple with a sign up. SAMPLE
---
Two Days Before 
Complete a Second Round of Decorating - This is when you decorate with your open house specifically in mind, putting up your fresh greenery and buying and/or arranging fresh flowers. Set out candles and see if you need to run and buy any replacement votives or tapers.
Set Up Extra Furniture - Time to get out extra folding tables, put linens on, gather up every chair in the house and rearrange any furniture for smooth traffic flow and gathering areas. If you will have a special craft or cookie-decorating area for the kids (consider buying undecorated cookies to save time), figure out where you don't mind having a bit of a mess.
Remind and Thank Helpers - Gently remind those you've recruited to help of what time they need to be there and how they can help. Delegate these jobs for the day of the party: coat and purse management, keeping food stocked/beverages filled, picking up dishes and managing flat surfaces, keeping the music playing and taking out trash.
Do Your Cooking/Thawing - Finish your shopping and cooking that will keep in the fridge or in sealable containers. Thaw frozen cookie dough and transfer frozen meats to thaw in the fridge.
The Day Before 
Stock the Necessities - Make sure there are easy-to-find extra boxes of Kleenex and/or napkins placed around your main areas, refills for votive candles, a handy lighter and a cooler with extra ice. Keep a stack of old towels hidden in a nearby closet for any spills.
Round Up Household Trash Cans - Place trash cans strategically throughout your party area or consider borrowing or buying a large indoor trash can with a lid — one 13-gallon kitchen can just won't handle it all!
Complete Light Cleaning of Common Areas - Take one last spin through the bathrooms — change the hand towels and wipe flat surfaces one last time. Then tape off the guest bath and threaten all those who dare use it!
Set Up a Drop Zone for Coats/Bags - Designate a closet or small room for everyone to place their coats and bags as soon as they walk in. If you have a rolling portable hanging rack, empty it and place it in the coat zone with enough hangers for everyone to use.
Cook Fresh Items That Can Be Reheated the Next Day - Cook fresh dishes in Pyrex or glass Tupperware, seal them and put them in the fridge, ready for their debut.
Prep Any Fruits/Vegetables - Slice and sauté veggies, rinse and arrange fruits, and they'll be ready for you to whip them out at a moment's notice the next day.
---
Coordinate a Secret Santa gift exchange with a sign up. SAMPLE
---
The Day of the Open House 
Tidy Any Common Areas - Break out the duster and vacuum to finalize your beautiful home, and make sure every common space is ready for your guests.
Cook Items That Must Be Fresh Day of - Baking fresh rolls or desserts? Get them in the oven the day of your open house so they'll be piping hot in time for the party.
Arrange Drinks Station - Set up freshly mixed or steeped drinks — along with ice, if needed — next to glasses or cups. Get your coffee brewing and/or wine chilling early so it's ready when guests arrive and you can say, "Can I get you something to drink?" and really mean it!
Set Out Food/Serving Utensils - Put a few goodies on trays, and don't be afraid to mingle with a tray of goodies in hand — an easy way to start conversation and share a treat at the same time!
Turn on All the Lights + Background Music - And keep lights off where you don't want guests! Light candles, turn on your soothing background music and be prepared for a few early arrivals.
Get Dressed and Greet Guests - If possible, wait until all your prep is complete before putting on your holiday outfit — it's best to avoid any unfortunate spills, and it gives you a moment to breathe before you greet guests!
A holiday open house is an easy way to entertain a multitude of friends and family all in one happy event. One final checklist item — make a record of what worked and what didn't (what didn't get eaten, how the drink supply held out), and you will thank yourself later!  
Julie David lives in Charlotte, N.C., with her husband and three daughters.