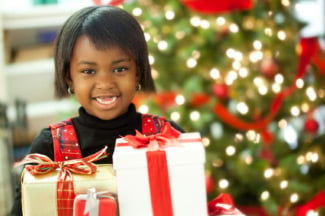 It can feel burdensome searching for the right gifts for everyone on your list. When it comes to getting gifts for your kids to give to teachers, loved ones, and friends, it may seem easier to go ahead and buy those gifts yourself. Yet, instead of giving an impersonal gift that is less than meaningful, why not consider gifts that your child can help make or pick out? Here are some great budget-friendly gift ideas for even the littlest holiday gift-giver.
 
ARTSY/CRAFTY:
Ornaments. Try your hand at making ornaments! Even the most simple DIY projects can turn into pieces of art that loved ones will treasure.
Picture Frame. By an inexpensive frame and decorate with buttons, glitter, paint, etc. Each frame will be a different masterpiece. Once the child is done decorating, have them select the perfect photo to slide in and voila! Personal, practical and unique!
Drawing of child and loved one together. There is something endearing about hand-drawn art. Regardless of skill level, have your child draw a picture of Daddy and she together. You'll likely see it framed in his office by the first of the New Year.
Handprint Art. Little ones especially love to get dirty, so why not give the opportunity to do so in a controlled environment? Cover hands with paint and get to it. The best part? Seeing how much those little handprints grow year after year.
Scrapbook. Create pages out of construction paper and tie together with ribbon. Use photos, quotes and stickers to create a meaningful and handmade gift for someone special.

SWEET TREATS:
Gift in a jar. Use mason jars to gift a yummy little treat. Gather dry ingredients for something sweet, such as hot chocolate. Layer up the cocoa, chocolate chips, and marshmallows into the jar. Cover the top with fabric or paper and tie with ribbon. A perfect serving of goodness.
Cookies. Bake something fabulous and put it in a pretty tin, plate or box that can be reused. Not only will your child's teacher love the sweets, but he will have something useful to hang onto once the treats are long gone.
---
Plan a cookie exchange or gift exchange party easily with

SignUpGenius.
---
"Forbidden" Treats.
Every once in awhile it's fun to indulge. Why not give a friend or relative the A-Okay by buying something she would love that she would never buy for herself. Know someone who has a secret hankering for Lucky Charms? Your child will LOVE wrapping up cereal and giving them this gift. It can feel so good to be "bad."
Comfort basket. Fill up a cold weather survival basket with warm and cozy items like hand-knit mittens or a scarf, a mug with a box of tea bags, and of course something sweet – homemade banana bread, cookies, or candies.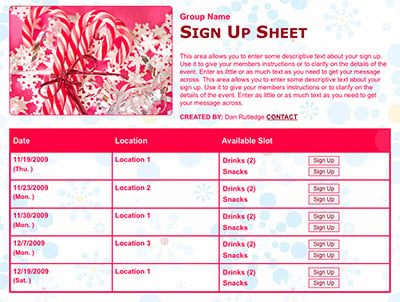 UNIQUE & MEMORABLE:
Coupon book.
Use thick cardstock for the cover and cut plain paper to insert inside for an easy-to-make and easy-to-use coupon book! Fill your homemade coupon book with ideas that would appeal to your loved one such as "Breakfast in bed," "Clean the dishes," "Helper for the day," and especially for Mom -- "One hour of uninterrupted quiet time". (This may be the best coupon ever given.)
Flowers. Oh, ok, in and of itself the idea of giving flowers is not exactly unique. But why not encourage your child to handpick individual flowers and make a bouquet herself?
Grandma Rocks. It's a new spin on a pet rock, and kids will love the process. Collect, clean, paint and embellish rocks with glitter, sequins, ribbon or colored tissue paper. They can be used as paperweights or just simply décor. Make sure you wrap it up nicely and add a tag telling the loved one how much they "rock."
---
 Check out how easy it is to plan your holiday party!
---
Jewelry.
Start with some ribbon or string. Using beads, buttons, or even macaroni, create a statement piece. Bedazzle the strand for something glitzy.
Donation to charity. There is always someone who is far too difficult to buy gifts for. Find out what that person cares about and donate to the cause in honor of him or her. It'll be warm and fuzzy for both of you.

USEFUL:
Mug. Decorate one with paint or order online. You can choose a fun quote or upload photos that make each gift fun and personal.
Tote bag. Buy plain fabric tote bags in a light color and use fabric paints, sharpies or even print designs to iron-on transfer paper to decorate. Make sure kids consider what the gift-getter would like while also adding their own flare.
Soaps or candles. These are easy gifts to give and always useful. Make these picks personal by wrapping in a special way with fabric, ribbon and a handwritten gift tag!
Calendar. Purchase a cheap wall calendar where the calendar portion is affixed to a solid back, and can be pulled off. Secure the small calendar to a new work of art (created by yours truly). It's a gift that gives all year long!
Bath salts or lotions. During the cold weather months, dry skin is a common problem. The cure – helpful and healing bath products or lotions. Though it's not the most unique gift it's purposeful and will be MUCH appreciated this time of year, or anytime!
Magnets. Make your favorite memories into magnets that can pepper your loved ones' refrigerators. Most photo sites like Shutterfly or Snapfish offer magnets products, or if you have uploaded your favorite mobile photos to Instagram, you can use a great app called Stickygram that will print your photo magnets out in sheets of nine.
For more Holiday gift-giving inspiration, visit the SignUpGenius Pinterest board for great holiday gift ideas! Happy Holidays and may you bring joy and happiness with your gifts this year and every year.