Christmas Cookie Exchange Ideas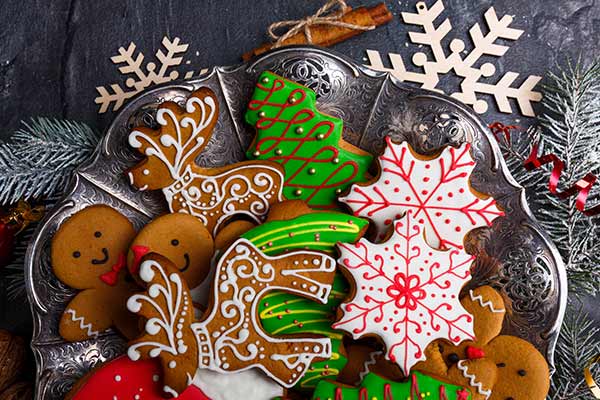 It's beginning to look a lot like Christmas, and nothing seems to say the start of the season better than a cookie exchange. Plan it early so your guests will have plenty of fresh ideas for all their upcoming festivities.
Preheat the Oven: Preparation Tips
Make the day of the cookie exchange run smoothly by preparing ahead of time.
Provide Clear Instructions on Your Invitations - Guests need to know how many cookies they're expected to bring so everyone gets a sample. For smaller gatherings, some hosts ask guests to bring a half-dozen treats per guest so there's enough to share with their families later. Genius Tip: Send out an online sign up invitation to keep track of cookie variety, too.
Prep for Stress-free Success - Be ready with extra serving trays, utensils, food labels, table space and chairs.
Supply Take-home Containers - You can also ask guests to bring their own, but always have extra on hand. To create a take-home container in a pinch use large plastic baggies, the bottoms of shirt boxes decorated and lined with foil, or simply have enough foil or plastic wrap to cover any containers that might arrive.
Review Recipe Rituals - Sharing Christmas joy is an essential part of a cookie exchange party, so be sure to stress the importance of guests bringing copies of their recipes to share. If there's enough time, ask guests to email them in advance so you can prepare a recipe book as a parting gift.
Prepare Your Own Goodies in Advance - Be kind to yourself and avoid extra stress on the day of your event; choose a recipe you can prepare a few days earlier and arrange quickly the day of.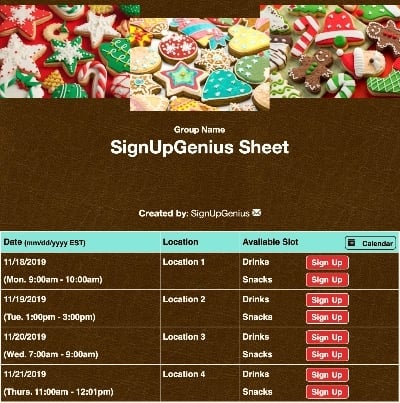 Plan Protein Snacks - Even though it's all about the cookies, be sure to provide some easy non-sugary snacks your guests can enjoy to avoid an impending sugar crash. Consider cheese and crackers, veggies with hummus or mixed nuts.
Offer Festive Drinks - It's the perfect time of year for cider, hot chocolate, eggnog or hot spice wassail.
Have Fun with Decorations - Hosting a cookie exchange party early in the season is a great way to make sure you get all your decorations out and find new uses for old treasures.
Play Music for the Mood - Christmas music can really set the tone for your gathering. Create a playlist with the classics ahead of time, or find a Pandora or radio station that plays holiday hits.
Plan Kid-friendly Activities - Prepare a few crafts or games for your smallest guests such as decorating the take-home containers, making marshmallow snowmen or judging a cookie contest. Genius Tip: Check out these Christmas party games for kids.
---
Coordinate cookie decorating supplies with a sign up. SAMPLE
---
Creative Cookie Concepts
Presentation matters. It's not only about the delightful mix of seasonal flavors found in traditional to novel Christmas goodies, but also the value of the overall "awe" factor.
O Christmas Tree - A hot batch of peanut butter cookies can transform into lovely, chocolate trees. As soon as the cookies come out of the oven, press a chocolate candy kiss into the center. After they cool completely, decorate the chocolate peaks and cookies with swirls of green frosting and red and green sprinkles. For your gluten-free guests, peanut butter cookies are one of the easiest recipes to convert and still stay delicious.
Santa's Thumbprints - After preparing a basic sugar cookie dough and rolling it out into small balls, make indentations in each ball with your thumb and fill the centers with your favorite Christmas jams. Red raspberry and strawberry jams are always a hit, and for a great red/green combo, consider doing half the batch in a green apple or mint jelly.
Rudolph the Red Nose Reindeer - With a bag of square mini pretzels, candy kisses and holiday M&Ms, quick and adorable reindeer noses are only a few steps away. Soften the pretzel/kiss combo for five minutes in the oven, then place the M&M nose on top.
Candy Cane Crush - Crushed peppermint candy canes make scrumptious substitutions or additions to many classic cookie recipes. Try chocolate, chocolate chip and sugar cookie recipes. They work great as a beautiful topping too — simply dip cooled cookies in white chocolate and then in crushed candy cane.
Frosty the Snowman - Using your favorite egg white meringue cookie recipe, pipe flattened snowman shapes and round heads separately onto wax paper. After cooled, assemble with icing to create snowman scarves, eyes, noses and more.
Here Comes Santa Claus - Using a base of traditional homemade sugar cookies, vanilla sandwich cookies or Nutter Butters, get creative with baked goods. To decorate Santa, use white icing or coconut for the beard and white puff of Santa's hat, something red (M&Ms, gumdrops or red icing) for the nose and hat and chocolate chips for the eyes. The possibilities for fun photos are endless.
I've Brought Some Corn for Poppin' - Think outside the cookie box. Flavored popcorn such as cinnamon, caramel crunch and chocolate with candy cane sprinkles presented in small festive paper cups are delightful.
I'll Be Home for Christmas - Do you remember your favorite Christmas cookie as a child? Feature your fondest memory and honor family traditions with a recipe from Grandma or your heritage of old.
Marshmallow World - Not just an old Christmas tune by Dean Martin, but a great reminder that Rice Krispies can be molded into all sorts of Christmas shapes and decorated with colorful sugar and sprinkles.
Sugar and Spice - Molasses cookies are a tasty holiday choice with their warm and toasty flavors of cinnamon, ginger, brown sugar and cardamom.
---
Collect RSVPs for a cookie decorating party with a sign up. SAMPLE
---
Chestnuts Roasting on an Open Fire - Well, in the oven anyway. There are a variety of cookie recipes online with this seasonal ingredient. You can buy it in a sweet paste form similar to Nutella spread called "Crème de Marrons," and it works nicely in thumbprint cookies.
Ready in a Ginger Snap - When you're short on baking time, cream cheese and store-bought ginger snaps make easy treats. Mix a package of cream cheese with two cups of cookie crumbs in the blender, roll into balls and freeze. You can even dip them in chocolate later for an added layer of scrumptiousness.
Let it Snow - If you don't already own a cookie pan with holiday molds, it's time to invest. Try baking your favorite brownies in the non-stick molds, popping them out and sprinkling them with snowy powdered sugar — inexpensive and quick.
Perfect Pairings - Add dried cranberries and orange zest to your favorite shortbread recipe and taste the flavors pop to perfection.
Hot Chocolate and Marshmallow Cookies - Bake a batch of chocolate cookies or brownies and remove them from the oven. Sprinkle 3-4 mini marshmallows atop each cookie and place under the oven broiler for 1-2 minutes. Don't take your eyes off the oven during this time — you want delicately toasted, not charred marshmallows! Finish with a melted chocolate chip drizzle on top.
Tea Time - Chai tea sandwich cookies are the perfect accompaniment to hot tea or coffee. To make a teatime cookie, spread a chai tea-inspired ganache between two small shortbread cookies. Yum!
Have a Holly, Jolly Christmas - Substituting eggnog for the milk in many cookie recipes (typically sugar cookies and shortbread) creates a spicy, luscious flavor. Top them off with a rum glaze to add to the yuletide cheer.
Pecan Pie Wonders - Using store-bought or homemade crusts, roll and cut out round shapes and fold up its edges all around. Then spread with a pecan pie filling and bake approximately 8 minutes at 400 degrees, or until the filling is set. A melted chocolate chip drizzle creates a mouth-watering topping.
Freezer-friendly and Make Ahead - Here's one way to reduce the holiday stress load. Make your cookies (or just the dough) ahead of time and store in the freezer. Many recipes work well with freezing, especially those you can roll into logs and then cut and bake later such as sugar, chocolate chip, shortbread and peanut butter.
Peanut Butter Sensations - Use a mini muffin pan, a peanut butter cookie recipe and chocolate peanut butter cups for this lip-smacking indulgence. Place balls of cookie batter into a muffin pan and bake until puffy and light brown. Then drop a chocolate peanut butter cup deep into each gooey center and cool. Finish with a dollop of chocolate frosting.
Wishing you all the joys of Christmas and successful cookie baking! 
Laura Jackson is a freelance writer based in Hilton Head, S.C. with her husband and two teenagers.