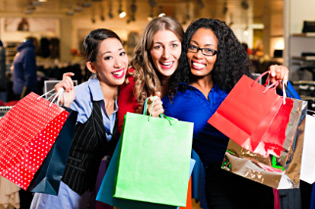 We all want to find the perfect gifts for everybody on our holiday list without over spending, right? This year you can. Follow these ten tips for picking up the best gifts all in one day, and then enjoy those Christmas traditions you actually want to spend a lot of time on.
Make a List and Check it Twice
1. Whether you use a scrap of paper or a detailed spreadsheet, make sure to list all of the people you need to buy for well in advance of your shopping trip.
2. Ask the folks on your list to give you some ideas of what they'd like before Thanksgiving. Make sure to let them know that you're planning to do all of your shopping on Black Friday, the day after Thanksgiving, so they can get their wish lists to you on time. Keep in mind that some people don't feel comfortable asking for anything specific, so don't worry about those who don't contribute ideas.
3. In order to be wise with your limited funds, make sure to plan ahead how much you will spend on each person's gift. Leave yourself some wiggle room by only allotting 90% of your Christmas gift budget before you shop. You'll inevitably remember others you need to buy for in the days leading up to Christmas, and you'll thank yourself for putting aside the extra funds later. Make a note on your list next to each name with the maximum amount you plan to spend per gift.
Search the Ads
4. Get a copy of your local paper on Thanksgiving day and flip through the ads while you and your guests are enjoying your food comas. Circle any gifts you are in need of that are on sale. Remember to research best products online for the more expensive gifts on your list ahead of time. After all, it doesn't matter if there's a great early bird sale on a product that is known to fail after the first few uses.
5. It's also a good idea to search online ads as well for special buys. You might find that the same deals (or better ones) are already offered on a website. Many sites have free or reduced shipping rates around the holidays, and you may discover it's cheaper and saves you a trip to a crowded store to make a purchase online. Cyber Monday occurs the week after Black Friday and is the best day of the year for online shopping deals. Many sites can tell you in advance what special deals to anticipate on Cyber Monday, so you can save those purchases for that day.
Try Tag Team Shopping
6. The best deals to be had on Black Friday are typically limited to a certain quantity per store or a certain timeframe of the day. Because of this, tag team shopping is highly recommended. Plus, it's just plain fun. Grab a partner…or several…and coordinate a plan of attack before you head out.
7. If you decide to tag team shop at the same store, you can drop off your partner at the door while you go in search of a parking spot. If the line in the store is long, you can come in and immediately get in line until your partner finishes her shopping and then trade spots. If it's still very early and the line is manageable, you can both shop and your partner can grab a spot in line for you both when she finishes shopping.
8. For the really serious tag team shoppers, it's most advantageous to have several members on your bargain hunting team. Leave one at home to do online shopping and research questions you have about products along the way. Then you can split the rest of the team up between stores. If you give each other your store lists before you head out, you can decide who is going to score what gifts at each store. Check in with each other by phone and texts as you make your purchases, so you can all keep your gift lists updated.
---
Check out this sample sign up to create your own Tag Team shopping schedule on SignUpGenius!
---
Enjoy the Company
9. Decide on a time and spot to meet up for lunch with your tag team buddies. All that deal hunting leaves a body famished, and it will be a good time to revel in your recently acquired bargains and update your shopping lists.
10. If you still have energy at the end of your shopping day, consider going back to one of your tag team buddy's pads to wrap your finds. Wouldn't it be unbelievable to have your Christmas gifts purchased and wrapped all in one day? With a little help from your friends, you can do it!