50 Birthday Party Theme Ideas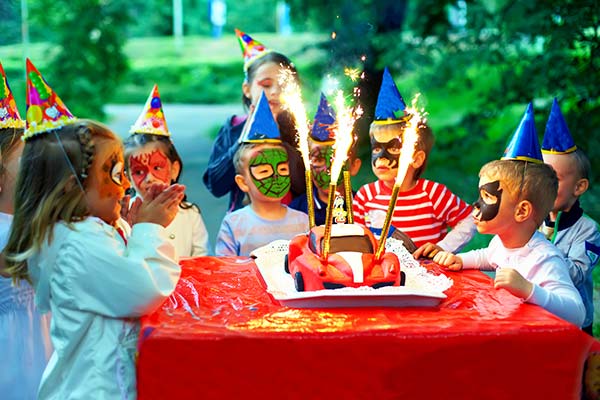 Planning a birthday party should be fun, but sometimes coming up with a theme can be the hardest part. Here are 50 creative, memorable birthday party themes that will work for a wide range of ages, preferences and styles. Get ready to celebrate!
Where the Wild Things Are
Zoo Animals - There are so many possibilities with this idea, from bringing in a mobile petting zoo to having guests dress up as their favorite zoo animal. People of all ages love animals and would respond to a colorful zoo theme.
Hungry Caterpillar - The classic Eric Carle books bring out the child in all of us. Design food around a bounty of fresh fruit and find themed tableware at a party store.
Unicorns - Unicorns are all the rage right now. Enjoy the colorful, glittery fad with a unicorn party. Must-haves: glitter, watercolor details and gold horn headbands for everyone.
Stories and Fantasies
Superheros - There's a superhero in all of us. Celebrate masked heroes with backdrops of cityscapes, capes for everyone, masks and activities that help the good guys win.
Ninjas - Everyone wants to be a ninja, young and old. Let everyone come dressed as ninjas and enjoy some ninja-themed challenges and activities, HI-YAH!
Disney - Anything Disney-related is always a win. Whether you choose a specific Disney character or use the whole cast — you'll have plenty of inspiration for your whole party.
Characters - The sky is the limit here. Choose a character that the guest of honor will love. Any cartoon, movie or TV show will do. Use decor inspired by the character's world and you can even have guests dress up as characters from their show.
Literary Party - Bring your favorite books to life. Whether you go with the classic Dr. Seuss theme or pick another book or series, such as Harry Potter, Star Wars, or the new bestseller on the block, you'll have tons of ideas to work with.
Mad Hatters - The infamous Alice in Wonderland's Mad Hatter Dinner Party scene is iconic. Easily recreate this zany, colorful party for your special day. Just make sure everyone has silly hats, teacups and is ready for a good time.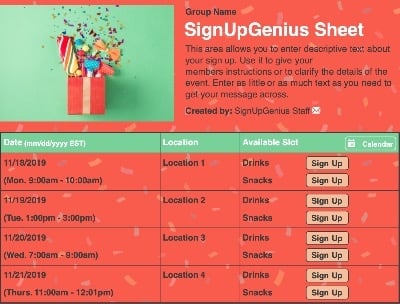 One for the Ages
Age Old Party - There are so many fun ages that can become the theme of the party. Double digits? Celebrate the big 10. Sweet 16? 21st birthday? All of the decade birthdays make great milestones, too. The great thing about the age theme is that you can choose any colors or patterns you want to compliment.
The Roaring 1920s - Just think flappers, speakeasy, Great Gatsby. What's not to love about that? Your guests will enjoy a reason to glam up!
The Golden 1950s - What's more fun than poodle skirts and bomber jackets? Let your guests arrive in period style and decorate like it's a 50s cafe. Serve diner food and play the best 50s jams.
The Groovy 1960s - It's disco night, so celebrate in colorful style. Make sure you have the music playing and get groovy.
The Sensational 1970s - Another decade worth experiencing again. Don your tie-dye, Beatles, bell-bottoms and more to get in character and have some fun.
The Rockin' 1980s - Bust out your side ponytail, bodysuits and hoop earrings. Wait, all of those things are back in style! Channel your inner Madonna or Jane Fonda, throw a Flash Dance or Back to the Future party and revel in the high points of the 1980s.
---
Coordinate a birthday party and ask everyone to chip in with a sign up. View an Example
---
Splash of Color
Artwork - There's an artist in all of us. Put out some canvases and paint trays. Offer personalized aprons as party favors to protect clothes and let people get in touch with their creative side. For dessert, serve a plain cupcake and frosting with a tray of decorations.
Patterns Theme - Maybe you're not into a game of dress-up. Choose a pattern for your party, such as buffalo plaid, polka dots, or stripes. Decorate your party with your chic pattern and enjoy a classy affair.
Color Theme - Get colorful! Throw a pink party for the girlie-girl in your life. Or, neon for the bright color lover. There are so many options here for a colorful, happy party. Add glow sticks for a fun, bright touch.
Glow-in-the-Dark - Celebrating in the dark just makes it more fun! Grab glow-in-the-dark supplies and decorate the food table with lava lamps and neon lights. Take it up a notch and play some glow-in-the-dark games like capture the flag or laser tag.
Over the Rainbow - Rainbows are such a fun color palette to work with, but also, they have a great metaphorical meaning fit for all audiences. If the person of honor has had a particularly rough year, celebrate with the rainbow after the storm to signal new things to come.
---
Collect RSVPs for a work birthday party with a sign up. View an Example
---
Got Games?
Murder Mystery - These are such a blast. You can download murder mystery kits online and each guest that RSVPs will get sent their character, dress code, and some important character tips. The party will go smoothly with the help of a game host who will have a little more direction on what to do. Then, you just play the night away.
Scavenger Hunts - Not just for kids. A great themed scavenger hunt can be a good time. Kids would enjoy a scavenger hunt in a shopping mall or safe shopping area. Adults can take on a more challenging hunt around town visiting local bars and landmarks.
Sports - Get your sweat on with a sports-themed birthday. Bring out all of the sports gear and play some fun, organized games. Pick one main sport to focus on, or celebrate with a spattering of sports for the true sports lover. Take it up a notch by showing up in your favorite jersey and giving everyone foam fingers as favors.
Nerf Battle - Nerfs for everyone! Don't forget to stockpile ammo so there's plenty to go around. This is the family-safe version of the paintball game. Want something more high-tech? Opt for a laser tag party. Either way, be safe and have fun!
Water Party - In the heat of summer, nothing is more refreshing than a water-themed party. Let age dictate your details. For younger ones, grab water guns, water balloons, and other water toys and activities that any age can do. For older guests, grab super soakers and water bombs. Everyone will get into the action with water games reminiscent of our youth.
The Great Outdoors
Construction - For kids, fun construction activities could include a big sandpit with diggers and putting out ride-on toys they can push soft blocks and supplies around. Adults would love a visit to a rentable construction park where they can drive full-size construction equipment.
Peaceful Garden - Everyone loves beautiful flowers, so a garden theme is universally appealing. Decorate with luscious blooms and use gorgeous paper flowers to add texture and color to the party. Serve platters of easy-to-eat finger foods, with lots of fruits and vegetables grown in your very own garden.
Bubbles - Your guests' eyes will light up when they see bubbles everywhere. Pick up a few bubble machines, readily available at local stores such as Target and Walmart, use bubble-shaped balloons to create balloon arches, put bubbles on each table and give them as favors, too! A bubble party is an ethereal, whimsical fun time for all.
Outdoor Movies - Why go to the movie theater when you can turn your backyard into a movie theater extravaganza? Drop a huge screen and grab a video projector. String some lights over the viewing area and put some pillows and blankets out for lounging. Go the extra mile with a rented popcorn machine and a table of movie treats for everyone to pick their favorites.
---
Collect contributions for a group birthday gift with a sign up. View an Example
---
Fancy Schmancy
Royals - Another idea that transcends age. For children, the prince and princess theme is reminiscent of so many popular shows and characters. For adults, a beautifully decorated court-themed party would encourage even the shyest guest to arrive dressed as a member of the royal court, jester, stable boy or historical character.
Tea Party - Young or old, we all love a classy tea party. Tea parties are a fun way to eat delicious treats, tip our pinkies while sipping sugary teas and dust off our biggest, most daring hats. Just don't forget the cream and sugar.
Casino Party - Bring your James Bond fantasies to life with your own casino. Ask guests to dress in black tie and let the chips fall where they will.
Awards Show - It's the Grammys! Or the Academy Awards! Or ... your very own award show theme. You'll need a red carpet, paparazzi, awards for different things and movie theater themed treats. Roll out the red carpet for your guests.
Hot Wheels
Automobile - Trains, planes, automobiles and any other type of transportation make a great party theme! For the younger guest of honor, consider making cardboard cars or trains for them to race around a backyard track. Or, for a seasoned honoree, use a classic car theme with pictures of types of transportation throughout history.
Monster Truck - Monster trucks have a wide appeal. Kids love the colorful, larger-than-life monster trucks and adults love feeling like kids again. Turn your party hall into a monster truck rally, with kinetic sand dirt pits with trucks and large cut-out trucks for photo ops.
Trains - People of all ages love trains. For kids, you can rent a local train driver to bring a small kid train that they can drive your guest around in. Or, create a train prop for photos. Make sure the birthday boy or girl is your conductor and grab them a hat and conductor whistle.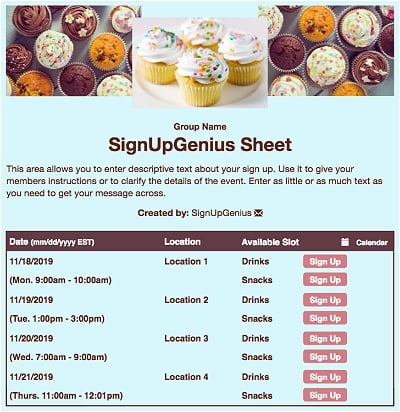 Classic Themes
Ice Cream - We all scream for ice cream! Create an ice cream bar with different types of ice cream (dairy-free, too!) and all the fixings. Instead of a cake, let people hit the ice cream bar and make the sundae of their dreams. Decorate with ice cream-colored balloons, ice cream shaped decor and other details from your favorite ice cream shop.
Western - A great theme, especially for a group of city slickers. Grab cowboy hats for everyone, encourage your guests to wear their wranglers, and celebrate with some good old fashioned root beer and BBQ.
Hawaiian Theme - If you can't spend your birthday in Hawaii, then bring Hawaii to you with a fun luau theme. With grass skirts for everyone and tiki torches to light the way, you'll be feeling the aloha in no time.
Sweets - Sweets for your sweetie! For littles, you could create their very own sweets shop, complete with a candy bar. The older audience would enjoy delightful treats from a local bakery. This is one theme every guest will find delicious.
Dance Party - Get your boogie on with a dance-themed party. Hang a disco ball, bust out the good speakers and rent a karaoke machine for a singing, dancing fun time.
Winter Wonderland - Winter is a great theme — both in winter and the other seasons, too. A snow machine, pretend snowballs, snowflakes and even snow cones are fun year-round.
Fiesta - Olé! Celebrate with delicious fiesta-themed food and decor. Go the extra mile and bring in some live music and hang banners of flags. If you're up for it, pack a piñata with treats and go for it.
Beach Time - Eschew the specifically Hawaiian features and throw a classic American beach party. Blow up some beach balls, put up the volleyball nets and grill up some food.
Rock and Roll - Set up a karaoke stage, get some instruments (or blow up some pretend ones), and make sure to ask your guests to dress up as their favorite rock star.
Pirate Voyage - Ahoy mate! Are ye ready to walk the plank? Get out your hats and eye patches and plan an adventure hunt they'll truly remember. Take it a step further and decorate it like a set from the Pirates of the Caribbean movie.
Mardi Gras - The jeweled tones of Mardi Gras make a beautiful party. Add the elaborate masks and delicious New Orleans food and you've got a memorable soiree in the making.
Give It a Twist
Photo Booth - You'll be taking photos at your party, so why not make taking photos the theme? Set up a variety of different photo booth sets with props and a camera on a tripod. If you don't have enough cameras, borrow some from friends or pick up some affordable tripods for cell phones. Turn the best prints into a camera roll you can send your guests as a thank you.
Out of Season Holiday - Holiday themes make great party themes. Whether you throw a mish-mash holiday theme that celebrates pieces of different holidays to a full-on holiday out of context, you'll see the traditions in a whole new way when you throw a Christmas party in July.
Pajama Day - Pajama parties are for everyone! A pajama party sleepover is a blast for kids. A pajama party brunch is a blast for adults. Get cozy and celebrate in comfort.
Enjoy these 50 incredible birthday party themes. Now, you'll become the party guru in your group and everyone will wonder where you came up with all these great ideas. Cheers! 
Erica Jabali is a freelance writer and blogs over at ispyfabulous.com.