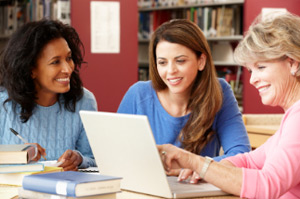 Becoming an organized mom is no easy feat. With a myriad of responsibilities from school activities, non-profit volunteering, friends and family events, kids' extracurricular activities, and church needs, every mom can feel exhausted and overwhelmed. SignUpGenius.com is here to help. Check out the many uses of SignUpGenius for mothers and become a super organized mom! 

School Activities:
Whether you're the class room mom or merely a parent willing to lend a helping hand, SignUpGenius can be your "go to" resource to help coordinate all those volunteer needs in a snap. No longer will you have to wade through "reply to all" emails or send home multiple notes to parents as you try to coordinate school events. In just a few minutes, you'll be able to email out a link to an online sign up form tailored specifically for your event and watch the volunteer responsibilities for your school fill up without any more effort on your part.
SignUpGenius Can Help You Coordinate These School Volunteer Needs:
Class Parties: Halloween, Winter Holidays, Valentine's Day
PTA/PTO Fundraising Events : book fairs, school carnivals, bake sales, car washes
Parent Teacher Conferences
Teacher Wish Lists: class room school supplies, books for a class library
Class Room Volunteers: field trips, teacher's helpers, reading to the class
Non-Profit Volunteering:
Introduce SignUpGenius to the non-profits you serve, and you might just win a volunteer of the year award. Creative sign up templates and one easy link for volunteers to use makes coordinating non-profit needs so easy!
SignUpGenius Can Help You Coordinate These Non-profit Volunteer Needs:
Fundraising Events: volunteer responsibilities, organizational meetings, donations
Volunteer Schedules
Family and Friend Events:
Have you ever found yourself wishing there was an easier way to coordinate who's bringing what to the neighborhood block party or family Thanksgiving feast? SignUpGenius is your answer. Get friends and family organized for birthday parties, neighborhood socials, and meal sign ups in no time at all! SignUpGenius even provides you with tons of planning resource articles, so you don't have to search around for party planning tips and ideas. 
SignUpGenius Can Help You Coordinate These Family and Friend Events:
Holidays: Thanksgiving dinner, Fourth of July cookout, Easter egg hunt, Christmas cookie exchange, Halloween party
Parties: bridal showers, baby showers, cookouts, neighborhood socials, birthday parties, anniversary celebrations
Take Them a Meal: a new baby, a long term illness, an accident
---
Collect money for fundraising or teacher gifts using SignUpGenius Payments!
---
Kids' Extracurricular Activities:
Not sure if you're coming or going with all of your kids' activities? Let SignUpGenius help. Organize carpools, sports snack sign ups, and fundraisers simply. SignUpGenius will even send you reminder emails so you don't forget what you signed up for. And if you happen to double book yourself, don't worry. SignUpGenius allows you to swap responsibilities with other volunteers as needed.
SignUpGenius Can Help You Coordinate These Extracurricular Activities:
Sports: snack sign up lists, carpools, concessions, awards ceremonies
Girl Scouts/Boy Scouts: cookie sales, Pinewood Derby, camping trips, service projects, snack sign ups, weekly meeting volunteers
Clubs: fundraisers, committees work, wish list donations
Church Needs:
Organizing hundreds or even thousands of people at once is no problem for SignUpGenius. Whether your group is small or large, SignUpGenius will send out your volunteer invites quickly. And if you realize after you've sent out the sign up that you have more information to share with your group, just shoot them an email from our site in minutes.
SignUpGenius Can Help You Coordinate These Church Events:
Children's ministry: Sunday school volunteer schedules, supply wish lists, Vacation Bible school
Churchwide Events: picnics, potlucks, mission trip donations, youth group fundraisers
Bible studies: snacks sign ups, leader rotation, holiday parties
Coordinating all of these events from one place using the same process over and over may seem like an organized mom's dream come true. That's SignUpGenius for you. We consider it our goal to make life easier for moms like you. Stay connected with us via Facebook, Twitter or Pinterest for the latest resources and announcements.