50 Activities to Do with Mom on Mother's Day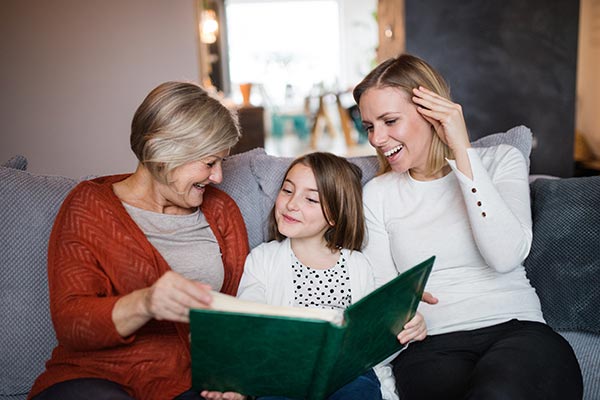 Finding the perfect gift for Mother's Day doesn't come with a one-size-fits-all solution.  But moms agree on one thing — spending special time with their children, no matter how young or old, is priceless. This year, show your love by making extra effort to spend quality time together. 
For Her Sporty Side 
Take a Family Bike Ride - Surprise her by decorating her bike with signs and flowers. Most importantly, all family members must participate. Absolutely no one is allowed to complain or say they are too tired.
Play Her Favorite Sport - Do you know what childhood sport your mom enjoys most? Find out and make it happen.
Go Horseback Riding - Spring is often a great time to spend a tranquil day meandering on a trail ride.
Run a 5K With Her - Definitely not for all moms, but for a runner mom, it doesn't get any better than sharing this passion with your children.
Practice Family Yoga - Relax and be active by participating in family yoga at home or by taking a class.
Hike Somewhere Beautiful - Soak in some fresh air with your family.
---
Coordinate Mother's Day brunch volunteers with a sign up. View an Example
---
For Her Quiet Side 
Plan Her a Stress-free Day with a Book - At home or away, nothing is allowed but comfy lounging, refreshments and noiseless peace with a captivating book.
Prepare a Movie Marathon - As she enjoys her favorite flicks, accompanied by indulgent snacks and drinks, complete a housecleaning project of her choice.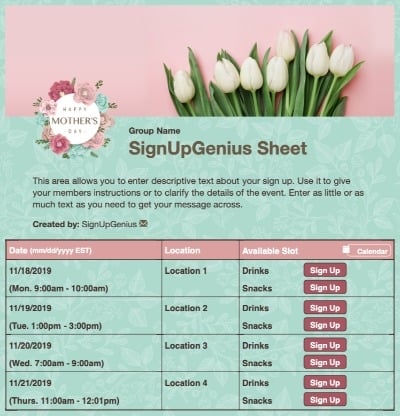 For the Art Lover 
Spend the Day Enjoying Art Galleries - No rushing allowed — just enjoying each other's company and the refreshing beauty of art.
Go to an Art Supply or Craft Store - Roam the aisles for creative inspiration and decide on a fun project to make together.
Take Her to the Ballet - Especially if you've never been to the ballet with your mom, don't miss an opportunity to share its soothing beauty together.
Try a Sculpting Class - Create mementos and memories with Mom.
Go to the Theatre - Dress up and enjoy a night of Broadway or Shakespearian classics.
Find an Outdoor Concert - Appreciate the beauty of music together under a starry sky.
For the Mom Who Loves to Shop 
Find Her a New Shop-till-she-drops Spot - Take a drive to a new shopping center where she has a variety of stores to explore.
Take Shopping Challenges - Add some extra fun to a mother-child shopping trip by challenging each other's shopping skills. Who can find the best deal on a blue sweater? Who can find the ugliest dress in size 6?
Go to a Fashion Show - Many cities host Mother's Day events in honor of the occasion.
Hunt Bargains at Antique Stores - Hone your best haggling skills.
Provide Retail Therapy - Play dress-up in a grown-up way, sort of. Try on expensive party dresses for no particular reason while sharing laughter beyond price.
When She Needs Rejuvenation by Nature 
Road Trip to Inspiration - Find the most beautiful forest, river, mountain, park or whatever is close enough to be practical but far enough to be special and take a day trip.
Meander Around a Farmer's Market - Choose a sunny spring day to explore all the fresh vegetables, fruits and crafts you can find. Later, make Mom a special meal with her favorite fresh ingredients.
Plan an Outdoor Movie Night - Show one of Mom's favorite oldies on a movie projector under the stars. Serve popcorn and her favorite snacks.
Garden Together - Buy new flowers and plants for an existing or new garden and spend the day planting, digging and connecting.
Camp Out - Telling stories around a campfire and roasting marshmallows may be just what she needs to unwind, especially if she doesn't have to do any of the planning involved. Consider keeping it simple and making it a backyard event.
---
Create an online sign up to sell flowers for a Mother's Day fundraiser. View an Example
---
When She Needs Pampering (Always) 
Plan a Spa Day at Home - Think soft music, candles and refreshing fruit-infused beverages for starters — then manicures, pedicures and relaxing foot massages.
Have a Hair Date - Bring Mom to an exclusive hair salon for a new cut, color or hair products.
Draw a Heavenly Bath - Homemade fizzy bath bombs, salts and bubbles are only wonderful gifts if your mom actually takes the time to use them. Run the bath for her, complete with candles, flowers and a glass of her favorite beverage and make sure she takes the time for relaxation. To make it even better, complete a cleaning task on her to-do list while she's in there.
Experiment with Homemade Facemasks - Don't forget to take photos.
For the New Mom 
Let Her Rest - Sleep is her most valued commodity at this stage. Gift her with a few hours of peace and quiet.
Book a Photo Session with Her New Baby - This will be a gift she treasures for a lifetime.
Give Her Some Needed Alone Time - After a good rest, give her some catch-up adult time.
For Grandma 
Organize a Special Playdate - Take care of all the arrangements ahead of time to ensure a seamless yet entertaining activity with her grandchildren. For long distance grandmothers, surprise them with airline tickets and a schedule full of grandkid fun.
Make Candles Together - You could buy her a new one, or you could make a memory together by crafting sweet-smelling candles made with fragrant soy wax flakes, mason jars and candle wicks.
Plan a Sleepover Party - Supervise a fun evening where all the food and details are taken care of and she can simply play with her grandchildren.
For a Larger Family Affair 
Gather the Troops - For some moms (and many grandmothers) their idea of the perfect Mother's Day involves spending time with as many family members as possible. If this is your mom, plan a party with extended family members and a special lunch or dinner to celebrate.
Craft a Group Gift - Consider activities such as a collage of handprints or footprints and let your special mom enjoy watching it come together (while someone else supervises, of course).
Have a Family Game Night - Make sure all family members understand fighting, arguing, complaining and whining is strictly prohibited.
Plan a Puzzle Party - Order a large custom puzzle of a favorite family photo for extra fun.
Because Mother's Day Requires Fabulous Food 
Tea for Two - Plan a tasty tea party for two or more, complete with fancy finger sandwiches, chocolate-covered strawberries, scrumptious scones, herbal teas and mini desserts.
Picnic - Purchase a new picnic basket set and pack it with all her favorites.
Host a Chocolate Tasting - Whether it's with family or her girlfriends, offer a mix of enticing chocolates paired with complementing foods or wines.
Breakfast in Bed - Offer mom a full pancake bar in bed. Besides the yummy pancakes, create a breakfast feast with all of her favorite toppings such as fruits, nuts, syrups and jams.
Sugarcoat It - Would your mom choose dessert first if given a chance?  Prepare a variety of her favorite treats (plus at least one new sweet surprise) for an extraordinary dessert meal.
Arrange a Lunch Date With Her Best Friend - Plan a special meal for the two of them to catch up and enjoy some adult time.
Find Her New Favorite Restaurant - Take her to a restaurant that is brand new to her.
Go to Dinner in Another Country - Actually flying there may not be in the budget, but you can create a novel ambiance at home. Plan a unique meal with all the appropriate native foods, decorations and mood music. Have the children draw menus, dress up as the wait staff to take orders, and learn a few foreign phrases (i.e., "Bonjour," "Ciao Bella" or "Buenos Noches)."
---
Coordinate a family Mother's Day gift with a sign up. View an Example
---
When You Want to Entertain Her 
Organize a Variety Show - Make sure to give even the youngest child a role to play. Consider short skits of moms solving funny problems. Focus on why your mom is the best.
Karaoke - Have the family perform a show of mom's favorite tunes.
Take Her to a Comedy Show - Most moms could use a fun night out and a good laugh.
Produce a Video - Interview each child or grandchild about all the things they love most about her. Compile the video clips, along with some old photos and Mom's favorite music. Don't forget to bring the tissues.
Remember, what's most important is to let Mom know how much she is loved on this day and always. Knowing you took time to plan and create something specially designed for her will make all the difference. Happy Mother's Day!
Laura Jackson is a freelance writer based in Hilton Head, S.C. with her husband and two teenagers.