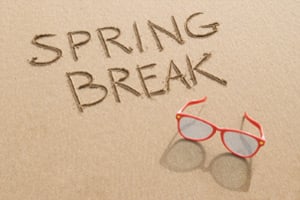 As the end of winter draws near, anxious students count down the days until the most glorious week -- SPRING BREAK! But while the kiddos are ready for freedom, moms everywhere wonder, "What will I do with the them for a whole week?" Not to worry, Mom, we have you (and your wallet) covered with 50 spring break ideas that won't break the bank.
1) Camp it out – Create your own campground in the backyard.
2) Pamper Party – Turn your home into a spa with mini mani/pedis for all.
---
Organize your Pamper Party on SignUpGenius! VIEW SAMPLE
---
3) Feeling Crafty – Check Pinterest for project ideas galore.
4) Hit the books – See what tall tales your local library has to offer.
5) Splish Splash– Bust out the hose and turn your backyard into a splash zone.
6) Strike a pose – Grab that camera and let your mini models show off their stuff.
7) Pillow fight – Host a family slumber party in the living room.
8) The main attraction – Pop some popcorn and enjoy family movie night.
9) Get culture – Local museums often have discount programs during school vacations.
10) Catch some rays – Nothing says spring break like a trip to the beach.
11) Puzzle it – Start with the edges first and together the family can create a masterpiece.
12) Yahtzee – Dust off the board games; it's game night.
13) Gather the gang – Invite the neighborhood crew over for some play time.
---
Keep track of how many are coming and request snacks or a movie to share with a sign up!
---
14) Top it off – Make your own pizza night (tacos are fun, too).
15) Take a bow – Let your little thespians wow you with their singing/dancing/acting.
16) When life gives you lemons – Have a lemonade stand.
17) Get fresh – Check out the local farmers' market.
18) Make room for spring – Clean out those closets (not the most fun task, we know).
19) Flower power – Plant a little garden.
20) Row, row, row your boat – Rent a canoe or go tubing.
21) Meet Mother Nature – Head outside, go for a walk and explore.
22) Make a difference – Organize a community project with friends or neighbors.
---
Check out these great ideas for service projects!
---
23) Over the river and through the woods – Visit the grandparents.
24) "X" marks the spot – Send the kids on a treasure hunt.
25) Get your groove on – Turn up the music and let everyone do their thang.
26) Sharks and minnows – Pool party!
27) A place of their own – Spare sheets, pillows, a few chairs and ta-da you have a fort.
28) Sweet sensations – Grab the measuring spoons and bake something sweet.
29) See it, do it – Let your kids direct the day. If they see something fun, be ready to play.
30) Get hands on – There's a lot of learning to be found at science centers under the guise of fun.
31) Just ride – Get those gears turning and go for a family bike ride to nowhere.
32) Day opposite – It's opposite day. Turn those clothes around and eat dinner for breakfast.
33) Pick it – Visit a pick-your-own farm.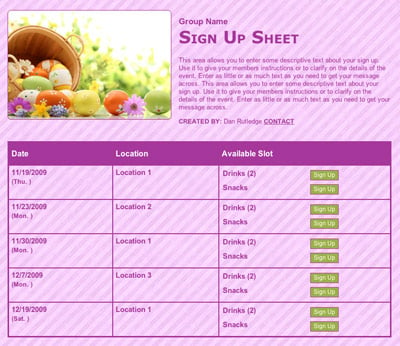 ---
Invite friends to join you with an invitation sign up from SignUpGenius.
---
34) It's raining, it's pouring – Grab your galoshes and splash in some puddles.
35) Animal attraction – Hit up the local zoo. (Hint: check local flyers for coupons).
36) Reel fun – Whether you catch and release or catch for dinner, you'll have lots of time to talk.
37) Experiment – Turn your kids into mad scientists with a few fun science activities.
38) Quack, quack – That stale loaf of bread in the pantry is perfect duck food.
39) Fabulous fairs – Find rides, food, entertainment and fantastic fun at local festivals.
40) Free as a bird – Visit a playground, find a swing and soar.
41) Strike – Grab some of those fancy shoes and bowl.
42) Get a hobby – Take up a new skill like knitting or painting.
43) A Fairy or a Pirate – Dress up their imagination and let them walk the runway.
44) Soar to new heights – Take up kite flying on a breezy spring day.
45) Block party – Get the neighbors together for a BBQ.
---
Use SignUpGenius to coordinate your cookout or block party! VIEW SAMPLE
---
46) Fore – Grab a club and go play 18 holes on a mini-golf course.
47) Get lost – Play tourist in your own town and discover something new.
48) Gaze among the stars – Before heading outside, research star shapes online.
49) Play ball – Whether you bounce, hit or throw, have a ball.
50) The ants go marching – Pack up lunch, find a shady spot outside and enjoy. 
Jennifer Burg is a flip-flop wearing, Gator-loving, picture-taking, deal-hunting Florida gal. As an overachieving mom of two awesome daughters, making to-do lists helps her remain calm and (somewhat) organized. When she's not planning events and party sign-ups, you can find her blogging at www.TheSuburbanMom.com.