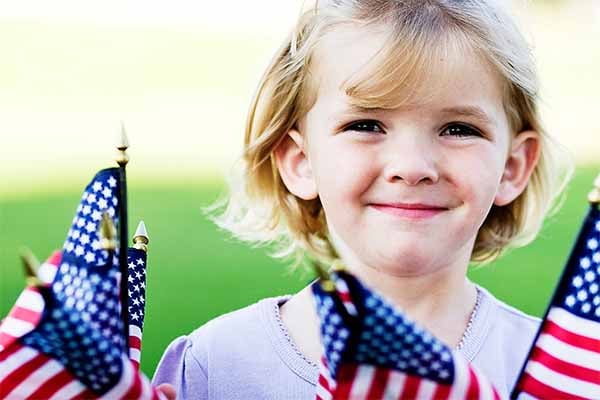 Nothing says summer quite so well as celebrating the 4th of July with family and friends around a good ol' fashioned American picnic. Dip into a few of our creative picnic ideas and your red, white and blue bash will be stylish, affordable, and simple to clean up!

A Party with Boom, Boom, Pow!
If you're planning an all-day event, you'll need to pay attention to food planning. It wouldn't be patriotic of you to run out of watermelon part way through the party, right?  
A potluck is a great way to avoid the stress of cooking a large meal for a bunch of people. You get to enjoy the day and let your guests show off their culinary skills. Aren't you nice? Besides, people love to share dishes they only make for special occasions and, really, who doesn't want to see one more flag themed cake or jello mold? This is one party where your guests will enjoy spending some extra time to let their creative side roar.
Before inviting your guests, write up a list of food you'll want:
Appetizers
Snacks, chips, dips
Fruit dishes
Main dishes
Side dishes & salads
Condiments/paper products
Drinks
Desserts
For parties that will include a late lunch and dinner here are some family-friendly ideas:
Appetizers like wings, meatballs, chips & dips and fruit salads are great for all-day snacking. Throw together some blue tortilla chips with red salsa and white sour cream, and you'll have your first American-themed munchie.
Serve party favorites such as hamburgers, hot dogs, potato salad, deviled eggs, corn on the cob, watermelon, or all-American apple pie.  A wide variety of potluck side dishes will really give these party classics pizzaz.
Big batches of fresh-squeezed lemonade or iced tea are refreshing and don't cost a lot.
Cookies in the shape of stars can be fun and cupcakes with red, white and blue frosting and sprinkles are always a big hit.
Party Invitations:
Include the date, time and location. (Add directions if necessary and the exact location if in a public place.)
Write in items needed for each person like lawn chairs, towels, bug spray, bikes, scooters, etc.
Let them know it's a potluck. Request a food or drink you'd like your guest to bring. 
---
Plan the perfect potluck with our online invitations and potluck sign up sheets. See how.
---
Get the Glow:
To decorate a 4th of July table, simply focus on stars and stripes and patriotic American colors. Night-time sparklers light up any fourth of July party, and they make dazzling decorations for cakes and other desserts. Eye-catching July 4th party supplies like patriotic garland, American flags, confetti, balloons and American banners really pop. Mixing patterns of red, white and blue creates a fun look and is striking.
Cool 4th of July Play:
Classic outdoor games like tug-of-war, egg-and-spoon races, balloon tosses with patriotic colored balloons, volleyball or ultimate frisbee go over well with all ages. Play games like baseball, croquet or a tag relay with teams comprised of adults and kids. Give small inexpensive party favors such as mini-American flags, pinwheels, yo-yos or patriotic temporary tattoos to the team members who win.
If you have a gaggle of little ones attending, ask your guests to bring wagons, bikes, scooters, drums and tambourines. You can have balloons, construction paper, streamers, pom-poms and small flags for decorating parade "floats". Play patriotic music on a boom box and parade around the block or park to provide a star-spangled celebration for all.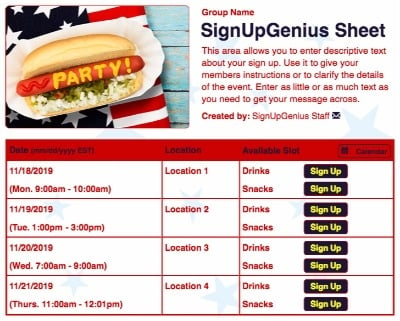 Other important items to plan for through the day:
• Keep on top of clean up. Designate areas for trash and recycling.
• Have a couple of guests bring coolers filled with ice. Replenish the ice as needed.
• Keep all foods properly stored.
• Supply a permanent marker for guests to write their names on their cups or water bottles.
• Consider what type of seating you have available and tables. You may need guests to bring additional chairs.
• Keep a first aid kit on hand for any unexpected accidents.
• Set out sunblock to remind guests to reapply regularly throughout the day.
• Have a rainy day plan...just in case.
SignUpGenius is here to make sure your 4th of July bash is easy to coordinate, so you can spend more time doing things that matter most. Check out our picnic and July 4th templates and let us handle your invitations, RSVP's, and food coordinating all in one sign up. We'll even send out reminders to your guests when you need us to. All that and it's free? Genius!