Light Up Your Fourth of July Party with These Ideas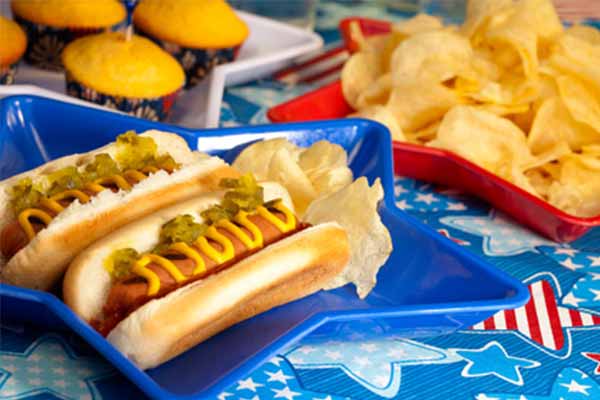 So you've been trolling Pinterest, and you've seen tons of super cute Fourth of July party ideas. Who knew you could make red, white and blue chocolate dipped strawberries or decorate toilet paper rolls to look like rockets filled with candy? Now that your patriotism has been sufficiently inspired, you're anxious to wow your friends with a bang-up 4th of July party. SignUpGenius can help with a few tips that will put the ooh's and aah's into your Independence Day celebration!
Food Tips
No matter where you live, chances are, the grill isn't the only thing that's going to be feeling toasty during Independence Day. So keep the dinner fare light and cool. Veggie and fruit trays make every picnic menu pop, especially when they're red, white and blue themed. Limit or eliminate dishes that need to be cooked in the oven.
How about grilled meat that doesn't feel like the texture of your flip flops when you chew it? Not that you'd know what it's like to eat your footwear, but nawing on a tough piece of chicken isn't a whole lot tastier. To avoid the experience, butterfly chicken breasts by cutting them almost completely in half and using a meat tenderizer to soften them before grilling.
Interested in serving up a little fireworks extravaganza for the mouth? Add a marinade to grilled meat for extra flavor. For oil and vinegar or citrus juice marinades, soak the meat in the marinade for 24 hours in the refrigerator before grilling. For sugar-based marinades, brush the meat towards the end of cooking since sugar burns quickly and can leave your meat charred.
Party Planning Tips
Check the weather before planning too many details for your Red, White and Blue Day celebration. If it's going to be sticky hot, make sure you and your guests won't be. Coordinate a soiree at the beach or poolside. Chance of rain? Institute Plan B with board games or Minute to Win It challenges that are safe for the indoors.
If you love a good party, but your gala planning fuse has fizzled in the summer heat, don't fret! Use SignUpGenius.com to coordinate a potluck and ask guests to bring a patriotic looking dish to share. With the food menu off your plate, you can focus any spark of creativity the humidity hasn't snuffed out on decorations and entertainment.
Take the fun on the road! The 4th of July is one of those days when folks want to party all day long. So round up a group of families you love to hang with and start celebrating with outdoor games at the park in the late morning. Move it to a nearby neighbor's for a simple lunch barbecue, then on to a pool to cool down for the afternoon. Bring it on home for a mini siesta followed by a potluck, and end the day with a bang by watching fireworks.
---
Coordinate any 4th of July Celebration with SignUpGenius.com! SAMPLE
---
Safety Tips
What's the biggest danger to avoid on the 4th of July? Nope, it's not firework mishaps. Independence Day actually happens to be the most common day of the year for car accidents according to the Insurance Institute for Highway Safety. So cut out the driving when you've been drinking and reduce your overall time behind the wheel if you can help it.
Then, of course, there are those firework mishaps. You've grown quite fond of both eyeballs and all ten fingers and toes, right? So follow the laws of your state, the directions on anything with a fuse and the wisdom of your paranoid mama when it comes to playing with things that go boom.
And don't forget the lesser dangers on our national day of freedom. Declare the 4th of July to be "Burn Free Day" in your household by lathering everyone up with sunblock when they go out and never leaving the grill unattended while it's hot. While you're at it, you could boycott food poisoning as well by keeping party food out of the sun and then transferring it to the fridge as soon as everyone has gotten their fill.
The best tip of all for your Independence Day celebrations is to relax and remember the purpose of the holiday. How wonderful to be able to gather with family and friends and enjoy the freedoms of life in the United States, especially while eating red, white and blue cake pops and taking a dip in the pool.