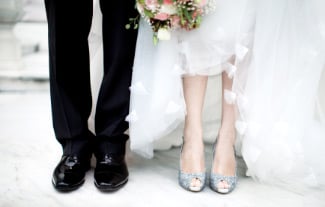 Congrats! You're newly engaged and eager to dive in to planning the details of the big day. Before you get overwhelmed by the choices, costs and innumerable possibilities, read these tips that every bride should know.
Planning
1. Set the date! Make sure you leave plenty of time for planning details and coordinating vendors. A wedding checklist may help you keep tasks and timing in order.
2. Outline a budget. Set the budget so you know what you're working with from the get-go.
3. Consider time of day. There may be a time of day that fits you and your significant other's personalities, party style, budget, or guest list best.
4. Wedding Party. It's never too early to ask and get the commitment.
5. Research Vendors. Pick up some local wedding magazines and hit the net to scope out what's out there.
6. Ask around. Ask a few friends for their advice and what they learned from planning their own special day.
7. The ones you love. Make sure the people that are important to you know how you would like for them to be included.
8. Consider wedding size. Will it be a large bash or a smaller more intimate gathering?
9. Help needed. Loved ones asking how they can help? Set up an online list of helpful tasks and allow them to sign up and help as they can.
---
Genius Tip: Organize tasks that others can help with via an easy-to-use online Sign Up!
See Example.
---
Location/Venue/Atmosphere
10.
Book in advance.
Many venues book up very far in advance. Narrow down a short list and make visits as soon as possible!
11.
From here to there.
Consider travel distance between ceremony and reception.
12.
Back up plan.
Outdoor venue? Consider weather influences and always have a "Plan B."
13.
Beautiful "As is".
Décor not your thing? Find a beautiful venue that already has a look you love.
14.
Seasonal décor.
If you're getting married near a holiday or other special time of year, make sure to ask if the venue will be decorated in a special way.
15.
Food and drinks.
Ask about banquet permits and alcohol license needs. Don't assume anything!
16.
Consider room flow.
You will want a space where you will be able to mix and mingle with guests easily.
17.
Ask for referrals!
See if your venue has recommendations for other vendors since they are likely to have worked well in the past.
Guest list
18. Talk about it. It's a conversation to have early on with your fiancé. Establishing a guest list can get VERY complicated if you don't set parameters.
19. Traveling guests? Consider how many out-of-town guests you will have to plan for.
20. Lots of out-of-towners? Consider setting up activities for the weekend or couple days surrounding your big day so they can meet others and visit.
---
Genius Tip: An online sign up will help you coordinate weekend events & collect RSVP's in advance! See Example.
---
21.
Discuss family needs.
Who will you want involved in the ceremony, reception, etc.? Set clear expectations from the beginning.
22.
Save the drama.
Handle family issues with grace. Have conversations with those that may need to be reminded to put personal issues aside for one day.
23.
Undercover agents.
It's not unreasonable to "assign" a trusted friend to keep an eye on a guest that you are worried about getting out of hand.
24.
Keep people in the loop.
Set up a wedding website where you can post important details that guests will need to know.
25.
Hotels.
It's always nice for the couple to set up hotel options and block rooms for guests.
---
Genius Tip: If you think you or your guest list could benefit from knowing who's staying where, set up a hotel sign up sheet where people can make note.
---
26.
Welcome basket.
Welcome traveling guests at the hotel with gift bags including a few simple treats or some information about the location where they are visiting.