20 Socially Distant Holiday Gathering Tips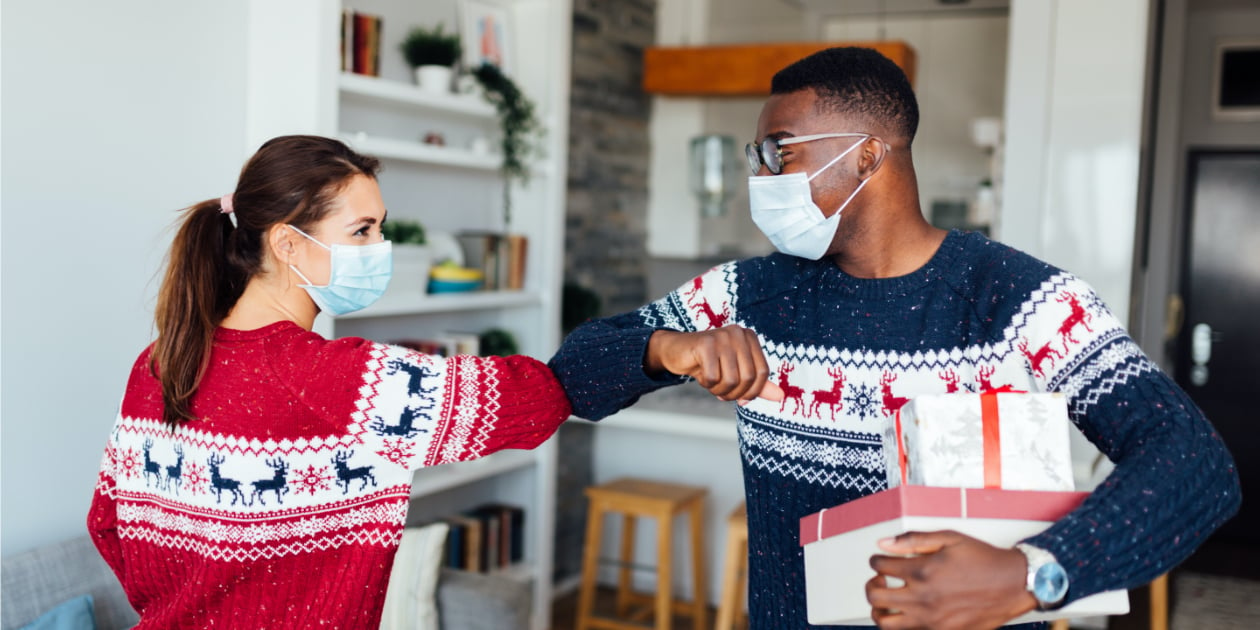 The holidays are usually filled with annual traditions and family gatherings — but some of those favorite events will be on pause this year. We may be chatting with family over Zoom instead of across the table, but we can still make it a celebration to remember (and hopefully reminisce about together next year).
As we get ready for this season, here are ideas to connect and embrace the holiday spirit while staying as safe as possible. Before planning anything remember to always check the latest CDC recommendations and recent updates from your local health department.
Virtual and Socially Distant Ideas
Secret Santa - We may not be in the office, but that doesn't mean we can't still do Secret Santa. Have one person assign each staffer someone else to shop for and encourage gifts be shipped to their home or set a day that people can plan to pick up a surprise at the office — even if it's just a quick stop in the parking lot.
Virtual Ugly Sweaters - Throw an Ugly Christmas Sweater party over Zoom. It's still the best way to safely bring a big group together — and seeing friends, coworkers and loved ones dressed in their worst Christmas sweater should more than make up for the additional screen time.
Go Formal - Dressing up has become a thing of the past in 2020, so why not give some friends a reason to put on a fancy dress? (For many it may be the first time since March.) Throw a holiday party over Zoom and make sure to include the dress code.
Jingle Bell Rock - Host a virtual talent show! Invite your group to submit a video of their holiday-inspired talent, whether it's singing a Christmas carol or reenacting a scene from Elf. Everyone can vote on their top three favorites and the winners get bragging rights and/or a fun prize in the mail!
Holiday Quiz - Use the Kahoot! app to create a holiday trivia game — themes can include Christmas memories (what character did Sarah play in the Christmas pageant?) or holiday pop culture (what are the two bad guys named in Home Alone?). Ask everyone to download the Kahoot! app before your Zoom call, then you can take the quiz together on your phones. Holiday hilarity will ensue!
Festive Swag - Create a custom mug/cup or t-shirt on a site like Custom Ink and send to your family or group by mail. It can have a funny or meaningful saying to remind you all of how this separation is temporary and you will be celebrating together again soon. Ask everyone to wear or bring their item to your holiday Zoom gathering, and take a screenshot to remember this (hopefully) one of a kind holiday.
Holiday Foodies - Ask your group to make videos of their attempts at cooking holiday dishes, complete with Food Network style commentary. Share the videos with everyone, and award points for TV star quality, presentation, and final result (announce the winners during your virtual holiday gathering). Even though you're not sharing the same dishes around the table, you can get a taste of the holidays together!
Organize a food drive with an online sign up. View an Example
Ideas for Your Household
Lip Sync - Create a fun playlist of holiday songs (mix up classic tunes and pop favorites) and hold a lip sync contest with your crew. Break out fun props like Santa hats and jingle bells and see who has the best yuletide moves.
Campfire - Everyone loves s'mores, and this is the perfect thing to do outdoors with your group. Gather around your fire pit and roast some marshmallows with all the fixings. Remember the blankets and holiday music!
Photoshoot - You can still capture memories while keeping a safe distance. Ask a neighbor to snap a few socially distant photos of your quarantine team (and return the favor), dressed in your favorite loungewear or Sunday best! Or check out local photographers to schedule a professional session.
Hot Chocolate Bar - Make everyone's favorite winter drink a special event! Let your group customize their hot chocolate with toppings like marshmallows, candy canes, whipped cream and Hershey's Kisses. Then bring your drink and cozy up for a holiday movie night!
Wrapping Race - Get started on gift-giving (for those outside your group). Take a few similar size packages, wrapping paper and tape. Set a timer and race to see who can wrap the item the fastest (in a way that looks like it belongs under the tree). Try a few rounds and declare a winner!
Holiday Memories - You may never have this much time to go through old photos again! Give everyone in your group an album or photo box to browse and suggest sharing several memories with each other. If you have access to a scanner, scan your favorite shots and put together a slide show featuring your group and those you'll be missing over the holiday.
Get Crafty - You're never too grown up to channel your creativity, especially during the holidays. You can do everything from creating your own wreaths to making ornaments — check out Pinterest for ideas or pick up craft kits to make it easy.
Cookie Decorating - The sweet possibilities are endless! Bake festive treats like gingerbread people or sugar cookies and set up a decorating station with frosting, sprinkles and candy. This can either be a laid-back activity or make it a competition to see who can design the most Santa-worthy cookies.
Request volunteers to support a family in need during the holidays with an online sign up. View an Example
Ideas for Your Neighborhood
Ornament Exchange - Share holiday cheer with your neighbors in a safe and festive way. Draw names from a hat and let each neighbor know who they can surprise with a new or homemade ornament.
Synchronized Lights - Christmas tree lighting events may be cancelled in some communities because of the crowds they draw. Instead, plan a ceremony in your neighborhood when everyone on the street hits the "on" switch for their holiday lights at the same time. Don't forget the hot chocolate.
Meals of Love - Be an angel this season. Set up an online sign up to schedule meal deliveries for elderly and at-risk neighbors, or take turns shopping for their groceries. You can't put a price on this kind of support, and they will appreciate the kindness from people they trust.
Holiday Décor Competition - With many holiday events cancelled, there's plenty of time to spend turning your home into a winter wonderland. Neighbors can do their best Clark Griswold impression with lights, inflatables and more, and you can present awards  (such as brightest, funniest, kid-favorite, etc.) to recognize each display.
Food Drive - Host a food drive and invite people to drop off items for your local food bank at designated homes or common areas. Many food banks are experiencing increased demand during the pandemic — your neighborhood can make a big difference by embracing the spirit of giving.
There is no question the holidays will look and feel very different this year, but there are still ways to safely celebrate with loved ones. Check the latest
CDC recommendations
when making your holiday plans.
Michelle Boudin is an investigative reporter for WCNC TV and a freelance writer.