20 Fall Fundraising Ideas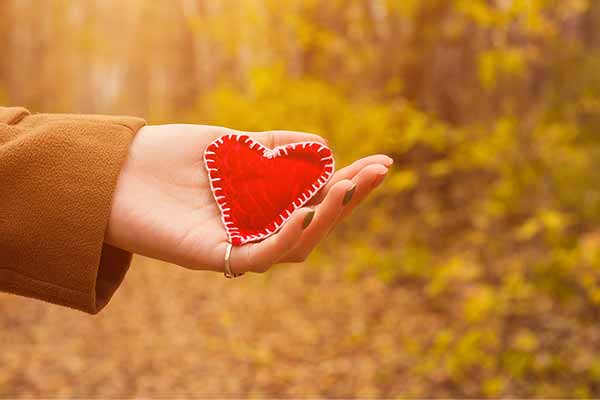 As the seasons and schedules change, it is a great time to kickstart your autumn fundraising. Below are 20 fall fundraiser ideas for your nonprofit.
General
Pumpkin Patch - Most people enjoy using pumpkins to decorate their homes and to carve before Halloween — so if they can buy a pumpkin and simultaneously support your nonprofit, win-win! Set up a pumpkin patch at your site if possible, and if not, work with your town or donors to find a good location. Provide a fun photo backdrop for people to pose with their pumpkins and serve apple cider and popcorn for an extra charge. Use an online sign up to organize your workers and volunteers.
Pumpkin Carving Party - This is a fun family activity that is even better when the mess isn't at your house! Decide whether to charge a set entrance fee that includes the pumpkin, or if people can bring their own pumpkins and pay a lower ticket price. Provide the tools, templates, sharpies, tea lights and fun music. Have a contest for the best-carved designs and create different categories with prizes for the winners. Take a picture of the winners by category to post on social media. Create sign ups to organize your volunteers as well as register those who attend.
Taste of Autumn Dinner - Host a five-course meal in a scenic location, whether it is on someone's back patio, at a barn, farm or other scenic location. Regardless of the location, be sure to decorate your venue with jewel-colored flowers such as zinnias and sunflowers, pumpkins and foliage. Bring in a local chef and have the menu printed and available beforehand. Set up cocktails and appetizers and give people time to mingle and take pictures.
Wine Auction - Host a wine auction around a nice meal or casual appetizers. Either way, feature the wines to be auctioned and include specialty cheese plates and desserts that will pair well with the wines.
Cooking School - Create sweet memories by offering interactive cooking classes with renowned local chefs as your autumn fundraiser. Guests can prepare the meal (or parts of it) together and then enjoy a five-course meal. Have a photographer capture the process and send pictures to guests afterward along with the menu and recipes from the night.
Outdoor Movie Night - This is a fun throwback event where you can set up a great fall scene with haybales and plaid blankets (or keep it really simple asking them to bring their own blankets). You can charge a flat admission price or ask for donations. Decide whether to include snacks in the admission price or charge for them separately. A flavored popcorn bar, candy apples and hot cider are all fun options for treats. You can show a kid-friendly movie like It's the Great Pumpkin Charlie Brown or fall favorites such as Dead Poets Society, Friday Night Lights, School Ties, Remember the Titans, or You've Got Mail.
---
Sell annual fall carnival tickets and coordinate volunteers with a sign up. View an Example
---
Collective Yard Sale - Ask people from your nonprofit to donate items to sell. You can also advertise to supporters that you are accepting donations to widen the range of items. Group them by tables to keep the pricing easy for customers. To keep it fun and festive, add some autumn decorations to your space and offer fall-themed snacks and drinks. Organize donation drop off and volunteers with a sign up.
Consignment Sale - Organize a kid, adult or teen clothing consignment sale. A percentage of sales can go to your group with some of it going back to those who donated the clothing, or you can set it up where your nonprofit will receive all the profits. Set up sturdy clothing racks and make sure you have a large space available to organize and tag everything days before the sale. Use a consignment service to track all the clothes, participants and sales. Create a sign up to organize your drop off times and volunteer slots.
Hay Bale Maze - Create a maze of hay bales on your property or a nearby farm. If possible, depending on your location, have a fire pit and s'mores station along with a hot cocoa stand. Include a fun photo backdrop. Decorate with hay bales, plaid blankets, pumpkins and chrysanthemums. If you are offering the maze multiple weeks in a row, consider changing the maze pattern weekly so people can return to experience a new challenge.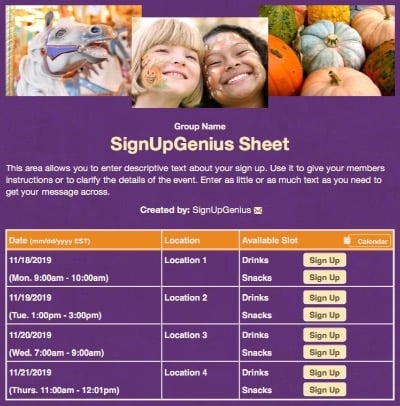 Fall Pictures - Set up a festive autumn photo backdrop and take fall pictures for families and children. Offer digital photos as well as a Polaroid to provide a fun take-home memento. Have people sign up for a photo spot via SignUpGenius. Genius Tip: This could also be a great fundraiser for a high school where you can bring in the photography teacher and students.
Barn Dance - Host a barn dance, including dancing lessons for guests. Teach line dancing, the Texas two-step and square dances such as the Virginia Reel. This will be the first time many people will have learned these old classics. Present an award to the couple with the best dancing skills. Serve Texas-style beef brisket, baked beans, mashed potatoes, and banana pudding with iced tea to wash it down.
"Glamp" Out - Treat your guests to the phenomenon of "glamping" — defined as glamorous camping — with a fun time of mingling around fire pits and eating s'mores as they arrive. Serve sweet tea and lemonade in mason jars. Decorate with brightly colored pennants, black-and-white checked table clothes, sunflowers and lanterns. Hold your event at the lake on waterfront property for extra ambience and offer fun activities such as a zipline, capture the flag and boat rides. End the night with fireworks.
---
Recruit volunteers for a band booster fundraiser with a sign up. View an Example
---
School-Specific
Fall Yard Work - Schools or youth groups can hire out their teens to do fall yard work such as bulb planting, leaf raking and pruning. Make sure you equip teens with the skills and knowledge to do these tasks and ask homeowners to have supplies out and ready for teens to use. It is also helpful to have someone home that day to serve as a contact and confirm what they would like the students to work on. Participants can sign up for a day and time using a sign up.
Decorate Lockers - Booster clubs can raise money for their cause by decorating lockers for the band, theatre group, sports teams and any other groups' lockers or cars. Work with your advisor to determine if you are marketing this to students, parents or both, and have students sign up to participate through a sign up.
Front Row Tickets - As a theater fundraiser, auction off front row or prime seats to the high school musical. You can also raise money by selling arts memberships where patrons are guaranteed seats in a prime area of the theatre. The same idea could apply to the athletic booster club with football, basketball or volleyball.
Meet and Greet - May young students look up to the high school athletes and thespians and would love to meet them. As a fundraiser for the athletic booster club and art department, offer a meet and greet before or after the game with some of the players, or after the school play while the characters are still in costume. You can also consider offering a behind the scenes tour where younger students can buy a behind the scenes tour ticket and see what it is like to get ready for the play or the game.
---
Organize a gift-wrapping fundraiser with a sign up. View an Example
---
Parking Pass - At many schools, parking for students and teachers is in certain locations. Auction or raffle off a front row parking spot for students and teachers. You can also include a pass for "skip to the front of carpool" — either of these options are major time-savers for busy parents, students and staff.
Game Ball Raffle - Raffle the game ball each home game for football, soccer, volleyball or whatever sports are big at your school. For an added bonus, have the players sign the ball. You can also offer a special higher-priced raffle for the homecoming game. Keep it affordable at $10-$20 and advertise to students, teachers and the fan and parent community. This is a fun prize and memory whether the fan is a 10-year-old, a student or a parent.
Face Painting - Offer face painting before the Friday night games. This is a great way to boost school spirit and raise money for your group. Advertise that it will be available each home game and/or every week at a specific location, so students and fans know when and where to expect it. This is a great way to boost school spirit and raise money for your cause.
Pumpkin Spice Bake Sale - While the classic bake sale has been done many times over, you can keep it fresh and fun with a fall theme and set it up at a school event where people want snacks. Sell baked goods in the carpool line before school, at sporting events or during intermission of the school play. Use a fun theme such as football- or pumpkin-shaped cookies or pumpkin spiced pastries.
With any idea, the key is to make it exciting, fresh and specific to your group. For most of these ideas, you can create a fun fall scene with snacks, decor and Instagram-worthy backdrops. People are happy to support a cause — especially when they get a fall experience out of it. Make sure to thank people for participating and enjoy! 
Andrea Johnson is a native Texan now living in Charlotte, N.C., with her husband and two daughters. She enjoys running, photography and good chocolate.