50 Book Club Questions for Any Selection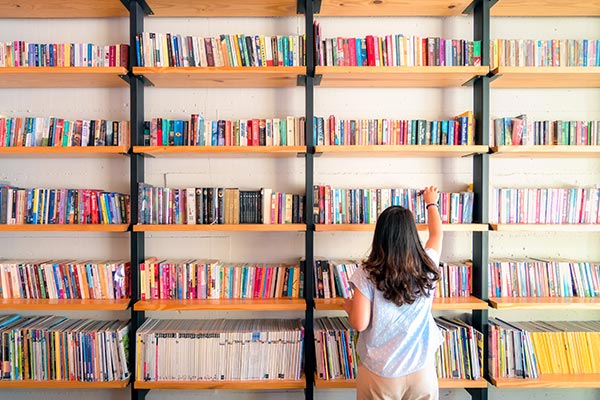 Ready to read? And then talk about it with friends? We're making things as easy as possible with this list of book club questions that will keep your group chatting well into the night. All you need to do now is provide fun snacks — and of course, read the book!
General Book Club Questions
What is the significance of the title? Did you find it meaningful, why or why not?
Would you have given the book a different title? If yes, what would your title be?
What were the main themes of the book? How were those themes brought to life?
What did you think of the writing style and content structure of the book?
How important was the time period or the setting to the story? Did you think it was accurately portrayed?
How would the book have played out differently in a different time period or setting?
Which location in the book would you most like to visit and why?
Were there any quotes (or passages) that stood out to you? Why?
What did you like most about the book? What did you like the least?
How did the book make you feel? What emotions did it evoke?
Are there any books that you would compare this book to?
Have you read any other books by this author? How would you compare them to this selection?
What do you think the author's goal was in writing this book? What ideas were they trying to illustrate? What message were they trying to send?
What did you learn from this book?
Did this book remind you of any other books that you've read? Describe the connection.
Did your opinion of this book change as you read it? How?
Would you recommend the book to a friend? How would you summarize the story if you were to recommend it?
Was the book satisfying to read? Why or why not?
If you could talk to the author, what burning question would you want to ask?
---
Coordinate book club snacks and hosts with a sign up. View an Example
---
Book Club Questions About the Characters
Which character did you most relate to and why?
Who was your favorite character? Why?
Which character or moment prompted the strongest emotional reaction for you? Why?
What motivates the actions of each of the characters in the book?
Did the characters seem believable to you? Did they remind you of anyone you know?
Were the characters clearly drawn and depicted?
If the book were made into a movie, who would play each of the lead characters?
What were the power dynamics between the characters and how did that affect their interactions?
How does the way the characters see themselves differ from the way others see them?
Were there times you disagreed with a character's actions? What would you have done differently?
Which character would you most like to meet in real life?
---
Plan a book club volunteer outing with a sign up. View an Example
---
Book Club Questions About the Plot
What scene would you point out as the pivotal moment in the narrative? How did it make you feel?
What scene resonated with you most on a personal level? (Why? How did it make you feel?)
What surprised you most about the book? Why? Were there significant plot twists and turns? If so, what were they?
Were there any plot twists that you loved? Hated?
Did the author do a good job of organizing the plot and moving it along?
What was your favorite chapter and why?
What (if any) questions do you still have about the plot?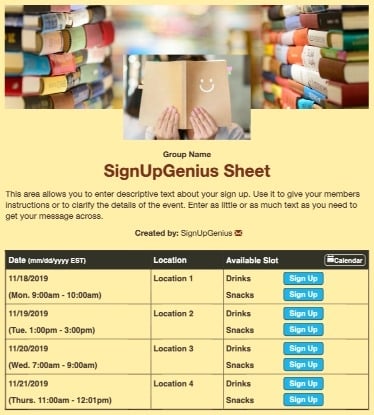 Book Club Questions About the Ending
How did you feel about the ending? How might you change it?
How have the characters changed by the end of the book?
What do you think will happen next to the main characters?
Have any of your personal views changed because of this book? If so, how?
---
Collect RSVPs for a book club party with a sign up. View an Example
---
Book Club Questions by Genre
Mysteries
At what point in the book did you have an idea what was going on? What was the key clue that gave it away?
How did the author build the tension?
Did the ending answer all your questions? Did you think it was believable or too farfetched?
Memoirs
How honest do you think the author was?
What aspects of the story could you most relate to?
Why do you think the author chose to write their memoir?
Romance
Were you rooting for the couple to get together all along? Why or why not?
Did the plot make sense or were there some gaps/liberties taken to help get the couple together (or keep them apart)?
What songs did you think of while reading this book? (For extra fun: make a playlist!)
A book club can be a great way to both get you reading and get you together with friends with similar interests who you might not otherwise see on a regular basis. With these questions in hand, all you need is a good book, great food and a lively discussion.
Michelle Boudin is an investigative reporter for WCNC TV and a freelance writer.