Beach Cleanup Tips and Ideas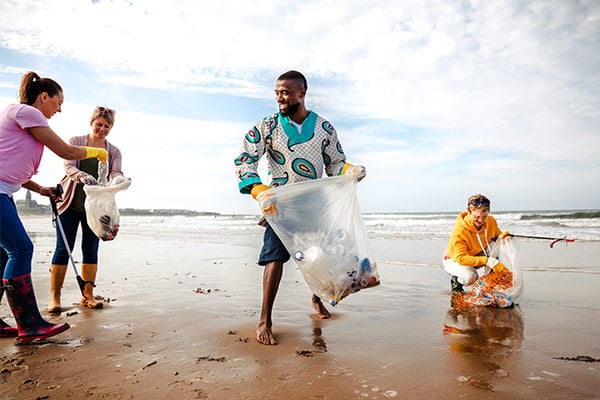 The beach is a popular place to relax and have fun. Yet, as the crowds of visitors increase, so does the trash that is left behind. Trash left on the beach is not just unattractive, it can wash back into the water and create safety hazards for visitors and aquatic life. From oceans to lakes to rivers, organizing a beach cleanup is a wonderful way to do good while also enjoying the beauty of the ocean. Let's look at some helpful tips and tricks for organizing your next beach cleanup. 
Before Your Beach Cleanup
Pick a Beach - Start by doing a little research into beach areas that will need a little more help. This could be a busier beach with lots of traffic or one out of the way that people often forget is there, making it a hot spot for late-night group bonfires.
Plan a Time - The best time to do a beach cleanup is after a holiday or long weekend when loitering will be at its peak. Also, you may want to go first thing in the morning, before more visitors arrive, or you'll be picking up around relaxing guests.
Schedule the Cleanup - Use a sign up to organize your group and make sure everyone knows where and when to meet.
Get Cash - Many beaches require a small fee to visit. You don't want any participants to get caught off guard.
---
Coordinate Earth Day volunteers with a sign up. View an Example
---
What to Bring for Your Beach Cleanup
Trash Supplies - Bring trash bags, trash pickup sticks, gloves to protect hands, hand sanitizer and anything else you might need for trash removal to make your cleanup more successful. Please don't use your bare hands; you never know what is on the trash or if there are sharp items. For broken glass removal, use something firmer than a trash bag that won't allow glass to cut through.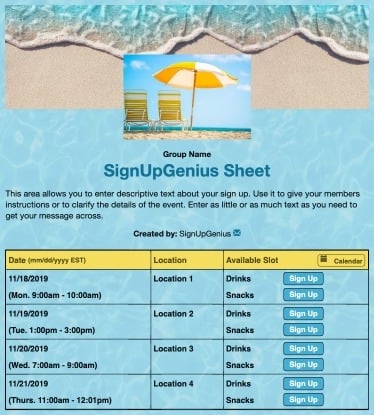 Physical Protection - Encourage everyone to wear sunscreen, sunglasses, sweatshirts or something to protect arms, covered shoes to protect toes and any other types of apparel needed to protect your body from the elements.
Snacks & Water - Make sure to have snacks and water for every helper. Stay hydrated and fueled so all that hard work doesn't wear you down.
---
Plan a church youth beach trip with a sign up. View an Example
---
What to Do at Your Beach Cleanup
Stay Organized - After meeting up with everyone at the cleanup site, split up the area and have everyone break off into smaller groups to work together. Plan a place where full trash bags can go, so they aren't scattered all over.
Remove Trash - Time to clean up! Use music to keep everyone motivated while you do your good deed for the environment.
Haul Trash - Don't leave all that bagged up garbage there! Make sure you have a place to dump all of the trash safely. If there is the option to recycle, you could even separate trash and recycling to lessen the landfill load.
Celebrate - Before you go home, make sure to celebrate as a group. It feels good to do something like a beach cleanup and you all deserve to grab some food and pat yourselves on the back for your hard work.
The beaches are some of our earth's prized possessions. We should all do our part to take care of them. One of the ways we can do that is by organizing beach cleanups. Over time, your cleanup crew will continue to grow, and you can cover even larger areas of shoreline.  
Erica Jabali is a freelance writer and blogs over at ispyfabulous.com.