Change Date on a Sign Up Page
Your event got rained out? No problem. You can edit dates and sign up slots at any time. 
Log in to your SignUpGenius account. From the Created tab, select the pencil icon to the right of the sign up you wish to edit.
Go to the Slots tab.
Select the pencil icon to the right of the date/time you wish to edit.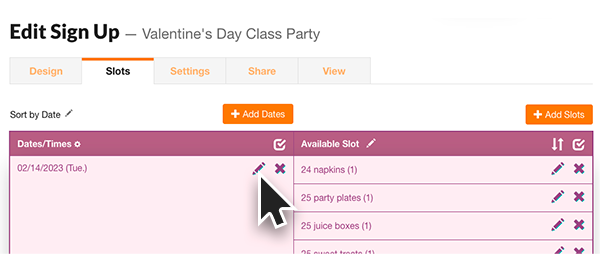 You can choose to edit the date and/or the time by making the selections from the calendar. You can then choose if the edit applies to all or some of the slots assigned to that date/time.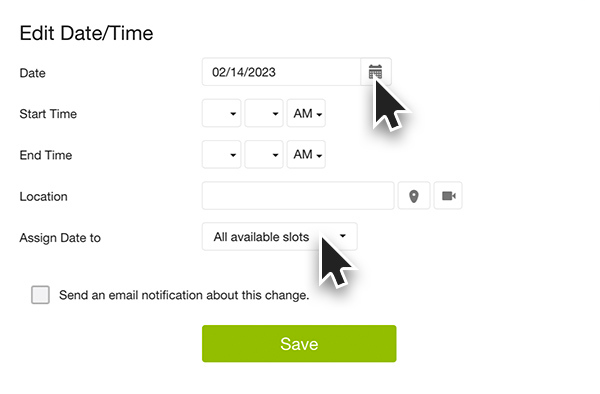 You can also elect to send an email to people signed up, or the entire group to notify them of the change to the sign up.   
Click Update at the bottom of the page to save the changes.
If you need to change additional date/time intervals, you can do so by following these steps again. 
You also have the ability to edit multiple dates and/or times at once. This option must be used carefully or you may make an unintended edit to multiple dates/times at once.
To edit multiple entries at once, be sure that your sign up format is Sort by Date. To bulk edit the dates, times and/or location:
Click the check box icon in the header of the dates/times table to Select Multiple Dates. 
Check the box in the header to select all dates. 
Select the orange Edit button at the top of the table. 
Check the box(es) for information you wish to update and edit the information for each area.
Click Save to make the updates to your sign up.