Add New Dates and Times
If you have created a sign up and need to add additional dates and times, you can do so by following these steps:
Log into your account and click the "Created" tab at the top. Select the pencil icon to the right of the sign up you want to edit.
Go to Step 3: Dates & Times. If your sign up has a single date, you will need to check the option that reads, "I need to add more dates/times in addition to the ones above" and hit the "Update" button. If multiple dates are already entered, scroll down to the table to "Add New Date/Times."

Enter additional dates and times as needed and click the green "Add New" button to the right once completed.

Proceed to Step 4: Slots. New dates and times must be assigned to slot entries on Step 4 before the dates and times will be visible on the live sign up.
You can edit existing slot entries to show the new dates and times or you can create a new slot to assign to the newly entered date/time.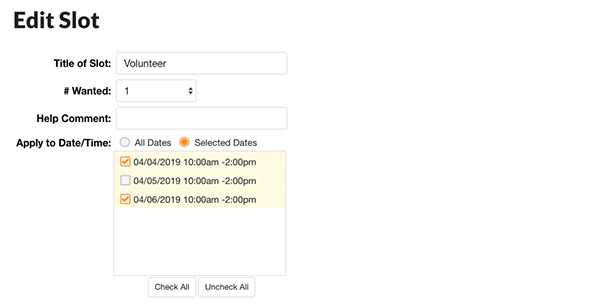 Click the "Update" button to save changes.