Add an Item to Your Personal Calendar
There are three ways sign up participants can add an item they have signed up for to their personal digital calendar.  
After you complete the sign up process, the "Thank You" page that appears has icons to add the item to your Google Calendar, iCal or Outlook calendars.
If you have a SignUpGenius account, you can log in and go to the Invited To tab to locate the items you have signed up for.
         To the right of your sign up, you will see a calendar icon.

From this option, you can:
   Add the single item or event to your calendar.
   Choose to Sync Everything I've Signed Up for to My Calendar.
   Click the question mark icon for calendar help.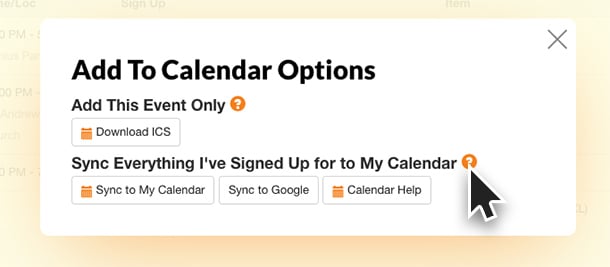 When you sign up, a confirmation email will automatically be sent to you. An .ics file that can be added to your personal calendar is included in the confirmation email.