College Study Abroad Packing List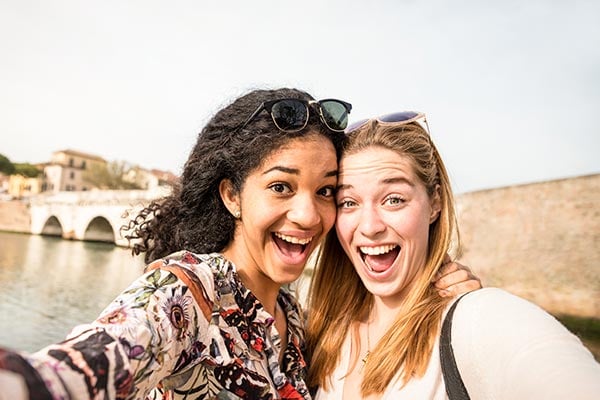 Moving to a new country is a huge step to take, so it makes sense to have a little help when deciding how to pack your life into two checked bags. Use this packing list to make the process of preparing for your study abroad a little easier.
Clothing
When everybody says pack lightly, they're looking out for you! Create a spreadsheet and include pictures of what you plan on bringing so you can keep track of everything you pack.
Seasonal Options - Research the climate and weather of your destination before going, so you are prepared for the elements.

Warm Weather Clothing - Swimsuits, tank tops, shorts, skirts and light jackets.
Cold Weather Clothing - Rain gear, gloves, hats, scarves, jackets, sweatshirts and sweaters.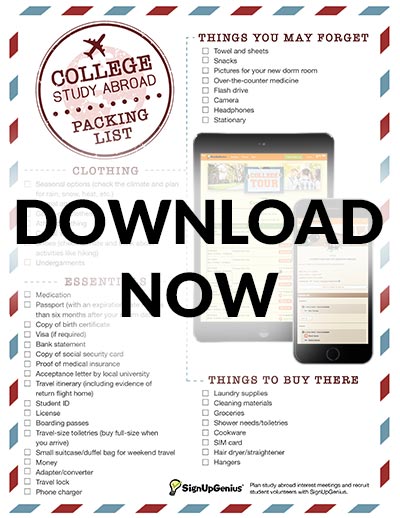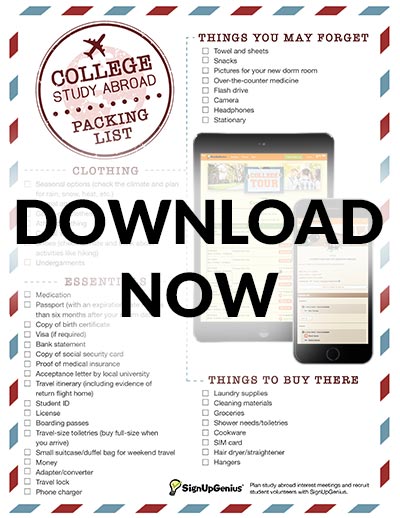 Formal Attire - Pack only one or two dressy outfits for a fancy dinner or event. If you end up needing more, the sale section or thrift stores in your new country will be your best friend!
Going-Out Items - Everybody needs to have a little fun while they are abroad, so make sure you pack clothes for a night on the town.
Athletic Clothing - Find light and quick-drying materials for your athletic clothing so you can easily hand wash and dry them without having to pay for full laundry cycles.
Casual Wear - Since this is what you'll be living in the most, it will take up most of your suitcase. Whether your casual clothes are t-shirts or blouses, make sure they are comfortable for activities like going to class or walking around a city.
Shoes - Choose your shoes wisely and consider how long you will be walking in them. Here are some recommended options:
Rain shoes
Flip flops/sandals (for warm weather or hostel showers)
Hiking shoes
Everyday shoes
Boots
Athletic shoes
Heels/dress shoes
Accessories - Avoid bringing valuables on your trip to prevent breaking them, losing them or theft.
Undergarments - Pack a two-week supply of socks and underwear to keep you from running out too quickly. If you do run out, wash these in the sink and hang to dry to save money.
---
Use a sign up to plan a "meet and mingle" for students who will study abroad together. View an Example
---
Essentials
You'll have loads of fun during your study abroad, but it's time to be serious when making sure you pack these necessary items.
Medication - Talk to your doctor and insurance provider before your trip so you can pick up your prescriptions for your entire stay.
Documentation - Secure your entry to the country by making sure you have all of the proper papers. Requirements vary by country, but might include:
Passport (with an expiration date no less than six months after your return date)
Copy of birth certificate
Visa (if required)
Bank statement
Copy of social security card
Proof of insurance
Acceptance letter by local university
Travel itinerary (including evidence of return flight home)
Student ID
License
Boarding passes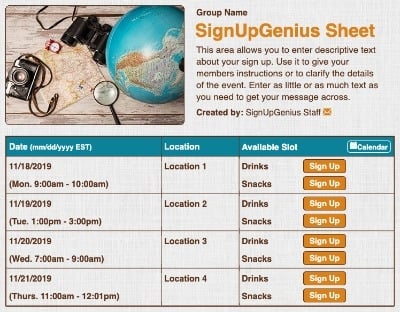 Travel Size Toiletries - Pack toiletry containers that follow carry-on regulations so you have things like shampoo and conditioner that will last until you have time to purchase more after your arrival.
Shampoo
Conditioner
Face cleanser
Deodorant
Toothpaste
Makeup
Feminine products
Razor
Brush
Toothbrush
Contact lenses/solution
Nail clippers
Small Suitcase/Duffel Bag - Bring a bag that is perfect for weekend travel and everyday use.
Money - Make sure you have at least $300 in the local currency before you depart. Also try and secure a credit card with no international transaction fees.
Adapter/Converter - Charge your electronics with an adapter or converter. An adapter allows you to connect your charger to a foreign outlet and a converter changes the electricity voltage to suit your device.
Travel Lock - Keep your belongings safe with this travel necessity. Most gyms and hostels provide lockers for your items but make sure to keep them safe and secure with a lock.
Phone Charger - You can't talk to family and friends on the phone if your electronics run out of battery! Keep loved ones in the loop with your adventures by bringing a charger.
---
Coordinate dorm room needs with a sign up. View an Example
---
Things you May Forget
Towel and Sheets - Check with your lodging facility to see if you should bring bedding and a towel. Having these items ready and clean will allow you to shower and have a good night's rest after lots of traveling.
Snacks - Include a taste from home to get you through lots of traveling and the first few days in your new home.
Pictures - Hang pictures of friends and family to make your new living area feel like home.
Over-the-Counter Medicine - Bring your preferred cold remedies and headache cures to avoid feeling sick and unable to find the foreign equivalent of your needed medicine.
Flash Drive - You never know when you may need this to transport files or upload documents to print!
Camera - Pack a camera so you can remember every amazing moment from your study abroad trip. Whether it's a professional camera, a disposable camera or your phone, anything that captures the moment will work!
Headphones - Regardless of where you go, you will be spending time on some form of transportation like a bus, train or plane. Help the time go by faster by bringing headphones to listen to music or watch Netflix.
Stationery - Give family and friends an update about how life is going by writing home every week or two. Even if you don't normally write letters, this old-fashioned form of communication can be an outlet and something to look forward to.
Things to Buy There
Wait to purchase these items until you arrive to free up space in your luggage for other things like clothing and snacks … but mainly snacks!
Laundry Supplies - Detergents and fabric softeners can add some serious weight and bulk up your baggage. Stay under the weight requirement by purchasing laundry supplies after your arrival.
Cleaning materials - Leave the Clorox wipes at home and buy cleaning essentials at a store near your living arrangement to create space in your luggage and still keep your room looking spick and span.
Groceries - No matter where you go, there will be a local market or store that sells food either a walk or a bus ride away.
Shower Needs - Find a local pharmacy, beauty store or grocery store to purchase everything you need to stay clean.
Cookware - Research stores near your new university that sell pots, pans and dishes at a low price so you can cook for yourself and save money.
SIM Card - Look into purchasing a sim card from a local provider instead of switching your phone to an international plan. You may end up saving money and some providers even offer a student discount. Just make sure your carrier unlocks your phone, so you can activate your new sim card!
Hair Dryer/Straightener - Wait until you arrive to purchase these beauty items. If the country you are going to has different electricity voltages, you could end up frying your appliance from home.
Hangers - While necessary, these items take up a lot of room in your suitcase. Department stores in your area should have cheap plastic options once you arrive.
---
Organize student tours (including sessions on study abroad opportunities!) with a sign up. View an Example
---
Genius Tips
Here are a few tips from firsthand experience that could point you in the right direction.
Luggage Restrictions - Check your airline's luggage restrictions and fees before you pack up all of your items. You don't want to shuffle your items around to meet the weight cap at the airport and worry about missing your flight!
Prescriptions - Keep your prescriptions for medications with you in case the local immigration agents have questions about it or want proof that they belong to you.
Paper Copies - Print out any and all documents that you might need. Even if there is only a slight possibility you will need it during your travels, print it out and have it in your carry-on to play it safe.
Do Your Research - Look up information about anything and everything before you depart so you can maneuver your arrival with ease. Possible searches are local grocery stores, transportation routes, shipping information and department stores.
Culture Shock - Getting used to living in a different country with a new culture can take some time. Surround yourself with a good support system and establish a routine to help yourself feel better when you start to feel homesick.
Make Connections - Reach out to your roommates, teachers and advisors to meet people who are there to help you. Whether it is how to book a flight, which store has what you are looking for or where your first class is, don't be afraid to ask questions.
Notify your Bank - Call your bank to let them know the specific dates of your travel so they can put a notice on your account. This way, you won't get locked out of your account when you arrive!
Book Now - If you plan on traveling while you're abroad, look into booking flights and accommodations as soon as possible so you can find the lowest prices for the best experiences.
Save Early - Begin saving money early so you can truly enjoy what your new environment has to offer by taking trips to new places and exploring the cuisine and culture.
Leave Some Room - No matter where you go, you will end up buying stuff while you're there. Try and leave your suitcase a little under-packed so you can bring souvenirs back with you.
Start your study abroad planning as soon as you can with this list. These ideas will help you make the most of your time in a new country and make memories that will make it into the scrapbook.
Celine Ives is a college student who enjoys playing field hockey, cuddling with her dog and cheering on her Carolina Tar Heels. Celine's study abroad tips come from real-time experience (she wrote this while studying in Ireland)!