25 Sorority Pledge and Initiation Ideas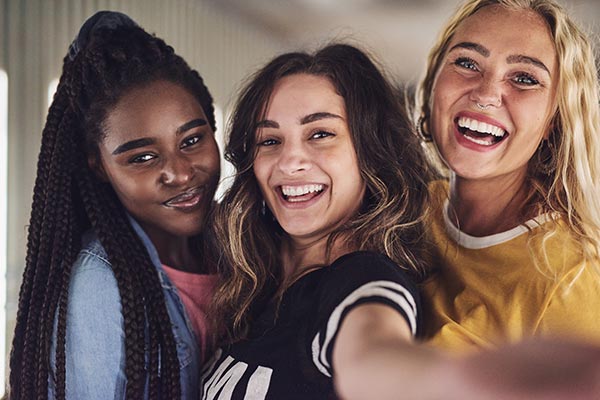 Welcome your new members with exciting games and activities to help them settle in with their new sorority family. A mix between informative and fun-filled sessions will inspire the newest pledge class to bond and create a relationship with the organization that they will come to call home!
Celebrate Your New Members
While the process of recruitment can be a little stressful, show off how fun your sorority can be with activities where girls can let loose and have a blast with the rest of their pledge class.
Plan a Retreat - Take a group trip with the newest members. Reserve a house at the destination of your choice for the weekend so girls can relax and get to know everything about their future best friends with good food, entertaining games and enjoyable sisterhood.
Race on Roller-Skates - Get your racing shoes on and bring everyone to a roller skating rink to listen to great music and enjoy everybody's collective clumsiness. No matter how many times you may fall down, your sisters will be there to pick you up!
Volunteer for a Day - Team up with a local park or organization to bring help to the community and encourage new members to work together for the greater good. Genius Tip: Try these 65 volunteer opportunities and ideas to start getting involved!
Tie Dye T-Shirts - Bring out the coloring dye and some sorority letter t-shirts to start your new members off on collecting all sorts of Greek gear. Girls can learn more about each other and bond while creating their own personalized t-shirt!
---
Recruit bid day volunteers with a sign up. View an Example
---
Girls Night - Pizza, pampering and pedicures! Host a night just for the new members to take over the sorority house and celebrate sisterhood by indulging with movies and treats.
Bowling Bash - Bring the newest pledge class to a nearby bowling alley to enjoy a night filled with spares and strikes. But don't worry, the new members won't strike out with the friends and memories that will be made!
Gym Takeover - Get the new members together to fill an exercise class at the campus gym or a nearby studio to get those endorphins flowing and work off any leftover stress from recruitment. Your new members will thank you!
Girl Power - Enroll new members in a self-defense class to empower them and help them feel safer in Greek Life. If they are ever in a sticky situation, they'll know how to react quickly and defend themselves.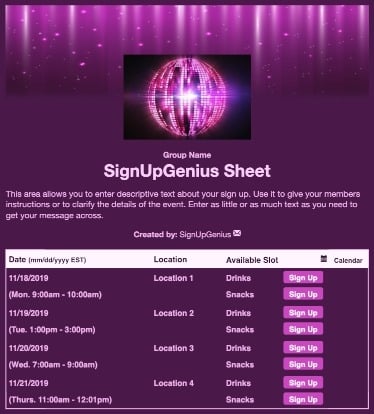 Getting to Know Your Sorority
Set up weekly sessions and incorporate these activities to help new members learn more about the organization they chose to join and the women in it. There's no way that they won't fall in love with the sorority after taking part in these ideas!
Fun for Philanthropy - Include a craft or create a fundraiser to start new members off helping the philanthropy that your sorority embraces. Write letters, make pillowcases or organize meals to send to the organization to show your support!
Study the History - Most of the national headquarters for each sorority require new members to pass an exam of their knowledge of the history and traditions of their sorority. While this may sound daunting, spice up the traditional learning style and encourage them to learn the history of their sorority by throwing in trivia games and prizes for those with the most knowledge.
Speed Dating with Sisters - Host this event with only the new members or the entire chapter so girls can meet each other and learn new things about people they already know. Genius Tip: If you're in need of some question ideas, check out these 100 icebreaker questions for college students.
Train Wreck! - Start a meeting off with this icebreaker to get the new members to exchange some fun facts about each other. Gather enough chairs for each new member minus one to be sitting in a circle, and have the extra person start in the middle. Read a phrase like, "I have a pet," and those that identify with the statement have to scramble for a new seat!
---
Ask members to contribute different rush week items with a sign up. View an Example
---
Sister Survival Kit - Have members fill goodie bags with items that will help the new members survive a semester at school. Include items like candy, pens and a tips and tricks list to get them started on the right track for an awesome semester.
Opportunities to Get Involved - Elect pledge class officers complete with a president, treasurer and secretary to start members off getting involved in the sorority. This way they can get a head start on getting to know the responsibilities of being in a sorority and see which roles they might fit into!
Senior Panel - Choose some of the most well-known seniors and have them come sit for a panel during a weekly meeting so the new girls can ask them questions. Whether they are serious or goofy questions, the seniors will have some valuable advice and hilarious stories to tell.
Family Feud - Divide the new members into teams of five and imitate the famous game show with questions about the sorority or university campus. The winning team gets gift cards or sorority themed gifts.
Guess Who - Read random facts about new members at your next meeting and see who can guess which member you are talking about. Offer prizes for the person who knows their sisters the best!
Things to Do Before Initiation
During initiation, the newest pledge class will be welcomed into the sorority as full members. With that said, take a look at these ideas to complete before initiation to help the new member period close out on a positive note.
Enjoy a Family Dinner - Encourage sorority families to have an outing at their favorite restaurant before the initiation ceremony. Your new member will feel loved and ready to be officially welcomed.
A Trip Down Memory Lane - Take a moment to let new members settle down before the initiation ceremony to contemplate all the events that brought them to this moment. This way they can reflect on the good times they have had and get excited for what the future holds!
Family Portrait - Take a sorority family photo before the initiation ceremony to remember the moment for the coming years. Once it's framed, each member can keep the photo for their own memories.
Pass Along Treasures - Whether it is during the big/little process or a separate family outing, have the older members within each sorority family pass down some of their sorority treasures that they have collected during their years. Regardless of the gifts, the newest member of the family is sure to appreciate the kind gestures!
---
Gather alumni and current members for rush week with a sign up. View an Example
---
Teach the Traditions - Every sorority has their own unique rituals and traditions, so it is essential for the new members to know them before initiation. When they complete the rituals with ease, nobody will even know they just became full members.
Leave Your Mark - Create a class gift from the newest pledge class to donate to the house so they can leave their mark on the sorority. Members can paint a picnic table, bench or other craft that all members can appreciate for years to come.
Developed Disposables - Purchase a couple of disposable cameras for the pledge class to have available for the girls to use at meetings and events. Develop them right before initiation so the girls will be able to look back at all the memories they've made (and get excited about making more).
Paint a Pin Box - During initiation, the newest pledge class will become full members and receive their sorority pins. Make this moment even more special by having the new members paint their own pin box beforehand so they already have a personalized place to store it.
With these ideas for your newest pledge class, the girls are sure to be best friends by the end of initiation. Who knows? Maybe they'll tell stories of the experiences they share from these activities when they are seniors and inspire more new members!
Celine Ives is a college student who enjoys playing field hockey, cuddling with her dog and cheering on her Carolina Tar Heels.