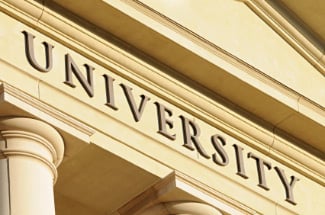 Whether you're a student, professor or administrator, you know that life on a college campus is full of opportunities and responsibilities. Not only do you want to keep up with them all, you want to make a significant impact in your community. Wouldn't it be nice if there was a simple way to coordinate study groups, fundraising events, volunteers and office hours?
With SignUpGenius.com, there is! Here are just a few ideas for ways that colleges can benefit from  free online sign ups offered by SignUpGenius.
1. Organize Volunteers – Your event is approaching and there's still so much to do! There's the venue to secure, the entertainment to audition, the menu to decide upon, and oh, yes, marketing the event. With so much to do to, you need a posse of volunteers to help. SignUpGenius can make organizing them a breeze. Set planning meetings, get volunteers to commit to responsibilities, and have people sign up for shifts with easy to create sign ups. With online sign ups, you and your volunteers will be able to see who is doing what and if there are any holes that need filling.
2. Plan Your Greek Event – Whether you need your sorority sisters to sign up for Rush duties, coordinate volunteers for a fundraiser, or get the guys to plan a fraternity party, creating an online sign up is the answer. Do away with reply to all emails and paper sign ups.
3. Schedule Office Hours – Tired of having no one show up for your office hours some days and a line of waiting students other days? Professors and TAs can use SignUpGenius to coordinate these appointments. Instead of having to keep the paper list updated on your door, go green and put it online. That way you and your students can see which office hours are available from anywhere and at any time. You can even hide students' names but mark appointments as taken if you or your students are concerned about privacy.
4. Coordinate a Study Group – As a student, you often have to get together with groups to work on projects and study for big tests. Want to study with a group from your chem class weekly? Create a sign up where people can sign up to attend each week or sporadically. With a sign up, you can all meet at one location or different ones each week. You can even coordinate who will bring snacks and who will prep notes to study specific topics. Since the info will all stay in one spot online, you'll never have to worry about anyone getting confused or forgetting their responsibility. SignUpGenius can even send out automatic reminder emails to your group!
5. Invite People to Your Greek Formal – You'll need to collect RSVP's for the upcoming formal and find out how many favors each guest wants to purchase. Use one of our creative sign up backgrounds or upload an image of your own for added schizzle.
---
Plan your Greek formal easily with SignUpGenius. SAMPLE
---
6.
Plan a Fundraiser
– Whether you want guests to sign up to attend a fundraiser or you want to organize your volunteers to serve at the event, SignUpGenius can help. With hundreds of creative backgrounds to choose from and the ability to customize every sign up, you can easily design as many sign ups as you need.
7. Get RSVPs for Campus Wide Events – So you've booked a big name to speak to the student body, but you'd like to have a sense for how many students plan to come out and hear the speaker. Create a sign up and use one of SignUpGenius' web buttons on your website to link to the sign up. Let students know about the event through your site and social media channels. When they follow the link to sign up, they can find out more details about the event, and they can pass the link onto other students to do the same.
8. Create a Wish List – Whether you're involved with a campus organization in need of furniture donated for their new digs, a student heading back to campus hoping for a dorm room makeover, or an administrator seeking alumni support for outfitting a new campus building, SignUpGenius can help. Make a sign up wish list and send it out to potential donors (or kind relatives) to see what people are able to give.
9. Sign Up to Attend Social Events – Whether you're organizing a paint ball event for your dorm, a movie night with sorority sisters, or a spring break trip for your organization, online sign ups with SignUpGenius can simplify the process. You can ask people to RSVP for the event and sign up to bring food or other items to share with the group.
---
Coordinate your college events and accept payments with an online sign up. SAMPLE
---
10.
Sign Up for Workout Classes or Equipment
– If you're tired of going to the campus fitness center or your dorm workout room and finding that all of the equipment is already in use, encourage the folks in charge to use SignUpGenius. They can create a weekly or daily sign up where members sign up for open time slots or classes. Since it's online and they can link it to their site, anyone can go and see what slots are available easily.
There are so many ways to use online sign ups from SignUpGenius to coordinate your college opportunities. With the time you'll save in using this free service, you'll be able to make the most of each one!