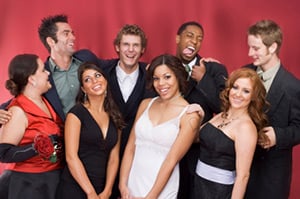 Planning the annual formal for your sorority or fraternity is no small gig. You've got to be creative, thrifty and super organized to pull off a successful event. From cool invitations to a yummy menu, from the perfect venue to entertainment loaded with shizzle, you're going to have your hands full. And don't forget the all important need to find a hot date and a fabulous look, too! It'd be easy to feel overwhelmed, but thanks to SignUpGenius, your job just got a whole lot simpler
Venue
So you have the event date but where do you go from here? Choosing the venue will narrow down your options for everything else, so start there. Instead of heading back to the same ol' stompin' ground your group has used before, take some time to do your homework. Ask around the greek scene. Surely a friend or two in your psych class will have a few ideas of snazzy places to check out. Ask about the amenities and costs for each venue and get some feedback from folks at your house before deciding on the site.
Head Count and Invitation
Once you nail down the date and venue decisions, you need to know who's coming, right? Why not go techie and keep the process super simple while collecting RSVP's overnight? Let SignUpGenius.com act as your invitation hub by sending out a sign up where everyone can respond and get the event details. They can even leave their date's name if you're interested in making place cards.
Tickets
Not all of your funding can come out of your social budget, so charge a ticket amount that won't break the meager banks of your housemates, but will provide some much needed cash to fund a few killer aspects of the night. Have everyone RSVP and purchase tickets using an online sign up. If you save on the venue, then you might be able to get the entertainment that everyone on campus has been raving about.
Food
For this big of a function, you'll want to hire a caterer. Before you decide on your food choices though, you'll need to get an idea of people's preferences. You'll probably have some vegetarians in the mix, so don't forget a meat free option! Use SignUpGenius to gather each guest's preference… like meat, fish, or pasta. People can also mention any allergies they may have in the comment field when they sign up.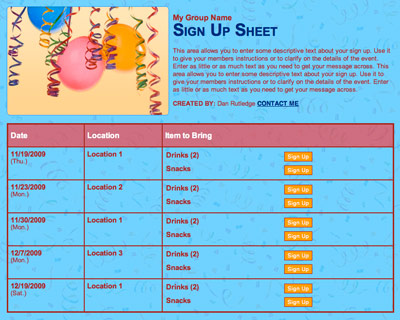 Transportation
Group transportation is always the safest option when hosting your formal to avoid dangerous end-of-the-evening scenarios. Charter a bus to shuttle all the couples to and from the venue.
Décor
You want to add a special touch to help create the mood for the evening with classy décor. Remember that sometimes simple is better and oftentimes cheaper! Think of an elegant color scheme and purchase items like tablecloths, runners, candles, and centerpieces.
Music and Entertainment
This is the key choice that will make or break your event, so put some time and resources into researching this aspect. You won't regret it. Choose from a DJ or a live band, and remember, SignUpGenius can help if you want to gather everyone's music preference.
Why not consider hiring your student body's aspiring comedian to perform or even your school's a cappella group? This is a great way to show that your group cares about other student organizations too!
It's easy to become stressed out when planning a formal, but keep in mind, at the end of the night, what people really remember most is being with good friends for a good time. Everything else is an added bonus. By following these tips and using a simple organizational tool like SignUpGenius.com, you and your friends will have a great time!