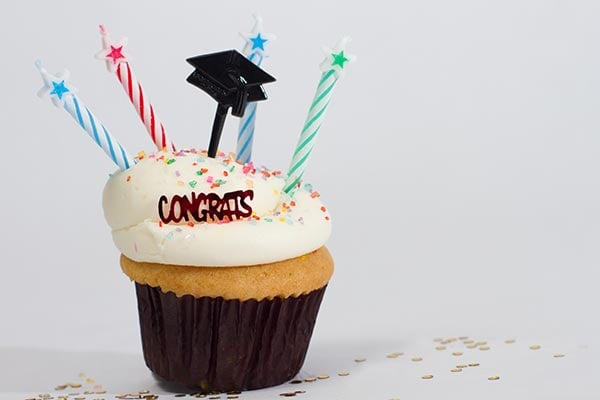 College graduation is around the corner, and it's almost time to send your senior off into the world in style! Thankfully, these 25 ideas for throwing the perfect college graduation party will help you out. 
Fun Food
1.
Class Rings
- Put out ring pop candy as faux "class rings" for a fun and easy party snack.
2. Graduation Cap Water Bottles - Glue square paper cut-outs and fake tassels to the top of water bottles — now they look just like graduates!
3. New City - Research the city that your student is hoping to move to after graduation to discover iconic foods. Serve some at the party!
4. Twinkie Diplomas - Wrap Twinkies in cute ribbons so they look like diplomas.
5. Smart Cookie - Cookies are a great dessert for any occasion, but personalize them for a graduation party with a sign that lets everyone know your grad is "one smart cookie."
---
Plan a graduation cookout potluck with a sign up. View a Sample
---
Game Ideas
6.
Pin the Tassel on the Grad
- Hang a large print of your grad and see which of your blindfolded guests can accurately put a tassel on the photo!
7. Cornhole - Cornhole is the perfect graduation party game. Bonus points if you get a game in your grad's college colors.
8. Picture This - Print out a bunch of pictures of your graduate from different times in his or her life. See which guest can put the photos in the correct order!
9. Grad Trivia - Create a paper quiz with trivia about your graduate and hand it out. The guest with the highest score wins a prize.
10. Pop the Balloon - Fill balloons with confetti and then at the end of the party, have your guests pop them around your grad for a great photo! Put a funny picture of your graduate in one of the balloons so that one guest ends up with a silly prize.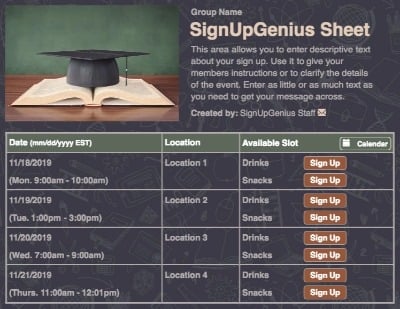 Decorations and Photos
11.
Then and Now
- Create a photo board of your graduate throughout his/her school years, leading through college up to their graduation.
12. Cap Card Box - Create a box for cards and checks that looks just like a graduation cap.
13. Photo Booth - For a quick and easy photo booth background, hang multi-colored strips of crepe paper against a plain wall. Now all your guests can take photos with the grad!
14. Hanging Frames - If your graduation party is outside, hang some photo frames from a tree for a fun and easy way to take photos.
15. Polaroid Picture - Cut the center out of poster board to make a photo booth background that looks like a Polaroid picture.
---
Recruit graduation ceremony volunteers with a sign up. View a Sample
---
Advice and Memorable Gifts
16.
Memory Jar
- Create a large 'memory jar' where your guests can write their favorite memories of your graduate on a slip of paper for him or her to read later.
17. A Puzzle of Friends - Buy a large, blank puzzle and have each guest write an encouraging message on one of the puzzle pieces. After the party is over, your family can put it together and see all the friends who came to support your graduate!
18. Networking Jar - This one is practical — have a jar for business cards so your graduate can start their professional network with contact information!
19. Keys to Adulthood - Buy a blank book and put a category on each page (maybe things like health, home, relationships, etc.). Encourage your guests to write down life advice for your graduate in the respective categories.
20. Building Memories - Set up a game of Jenga and let each guest write a memory with the grad on a block!
---
Schedule grad photo sessions and collect payments with a sign up. View a Sample
---
Miscellaneous
21.
Hashtag
- Spice up your party with a hashtag for the event. Create a grad party hashtag so that you can look at the photos together later.
22. Kiddie Pool - If you want to store lots of drinks for an outdoor party but don't want to shell out for a cooler, fill a kiddie pool with ice. It works great in a pinch!
23. Balloons - Tape a graduation cap to helium-filled balloons outside the venue so your guests know where to go.
24. Slideshow - Create a slideshow of pictures of your graduate and have it playing on television while the party goes on.
25. Bug Spray and Sunscreen - If your party is outside, consider having bug spray and sunscreen handy for your guests. Graduation season is the prime time for bugs!
With a few of these tips, you'll be ready to throw an unforgettable graduation party! 
Kayla Rutledge is a college student who spends most of her time writing, singing for her church and eating quesadillas.