50 Fun College Party Ideas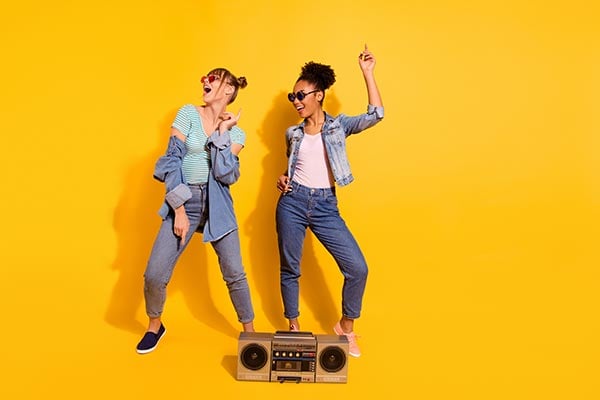 College is a time to make new friends and memories that you will remember for years to come. What better way to start off on the right foot by throwing a party? Whether you're a club leader, sorority or fraternity member, RA planning a residential event or just want to get your friends together, here are college party theme ideas where students are guaranteed to have fun.
Classic Favorites
Start your party-planning off with some classic college party favorites.
Throwback Celebration - Break out the denim outfits and scrunchies to throw it back to the 90's. Make sure to include boom boxes for music to truly capture the 90's vibe.
Into the Jungle - The jungle will be rumbling with all sorts of animals with this theme. Bring out your animal prints to dress up as tigers, snakes and more!
Rock N' Roll - Pick out your favorite rock n' roll band and dress up like the members of KISS, Guns and Roses and the Rolling Stones. Blow-up guitars and heavy eyeliner will help anybody fit right into the theme!
Luau Limbo - All floral patterns are welcome during this Hawaiian-themed party. Say aloha to all of your friends and set the scene with leis and tourist t-shirts.
Fright Night - Beware! Unusual amounts of vampires, zombies and ghosts will be on the loose. Bring out your inner monster and dress up as your spookiest self to have a scary good time.
Rave Rager - Bring out the neon outfits, black light and glow sticks for a party that will light up the night.
Pajama Party - If you've ever been too tired to get dressed for a party, here's your chance to roll right out of bed. Onesies and two-piece jammies are in style for this theme.
Classic Stereotypes - Whether you were a jock, nerd, skater or preppy cheerleader in high school, use this party to dress up as one of the stereotypical students at school.
Ski Lodge Social - Pull your snow gear from storage and dress up for this party centered around skiing and snowboarding. To nail the mood for the event, look into getting some fake snow and hot chocolate!
Heaven or Hell - Will you listen to the devil on your left shoulder or the angel on your right shoulder tonight? Dress up as one of the two to let everyone know.
21st Night of September - The perfect party for that one special night in September, this theme requires that you break out the sequins and flared pants. And don't forget to learn the music video choreography! Ba-de-yah.
Wildin' for the West - Things will get wild at this western-themed party. Host the gathering complete with cowboys and set in a nearby barn for a true western feel to the night.
Crazy Karaoke - Let loose and channel Beyoncé for karaoke night. Make sure there is a wide variety of songs from the Jonas Brothers to Lizzo for some jams that everyone can enjoy.
Beach Bums - If you're ever looking for a day party theme, here is an idea for a laid-back atmosphere. Lay down a tarp on the floor and scatter some sand to make everyone feel like they are really at the beach.
Superhero Shindig - Save the day and host a party where everyone dresses up as their preferred Marvel or DC Comics superhero.
---
Collect registrations for a Greek life formal with a sign up. View an Example
---
Trendy Topics
Use one of these trending ideas to stay relevant and celebrate pop culture.
Area 51 - Signed the petition to storm Area 51? There's no need when you can have your own alien-themed party at college! Everybody can dress up as aliens with galaxy clothes and green paint or show up in their Ghostbusters attire to catch a few space species.
Meme Mania - Choose your favorite meme among the thousands across the web and dress up to make it come to life!
What do you Netflix? - Pick your preferred Netflix show and find a squad to dress up with as the characters. Go as the crew from Friends or the River Vixens from Riverdale for a fun-filled night!
Wigging Out - Ever wondered what you would look like with purple hair? Well, now is the time to find out! For this party theme, everyone should purchase fun wigs and wear them at the event.
Music Festival - At this party, Burning Man meets Coachella for a night to remember. Let people request songs in the days leading up to the function so you can create a playlist of songs that everyone will love.
Foam Frenzy - Spread foam everywhere to create a slip n' slide across the floor. Everyone should wear bathing suits and bring extra clothes to change into after the event!
Save the Date - Choose your favorite day of the year — whether its St. Patrick's Day, Independence Day or National Donut Day — and dress up to fit the celebration.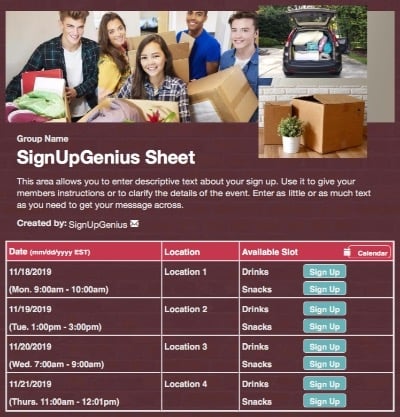 Game of Thrones - Daenerys would approve of a party dedicated to the hit show, Game of Thrones. Outfits can be inspired by certain characters like Jon Snow or the white walkers.
Filter Mania - This one capitalizes on the plethora of Snapchat and Instagram filters floating around these days. Just pick your favorite and dress up as that filter.
Denim Delight - Britney Spears and Justin Timberlake inspired us all with their Canadian tuxedoes on the red carpet. Now is your chance to shine like they did with a full denim outfit.
Disney Dance - Channel your favorite Disney character and show up to this party decked out and in character. You can choose from all the characters like Sleeping Beauty, Lilo & Stitch and Hannah Montana.
Stoplight Savvy - Take this chance to hang out with your S.O. or find someone new! Dress up using one of the three colors (red, yellow or green) that represent three relationship statuses of taken, it's complicated and single.
You Are What You Eat - Pick your outfit based on your favorite food or create a unique outfit that showcases items like donuts, pizza or tacos.
Harry Potter Hangout - Start planning a party for all four Hogwarts houses and the wizarding world. Make sure to take the online sorting test to determine which house to dress up as.
When I Grow Up - Use your childhood dream for what you were going to do when you grew up for inspiration for this theme. Make your younger self proud by dressing up as a firefighter, teacher, astronaut or police officer.
---
Plan a fall formal with a sign up. View an Example
---
Cocktails and Formals
Sometimes you need a theme for a fancier date event like a cocktail or formal. Grab a friend or significant other and start planning with these themes.
Masquerade Ball - Grab a mask and your formal attire to attend this gala complete with tuxedos, gowns and great music.
March Madness - If your formal or cocktail falls during March Madness, choose this basketball-centered theme to start the party off right. Whether you choose to support your school or just your favorite team, jerseys are welcome to replace formal attire.
Celebrity Sighting - Take a night to celebrate like you're a famous celebrity walking down the red carpet. Choose a specific celebrity to imitate or just glam up and be your fabulous self!
Casino Night - Reserve betting chips, a wheel and all your fake gambling needs for a night to remember. Instead of using actual money, just give everyone a certain amount of chips on entry and watch to see who can make the most with what they have!
Christmas Cocktail - Bring out your ugliest sweater to enjoy the holiday season. From grandma's knitting to a light-up purchase, the person with the most wonderfully hideous sweater will receive bragging rights for the night!
Dance for the Decades - Put on your flare jeans and zip up your go-go boots to celebrate the best of the past decades. The DJ should only play throwback jams like "Dancing Queen" and "September" to get everybody dancing to the best of each decade.
Fire and Ice - Choose either the fire theme or the ice theme for your outfit and have your date dress up as the other. Whether you focus on your darker, fiery side or your lighter, chill side, this theme will set an elegant scene for a good time.
Dynamic Duo's - Set the scene for the perfect date party with this theme. Choose your favorite partners in crime like SpongeBob and Patrick, peanut butter and jelly or Thing 1 and Thing 2 to dress up as and have fun guessing what other people are.
Olympics - Select a country from anywhere around the world and dress up as the best representation of that place. Everyone must have their own unique country and each can form a team to play fun, Olympic-inspired games at the event.
Bond Bash - Agent 007 has a new mission — to enjoy a James Bond-themed party! This date party includes one person dressing up as the legendary secret agent and the other as his Bond girl.
Roaring through the 20's - Take F. Scott Fitzgerald's novel, The Great Gatsby, and bring out the flapper costumes and jazz music to party like its 1920. Partner up with someone to dress up as Jay Gatsby and Daisy Buchanan to bring the novel to life.
Thrift Shop Prom - Take a trip to the nearest thrift shop to see if you can find any hidden treasures to wear to your next party.
My Tie - Gather two groups together and have the guys put their ties in a pile. The girls grab a tie, and whoever it belongs to is their date for the evening!
New Year's Jamboree - Create your own version of Times Square for a party to start the new year off right by watching the ball drop and spending time with friends. Sparkles and shiny outfits are encouraged to get the party started.
Turn Up in Togas - Turn your event into a celebration fit for Mount Olympus by having everyone dress up in the attire of the ancient Greeks. The best part is, everyone can use their own bed sheet for their costume!
---
Recruit volunteers for a choral club Halloween party with a sign up. View an Example
---
Planning Tips and Tricks
Make sure to cover the most important party planning areas ahead of time to keep your party moving and ensure that your event will be one of the most memorable events of college!
Sound System - Prepare a playlist ahead of time to select music that everyone can dance to and have fun listening to. Make sure to look into renting speakers if the venue doesn't have an adequate sound system.
Reserve a Venue - Start looking for a venue to host your event early so you can reserve your top choice before other people look to do the same.
Safety is Key - While having fun is a priority, make sure to establish certain measures to keep everyone's safety in mind. Keep everyone accounted for by having a check-in and check-out and make sure that someone is responsible for keeping an eye on the crowd.
Snack Time - A great party always has a few items to munch on. Chips and salsa can go a long way from providing a quick break from the dance floor or a much-needed snack! Genius Tip: Check out these 30 healthy snack ideas for fun ideas to fill your snack table.
Hire a Photographer - Capture the moment for all your guests by hiring a photographer to snap pictures throughout the event. This way they can cherish the memories for years to come.
By now you have a great supply of options for choosing your next college party idea. Now all you have to do is invite your friends and turn on the music to get the party started!
Celine Ives is a college student who enjoys playing field hockey, cuddling with her dog and cheering on her Carolina Tar Heels.