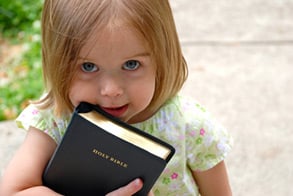 Think back on your spiritual journey to this point and there will be a handful of events that stand out as milestones – landmark moments, or turning points, in your walk with the Lord. Some of them God provided for you directly, but others were probably the result of the prayerful planning and efforts of a parent, friend or ministry leader. In our family ministry, we encourage parents to prayerfully plan (at least) seven milestone moments in the spiritual development of their children: 1) baby dedication, 2) salvation, 3) communion, 4) baptism, 5) maturity, 6) purity and, 7) graduation.
1) Baby Dedication – Though an infant or toddler is not aware of the spiritual commitment of her parents, this public step should be a significant moment for the family. We encourage parents to write a letter to their child expressing their prayers and dreams – which could be something they add to over the years and give to the child at another milestone event when she is older.
2) Salvation – Only God can convict a child of sin and give him an awareness of his need for a Savior – but parents should play an instrumental role in helping their child understand why he makes bad choices (sin), the bad things that result from those choices (guilt, the need for punishment), and how only Jesus can take away their sin and help them make good choices. When a child does choose to trust in Jesus, we urge parents to make this a landmark event – bigger than his "real" birthday – marking the calendar, making a cake, having a party…
---
HEY CHURCH LEADERS!
SignUpGenius can help organize your church volunteers and events with ease.  Find out how.
---
3) Communion
– Once a child has accepted Christ, she has started a relationship with him and we encourage parents to begin using the Lord's Supper as a way to remind her of that decision and to further build up her faith and understanding of Jesus' love and sacrifice for her. We often observe a Passover Seder, either as families or in larger gatherings, to help families experience the background story and traditions that Jesus fulfilled when he broke bread that night in the upper room.
4) Baptism – When a child is older, usually between 10 and 13, he begins to grapple with the reality of his own faith in Jesus. At some point he will make a decision to either embrace Jesus as the center of his identity or to turn away from the faith of his parents for a time. Parents should be sensitive to the true heart desire of their pre-teen or young teen – not pressuring him too soon to be baptized, but providing the opportunity when he is ready and doing the work to make the event a meaningful milestone in his life.
5) Maturity – Kids grow up faster than ever, so parents and ministry leaders must prepare them at younger ages for the challenges and questions they will face. As recent studies from Barna and Ken Ham (Already Gone) have shown, just teaching Bible stories to kids is not enough. We must find ways to solidify their worldview on the foundation of God's Word, with an understanding of basic theology and Christian living by the end of 5th grade. We also encourage Dads to take their sons (age 10-13) on a special trip to begin teaching them about Biblical manhood – taking responsibility and being a man of God. Moms can also design special events for their young women to help memorialize their transition into adulthood.
6) Purity – The days of letting the school health teacher cover sex education are long over. Parents, with support and resources from the church, must open this conversation at a young age and keep it open through late childhood and adolescence. The Learning About Sex Series from Concordia Publishers provides a helpful seven book progression from age 3 through the teen years. At some point during Middle School we urge parents to design and implement a milestone event to help their pre-teens form their own convictions about love and purity before the first big crush or private temptation assails them.
7) Graduation – Parenting and family ministry are preparation to launch. Our goal is not to keep our kids with us forever, but to prepare young men and women to love and serve God for the rest of their lives. As Jim Elliot wrote to his parents: "Launch your children, every one of them, like flaming arrows into this dark world." We encourage parents, sometimes in conjunction with the student ministry, to design senior year events – maybe a missions trip, conference or retreat – to further challenge these young adults to give their lives and plans fully to the Lord.
As a Family Pastor I have found these Seven Milestones to be very helpful in planning the calendar for each ministry year. As we have adjusted our ministry approach to better equip and partner with parents, we have found that milestone events like these can make a profound difference in the life of a child and the spiritual direction of a family.
---
ABOUT THE AUTHOR:  
Darin Anderson is the Associate Pastor at
Grace Evangelical Free Church
in Louisville, KY.  Darin received his M. Div. from Trinity Evangelical Divinity School in Deerfield, IL and has served in youth and family ministry for over ten years in EFCA churches in Illinois, North Carolina, and Kentucky.