25 Church Potluck Tips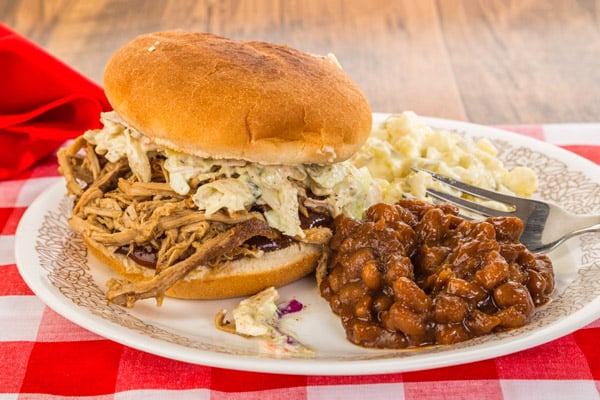 Did you know the word "potluck" originated in 1592, describing an unplanned meal — the "luck of the pot?" But for those organizing a group meal in this century, it's wise to do a little thinking ahead. Here are some tips for organizing a church potluck that will help you pull off a great community-building event at your church. 
What to Plan First 
Consider planning "off-season" potlucks to maximize attendance. (People get overloaded during most holidays.) Avoid the beginning or ending months of the school year unless it's scheduled conveniently after a church service.
Give yourself plenty of lead time when planning your date, especially for a large group that includes multiple ages. Starting early means you can add additional spots if you need to. Genius Tip: SignUpGenius offers an RSVP sign up format so you can collect guest names, attendee numbers and what people will be bringing in the same place.
Themes can be fun. Here are some ideas (the Internet is full of them!) to try:

International/Around the World
Our Family's Favorite
State Fair Foods
Soups de Jour
Breakfast for Dinner
Bible-Inspired

Be thoughtful about your space needs, especially with a large group. Divide the church into an area for serving food, designated eating areas and play areas in order to avoid congested serving lines.
Factor in the need for outlets, extensions chords, cold storage or equipment for grilling when deciding on a space.
Consider adding a spot on your sign up to have teens volunteer to entertain younger children while the parents eat so that fellowship — the goal of your potluck — can happen for everyone.
---
Organize food for the church picnic with an online sign up! SAMPLE
---
Organize for the Main Attraction 
Consider having the church provide the "main dish" of the meal and the guests fill in the rest. Make sure to get as accurate a head count as possible so there is enough for everyone.
Try these simple ideas for main dishes:

Grilled meat (hotdogs, hamburgers, chicken) and veggies
Fried chicken, with buns or biscuits on side
Large batches of pasta with sauce (white and red) on the side
Shredded pork or chicken that can be put on buns or tortillas

Ensure a variety of dishes by creating a sign up that spreads out responsibilities. For example:

Assign dishes according to guest's last name. For example A through F bring appetizers, G through L bring a main dish and so on.
Ask for a certain number of each course (appetizer, main dish, side, dessert).
Assign dishes according to age, giving families with small children the task of bringing "kid-friendly" main dishes or sides. Families with older children or without children contribute a dessert or appetizer.
Ask each Sunday school class to be responsible for a different part of the meal if it is an all-church potluck.

Organize the details, too. Decorating can be a fun task to assign to non-cookers or those with elementary-aged children.  Add to your sign up a space for plates, cutlery, napkins and cups for the whole group unless you plan on providing those. Don't forget cleanup duties.
Soup or no soup? An all-soup potluck can be fun. But if you have food that needs bowls plus food that needs a plate, it adds another layer of planning. (And balancing it all in your hands!) Consider asking that if folks bring soup, they also bring bowls and spoons for the group.
Do the math: Though you never want to run out of food (potluck fail!), it also might be overkill to have everyone bringing enough for 10 people. Use the rule of thirds, one-third bringing large servings of a main dish, one-third bringing a side dish (half fruit, half veggie, for example) and one-third desserts.
Be sure, especially in a church setting where there may be food allergies and dietary restrictions, to encourage folks to stay peanut-free, and add some gluten-free and vegan dishes to your sign up menu.
Don't forget the drinks! Some options to consider are providing water bottles for everyone, having guests bring their own drinks or having a space on your sign up for people to donate several gallons of lemonade or water. If your eating space is carpeted, water is your safest bet.
If you have a smaller group, it doesn't hurt to send non-responders a follow-up note with a message like, "We would love to know if you are able to make it and what you'd like to bring. We could really use some more desserts! Let me know!"
 When the Day Arrives 
Have someone put on the hostess hat. It's a great idea to have someone there to direct the dishes to the proper table, thank people for their contribution and keep things organized as the food comes in.
Keep the vultures at bay by considering a drink island that encourages people to grab a drink and visit until all the food has arrived.
Label food, especially if a casserole has ingredients that aren't obvious to the naked eye.  Provide folded 3x5 cards and markers and ask everyone to fill them out for the dish they brought.
Remember, food safety is important for an event lasting several hours. Have some ice packs on hand or a small cooler filled with ice for dairy products that spoil quickly if this is a concern.
---
Organize youth group snacks with an online sign up! SAMPLE
---
Remind folks (before they dig in) if your church potluck is for a large group or you are providing the main dish, to only take the pre-determined serving per person so those who are last in line aren't left empty-handed.
Encourage parents to line up with their children to help them make smart choices and take appropriate servings. (But don't be too strict about this, a plate of all desserts is a potluck rite of passage.)
Bring along these items and you'll be glad you did:

Extra serving utensils — someone always forgets!
A sharp knife or two for cutting meat, bread, or that yummy pan of brownies.
Hot pads or dishtowels come in handy to protect tables.
Paper towels should be kept close by. Spills happen.
Some baggies or to-go boxes for leftovers that can be shared.

Get some big garbage cans. You don't want to be the one taking out tiny bags of trash continuously during the potluck.
Get your cleanup tools ready. Or better yet, check with your church ahead of time to see what cleanup needs to be done or if they prefer janitorial staff take care of breaking down tables, vacuuming the floors, etc.
Leave your crockpot of worry and stress at home. Once your potluck starts, don't fret if the potato casserole goes fast or the kids eat every single finger sandwich. Be present and gracious, it will make all the difference.
A well-organized church potluck is the careful balance of planning and "luck of the pot." Cultivate a welcoming and laid-back atmosphere, and you will find your next potluck the perfect opportunity to fill tummies and build fellowship at your church. 
Julie David is married to a worship pastor and after 20 years in ministry together with three daughters, she is still developing the tender balance of thick skin and gracious heart. She currently leads a small group of high school junior girls.