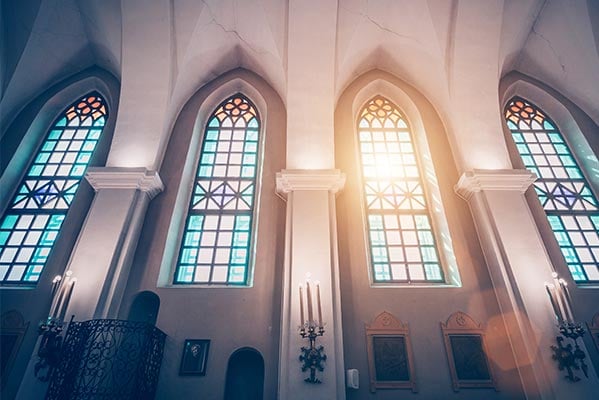 Raising money for your church can seem daunting, but if you're rooted in the mission of your church and all the amazing work God is doing, it gets a lot easier. Use these church capital campaign tips and ideas for planning your next big fundraising project. 
Planning Tips for Your Church Capital Campaign
Planning ahead will make the project less overwhelming and more fun for you, your church and the community. Take time to map out the basics of your plan and get everyone on board with the plan for action.
Identify the Type of Campaign - There are a variety of projects that your church capital campaign could fund, including new construction, renovation, property purchase, debt relief, community impact, global missions or practical program and facility improvements. Write down your goals and align the plan around them.
Customize It - Make sure your campaign purpose and content accurately reflect your church. Authenticity makes for the best campaign, so spend time learning about the culture of your church and the specific reasons you are hosting this campaign. Then turn that information into the content you can use to communicate the message later in the campaign.
Learn from the Past - Research, brainstorm, ask around and become familiar with what tactics have been successful and unsuccessful in the past. Be open and stay away from defensiveness or suggesting solutions. Use words like we, us, and ours. Questions like these create collaboration: "What have we done in the past?" "How can we partner to create a winning campaign?" "What is God doing in our city and around the world that we can invite others into?"
Start on Paper - Instead of beginning online, take a moment to draw or write out your ideas, questions and tasks. Starting on paper provides an immediate visual to work from as you use colored pencils, pens, highlighters and additional creative tools to draw out how you'd like the project to go. List out any ideas or concerns you have about the campaign.
Consult the Calendar - Set deadlines, align relevant sermon series, consider the seasonal calendar year and school district schedules, explore what the "ask" will be and what campaign success looks like and work from there. Be sure to factor in Christmas, Easter and other high-attendance dates for visitors. This may not be the best time to present a capital campaign as it tends to involve a lot of internal buy-ins and messaging.
Ask Around - Connect with other churches of similar size and values to see how they have executed capital campaigns. Ask for copies of print and online resources to provide inspiration and direction for your creative team. Often a peer at another church would be happy to take a phone call with you and share their knowledge. Don't be afraid to ask!
Allow for Approval Time - As you craft your project timeline, make sure you understand the chain of command and who needs to approve what pieces of the project along the way.
Research Project Management Tools - Search to find a collaborative digital tool to organize tasks and assign them to team members. This process provides a real-time way for team members to check in on project progress and challenges.
Decide if You Will Hire Consultants - Many churches hire consultants to advise them on how to design and implement a giving campaign, while others can leverage the leadership and talent they have in-house. Some churches know their overall strategy but hire agencies or freelancers to provide deliverables. Decide what is best for your church staff at the time of the campaign and make a plan to interview and retain the top talent.
Identify Stakeholders - Make a list of individuals in your church who may have the means to contribute large gifts. Include their names, names of family members, addresses, phone numbers and email. No matter the size of your list, remember that what matters most is impact, service and ownership in your church mission. Have your executive team divide the list up based on relational connections and go from there.
Hand-pick Your Committee - Choose a diverse group of action-oriented people to serve on your capital campaign committee. When all team members bring their skills to the table, you'll have an expert for each type of task. Be sure to clarify the purpose of the committee and what you expect each member to contribute.
Include a Budget - Campaigns to raise money, cost money! What amount of resourcing will you need to implement your project? Start by mapping out a budget on a simple spreadsheet. Create one tab for the campaign launch budget and one for the actual project itself (a construction budget or a property purchase budget) as there is sure to be some overlap. Work with your accounting team to set up a budget structure that aligns with their process.
Write a Prospectus - A prospectus is a campaign overview presented in a digital PowerPoint presentation on an iPad, or as a colorful print piece to leave with a stakeholder. This is the document that your executive leaders will use when meeting with church members before the public launch of your campaign. Begin with some simple copy and go from there.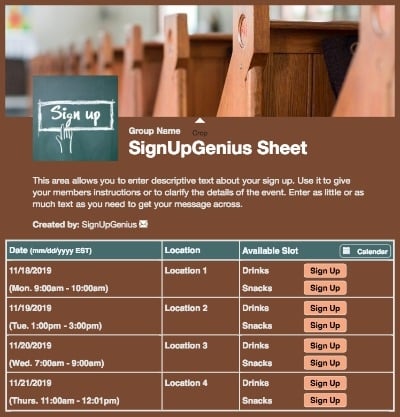 Design the Prospectus - The prospectus should be general (not too detailed) and include engaging graphics. It does not need to include instructions for giving, just the basic information so the church member can begin thinking about the campaign and how they would like to contribute above and beyond to the future of your church. This document can also be called the "leave behind" document or the "project overview" as the work prospectus can be intimidating.
Actively Listen - Don't forget to build relationships and truly listen to your leaders, your church and your team members. Sometimes we get so caught up in the tasks of running a campaign we forget to be fully present at meetings and for conversations in the hallways and chats online. Stay off your phone during meetings, make eye contact with others and ask probing questions. Show up for your team and be attentive. It makes a big difference and earns credibility.
Prepare for Change - This project will be unlike any other you've run before. Every capital campaign is unique and stretches team members in different ways. Journal as you go and make time to prepare yourself to be adaptable and calm.
Know Who is in Charge - Understanding who is the ultimate decision-maker on campaign details is helpful; it can even be multiple people who serve in this role. Some teams benefit from creating a list of who to go to for what type of task or question.
Align Your Resources - Make sure your resources match your plan. If you are doing most of the work in-house, you may need to do less of the daily operations or contract the work out for a season so your team can focus on the campaign. If you are contracting out most of the campaign work, then you need someone in-house who is project managing that work and informing church leaders about the campaign progress. Also, be sure to manage ministry expectations accordingly.
Identify Mission Creep - Define the scope of the campaign project and document it as you go so if it increases or decreases you can identify it and adapt your plan.
Start Early - Plan to raise at least 50% of your total amount before the campaign launches to the public. This sounds like a lot, but it will give your team a fantastic head start. Then you can go public with the message talking about how others are investing.
Compel Action - Plan the "ask" moment of the campaign and how the money will be received and collected in person, by mail and online. Appoint a team member to oversee the giving logistics in person and online. Have them collaborate with accounting to be sure the giving card and form meet their requirements.
Decide How You Will Give - As a leader who is working to raise funds for the church, take a moment and pray through how you and your family will contribute to the campaign. Write out your contribution plan so you can be intentional about your generosity through your time, expertise and financial contributions. Encourage your committee members to go through the same prayerful process with their families.
Legacy Giving - Create a way for church families to give in honor of a loved one for the campaign.
Involve Service - Much of your church mission is probably founded upon the belief that servant leadership is the way we help others. Consider adding an element of service to your capital campaign. This can be a community event, a plan to help others or even a plan to invest a portion of the money in global missionaries and partner organizations.
Create a Place for Questions - Create a campaign email address or an online form where people can submit their campaign questions. Get a jump start on providing clarity as well as a chance to respond in-person to the individuals who express interest.
---
Coordinate your church's usher volunteers with a sign up. View an Example
---
Ideas to Communicate Your Message
Develop a dynamic communications strategy to be sure the right message gets to the right person at the right time throughout your campaign. Get creative with how you deliver your content and integrate social media engagement, video updates and compelling stories.
Build Out a Digital Strategy - How will you present your campaign online? Will it have its own domain or be a page on your church site? How will you measure guest behavior on your site and develop landing pages, so they make it simple for people to give? What communications channels will you use to reach your church members?
Interview the Visionary - Record the audio of a conversation between you and the lead pastor or the executive team (let them know ahead of time you are recording it for content purposes). Ask about the "why" for this campaign. Why does it matter? Why should people give? Use this information to plan your messaging, share the recording with team members and even use it to inform creative pieces for the campaign. While you are at it, ask church staff members the same questions and see what they have to say.
Put it in Print - Think through print tools and how you can leverage them in your campaign to get your story out. Does your church want a full booklet of information designed and printed so it can be handed out during a service? Or would a basic postcard with a website link and email address work better? Perhaps your church is fully digital and requires no print piece at all. Know your audience and design accordingly. Work these elements into the timeline and be sure all leaders are on board. Print pieces can be challenging to adapt at the last minute and require weeks of production, so think ahead.
Customize the Office Stationery - Think about what type of stationery you will use for thank you notes, envelopes for giving cards and resource mailings. Do you want to use your standard church letterhead or design something with a campaign brand on it? Are you planning to use stickers or stamps? Now is the time to order them.
Communicate the Right Message - Once you've solidified your campaign message, plan to create a master message document that breaks the content down into bite-size social media posts, brief blog updates and all-church email content. Write as much as you can as you go and share this document with your team so everyone is on the same page.
Repurpose Content - Use one piece of long-form content (meeting notes, transcripts from an interview with the leader, stories from members, series sermon notes, etc.) to create multiple messages for other communications channels.
Leverage Video - Video is such a versatile tool. You can use low production videos to share updates from your pastor on social media or looping videos without sound that illustrate a concept to post on Instagram. Be creative with how video is used and make sure your messages are brief and shared on relevant social platforms. Measure the success of each video to learn how to adjust your video strategy during your campaign.
Go Live - Plan to go live on Facebook and Instagram during construction, groundbreaking ceremonies, or milestone moments.
Hire a Professional Videographer - Create a professionally produced video explaining the need for the campaign, with directions on how to give. Ask for a few different versions of the video to use in various ways (emails to church members and social media posts).
Measure Digital Results - As you create an extensive digital advertising and social media campaign strategy, make sure you track the results to see which initiatives are working best.
Build a Content Calendar - It is helpful to know what message it shared where and on what date. This editorial calendar will help you to align messages in the weekend experience to what church members see and hear online.
Show Change Over Time - This is critical for construction or remodeling projects. Use time-lapse, drawn timelines, creative video, animations and photography to show the dramatic change happening as a result of generous donors.
Recruit Volunteer Photographers - You will need a diverse team of volunteer photographers in order to provide exceptional images for communicating your campaign. Hand-pick these individuals and invest in their talent and in building a relationship with them. Over time you can appoint lead photographers to oversee and develop less experienced volunteers.
Hire Graphic Designers - Depending on your campaign, it may be ideal to retain a graphic designer for your team or hire one to lead the visual effort on communicating your campaign. The design needs to be consistent and often projects are rushed at the last minute so having a single leader or a handful of professionals on call to provide visual deliverables is a must.
Host Donor Events - Some churches prefer to host home gatherings, community meetings or formal fundraising events for those who give the most money, time or expertise to the church. The events promise access to the leadership team where they field questions, address any resistance and talk through solutions for the future of the church. Record the audio of these events and keep it confidential (do not distribute it) and use it to inform the FAQ content your team will need to create later in the campaign.
---
Run a silent auction campaign for your student ministry with a sign up. View an Example
---
Utilize Cross-Functional Teams
A big part of a successful capital campaign is inviting more team members into the work. This allows for diverse perspectives and brings together people who may not normally work closely together. These teams focus on individual skillsets from different functional expertise as opposed to positions on an organizational chart. Once the framework of the campaign is set and you have a general communications plan, it is time to meet with every team or department leader and talk about how the campaign can pair with their program and curriculum.
Involve all Ministries - Don't just target one or two ministries, find ways to invite all teams to integrate the campaign into their curriculum and lesson plans for church programs. Think through your children's ministry content during the public phase of your campaign. How can it align with the wider sermon series? Work with team leaders to map out a plan that works for them and be flexible.
Listen to Your Stakeholders - Target a handful of your highest givers and talk with these members offline, ask for feedback about the campaign, and find out what resonates most with them. This information will help you build trust with them and inform your overall campaign message. If your team is off course or neglecting a key area of ministry, you may hear about it from your stakeholders. Plan to continue these conversations over the length of the campaign and beyond as you build relationships with all church members.
Communicate with The Team - Make sure you are communicating with every team member on a regular basis and investing in your team through regular updates, notes of encouragement and celebrating wins together as a team. This practice is often overlooked in the rush of ministry life, but exceptional leaders make it a priority and communicate value and appreciation to teammates.
Translate Your Message - Provide all your staff members with a concrete, written explanation for the why, how and what associated with the campaign including key message points and FAQ content for their teams.
Take a Positive Approach - When challenges arise, take time to step back and think about what God might be doing in that moment. For example, if your ministry is out of room because children's ministry is too crowded, and the parking lot is a grid-locked nightmare, you can describe it in a variety of ways. The positive approach would sound like: "Our church is growing, and we are out of room in our children's ministry, God is doing a big work as our church grows, quickly! Our goal is to keep up with what God is doing and never have to turn a child away from children's ministry again, so we are renovating our space. You can be a part of this work by generously taking part in our growth campaign and investing in the future of the children of our church."
Remind Them to Inspire Others - Effective capital campaigns inform and inspire. Encourage ministries to not only share the facts about the campaign but to also talk about the life change and inspiration that happens as a result of the campaign.
---
Plan Bible study hosts and snacks with a sign up. View an Example
---
After Your Capital Campaign
Campaigns don't end when the public donation phase does. Instead, it is the beginning of a new way of life for your church staff and volunteers. Incorporate the campaign mission and language into all you do, including your day-to-day operations.
Follow Up - Thank those who gave their time and money to support your church capital campaign. Be creative with how you do this and utilize multiple channels. Handwritten notes are the best, followed by video messages from leaders that tell how the money is being used to create change.
Gather Feedback - Send a survey to staff members asking about their experience with the capital campaign. Ask about project management processes, efficiency in communication or gaps where the team could have done better. Additionally, work on an overview of the campaign budget and recommendations for setting future campaign budgets. As you gather feedback, ask about anything you are looking to learn about their experience and be open to suggestions for the future.
Create a New Normal - Create a plan for integrating campaign tasks and operational strategies into your ongoing workflow as needed. Be sure to resource your teams appropriately. This includes everything from payment processing to maintenance on a new property. Think about how every ministry can begin to take on more campaign-related tasks so they become an extension of what you are already doing.
And Most Importantly… Celebrate! Show gratitude to all involved in the campaign. Name and appreciate the leaders who did the most work as well as the ministries that incorporated the campaign content into their programs. Celebrate volunteers, staff and show appreciation for contractors. You are the face of your church to all involved and as you show thankfulness and appreciation others will do the same.
No matter the scale of your campaign, planning will always help your cause and get your team ahead. Focus on telling stories as opposed to selling or pushing a message, and you will naturally invite others to join you in believing for the future of your church. 
Erica Thomas is a marketing strategist here at SignUpGenius and has led multimillion-dollar capital campaigns for nonprofits, especially churches.