60 Bible Verses for Church Bulletin Boards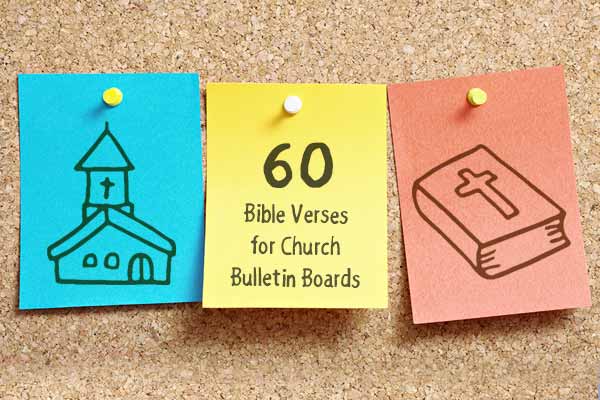 Bible verses are a great way to connect, empower and initiate conversation. They also can provide an encouraging message on church bulletin boards throughout the year. Try these 60 verses to inspire and inform your congregation. 
Verses for Youth Groups 
Don't let anyone look down on you because you are young, but set an example for the believers in speech, in conduct, in love, in faith and in purity. - 1 Timothy 4:12
For I know the plans I have for you, declares the Lord, plans to prosper you and not to harm you, plans to give you hope and a future. - Jeremiah 29:11
Children, obey your parents in the Lord, for this is right. Honor your father and mother — which is the first commandment with a promise — so that it may go well with you and that you may enjoy long life on the earth. - Ephesians 6:1-3
Trust in the Lord with all your heart and lean not on your own understanding; in all your ways submit to him, and he will make your paths straight. - Proverbs 3:5-6
Yet I will remember the covenant I made with you in the days of your youth, and I will establish an everlasting covenant with you. - Ezekiel 16:60
For you have been my hope, sovereign Lord, my confidence since my youth. - Psalm 71:5
The Lord is good to those whose hope is in him, to the one who seeks him; it is good to wait quietly for the salvation of the Lord. It is good for a man to bear the yoke while he is young. - Lamentations 3:25-27
Since my youth, God, you have taught me, and to this day I declare your marvelous deeds. - Psalm 71:17
Remember your Creator in the days of your youth, before the days of trouble come and the years approach when you will say, "I find no pleasure in them." - Ecclesiastes 12:1
---
Organize youth group events with an online sign up. SAMPLE
---
Verses for Religious Holidays 
Therefore the Lord himself will give you a sign: The virgin will conceive and give birth to a son, and will call him Immanuel. - Isaiah 7:14
The Word became flesh and made his dwelling among us. We have seen his glory, the glory of the one and only Son, who came from the Father, full of grace and truth. - John 1:14
And there were shepherds living out in the fields nearby, keeping watch over their flocks at night. An angel of the Lord appeared to them, and the glory of the Lord shone around them, and they were terrified - Luke 2:8-9
So they hurried off and found Mary and Joseph, and the baby, who was lying in the manger. - Luke 2:16
With great power the apostles continued to testify to the resurrection of the Lord Jesus. And God's grace was so powerfully at work in them all. - Acts 4:33
Jesus said to her, "I am the resurrection and the life. The one who believes in me will live, even though they die." - John 11:25
He is not here; he has risen, just as he said. Come and see the place where he lay. - Matthew 28:6
So, whether you eat or drink, or whatever you do, do all to the glory of God. - 1 Corinthians 10:31
Therefore let us keep the festival, not with the old bread leavened with malice and wickedness, but with the unleavened bread of sincerity and truth. - 1 Corinthians 5:8
And you shall call His name Jesus, for He will save the people from their sins. - Matthew 1:21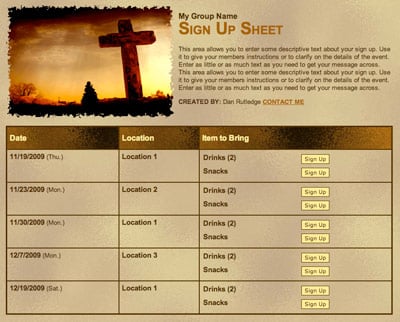 Verses About Serving Others 
A generous person will prosper; whoever refreshes others will be refreshed. - Proverbs 11:25
The greatest among you will be your servant. - Matthew 23:11
For even the Son of Man did not come to be served, but to serve, and to give his life as a ransom for many. - Mark 10:45
Therefore, as we have opportunity, let us do good to all people, especially to those who belong to the family of believers. - Galatians 6:10
But love your enemies, do good to them, and lend to them without expecting to get anything back. Then your reward will be great, and you will be children of the Most High, because he is kind to the ungrateful and wicked. - Luke 6:35
Make sure that nobody pays back wrong for wrong, but always strive to do what is good for each other and for everyone else. - 1 Thessalonians 5:15
Sitting down, Jesus called the twelve and said, "Anyone who wants to be first must be the very last, and the servant of all." - Mark 9:35
Each of you should use whatever gift you have received to serve others, as faithful stewards of God's grace in its various forms. - 1 Peter 4:10
In everything I did, I showed you that by this kind of hard work we must help the weak, remembering the words the Lord Jesus himself said: "It is more blessed to give than to receive." - Acts 20:35
---
Plan a church retreat with an online sign up. SAMPLE
---
Verses About Seasons 
As long as the earth endures, seedtime and harvest, cold and heat, summer and winter, day and night will never cease. - Genesis 8:22
Look at the fig tree and all the trees. When they sprout leaves, you can see for yourselves and know that summer is near. Even so, when you see these things happening, you know that the kingdom of God is near. - Luke 21:29-31
He said to them: "It is not for you to know the times or dates the Father has set by his own authority." - Acts 1:7
That person is like a tree planted by streams of water, which yields its fruit in season and whose leaf does not wither — whatever they do prospers. - Psalm 1:3
Preach the word; be prepared in season and out of season; correct, rebuke and encourage — with great patience and careful instruction. - 2 Timothy 4:2
There is a time for everything, and a season for every activity under the heavens. - Ecclesiastes 3:1
Yet he has not left himself without testimony: He has shown kindness by giving you rain from heaven and crops in their seasons; he provides you with plenty of food and fills your hearts with joy. - Acts 14:17
I will make them and the places surrounding my hill a blessing. I will send down showers in season; there will be showers of blessing. - Ezekiel 34:26
Verses About Stewardship 
Speak up for those who cannot speak for themselves, for the rights of all who are destitute. – Proverbs 31:8
Wealth and honor come from you; you are the ruler of all things. In your hands are strength and power to exalt and give strength to all. - 1 Chronicles 29:12
Every good and perfect gift is from above, coming down from the Father of the heavenly lights, who does not change like shifting shadows. - James 1:17
Commit to the Lord whatever you do, and he will establish your plans. - Proverbs 16:3
You were bought at a price. Therefore honor God with your bodies. - 1 Corinthians 6:20
Honor the Lord with your wealth, with the first fruits of all your crops. - Proverbs 3:9
Whatever you do, work at it with all your heart, as working for the Lord, not for human masters, since you know that you will receive an inheritance from the Lord as a reward. It is the Lord Christ you are serving. - Colossians 3:23-24
Give, and it will be given to you. A good measure, pressed down, shaken together and running over, will be poured into your lap. For with the measure you use, it will be measured to you. - Luke 6:38
---
Sell tickets for the annual church festival with a sign up. SAMPLE
---
Verses for Sunday School Classes
Do not let any unwholesome talk come out of your mouths, but only what is helpful for building others up according to their needs, that it may benefit those who listen. - Ephesians 4:29
Therefore encourage one another and build each other up, just as in fact you are doing. - 1 Thessalonians 5:11
Every day they continued to meet together in the temple courts. They broke bread in their homes and ate together with glad and sincere hearts. - Acts 2:46
For where two or three gather in my name, there am I with them. - Matthew 18:20
And let us consider how we may spur one another on toward love and good deeds, not giving up meeting together, as some are in the habit of doing, but encouraging one another — and all the more as you see the day approaching. - Hebrews 10:24-25
Carry each other's burdens, and in this way you will fulfill the law of Christ. - Galatians 6:2
A new command I give you: Love one another. As I have loved you, so you must love one another. By this everyone will know that you are my disciples, if you love one another. - John 13:34-35
Let the peace of Christ rule in your hearts, since as members of one body you were called to peace. And be thankful. - Colossians 3:15
Verses About Praying 
Rejoice always, pray continually, give thanks in all circumstances; for this is God's will for you in Christ Jesus. - 1 Thessalonians 5:16-18
This is the confidence we have in approaching God: that if we ask anything according to his will, he hears us. - 1 John 5:14
Devote yourselves to prayer, being watchful and thankful. - Colossians 4:2
Therefore I tell you, whatever you ask for in prayer, believe that you have received it, and it will be yours. - Mark 11:24
Be joyful in hope, patient in affliction, faithful in prayer. - Romans 12:12
The Lord is near to all who call on him, to all who call on him in truth. - Psalm 145:18
Let us then approach God's throne of grace with confidence, so that we may receive mercy and find grace to help us in our time of need. - Hebrews 4:16
And I will do whatever you ask in my name, so that the Father may be glorified in the Son. - John 14:13
Use these inspiring Bible verses to create some of your own creative bulletin boards and watch as these messages transform others in their spiritual journey! 
Kyle Eng is a writer who loves spending time with his family, playing music and watching his Carolina Tar Heels — and Tom Brady — win.