30 Team Building Ideas for Companies Large and Small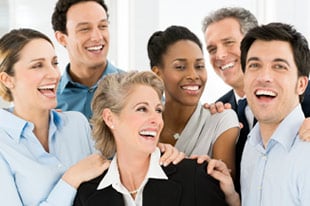 Fostering a positive corporate culture takes time and energy, but it's worth the effort. Use these ideas to boost morale and create a positive work environment.
3 Tips to Get Started:
Consider your goal. Is it to promote wellness, develop your employees professionally, de-stress, give back to the community, get to know each other better, or just have fun?
Think about your team: age, physical or family limitations come into play. Are they scattered geographically or traveling often?
Survey folks casually or formally to get a feel for what they would like.
Wellness


Health and wellness activities promote healthy behavior, teamwork, and productivity.
Host a lunchtime walking group. Provide inexpensive pedometers and set a step goal for each day. Give out rewards.
Form a team who will meet to walk the stairs every day at a certain time.
Line up a yoga instructor to teach chair yoga or stretching. Send out a sign up for employees to reserve a space and time. SAMPLE
Bring in a lunchtime speaker on wellness, nutrition, anxiety, or work/life balance.
Organize a pick up game of kickball or soccer at a nearby field, or schedule a volleyball game. Volleyball is not a contact sport, so people of all ages and abilities can play.
Stock the break room with healthy, individually-packaged snacks: nuts, trail mix, whole grain crackers, dark chocolate, raisin packs, smart popcorn, mints, gum, green tea, yogurt, cheese sticks, sparkling water.
Professional

Professional development opportunities make employees feel appreciated, and add value to the workplace. Think beyond expensive conferences.
Encourage knowledge sharing. Ask SME's (Subject Matter Experts) to conduct a casual Brown Bag Lunches. Keep it simple since it does create work to prepare one. Use SignUpGenius to schedule speakers and gather RSVPs. SAMPLE
More general Brown Bag Lunch topics could include: conflict resolution, know-your-strengths, life strategizing, negotiation skills, customer service, sales, and leadership. Host a lunchtime speaker, webcast, web-based training, or book club on these topics.
Team building between teams is helpful, too. Conduct a brief get-to-know you activity with two teams who interact. Then discuss an upcoming project or some ideas on how to improve communications.
Schedule an offsite brainstorming meeting. A change of venue often fosters creativity. Invite someone who isn't on your team to add perspective.
Write an "Employee Spotlight" email or post to the internal website. Highlight a person's knowledge, skills, area of expertise, and personal mantra.
De-Stressing

Are your employees working long hours during a busy time of year? A little thank you gesture goes a long way.
Schedule a massage therapist for onsite chair massages. Check out how Trip Advisor is using SignUpGenius! CASE STUDY
Bring in lunch or dinner.
Line up a therapy dog to come visit the office. Some say that pets help lower blood pressure.
Get smoothies or coffees for everyone, or schedule a Barista/Coffee Cart.
Take it outside! Your work, that is. Allow employees to occasionally work outside or at a nearby coffee shop with Wi-Fi.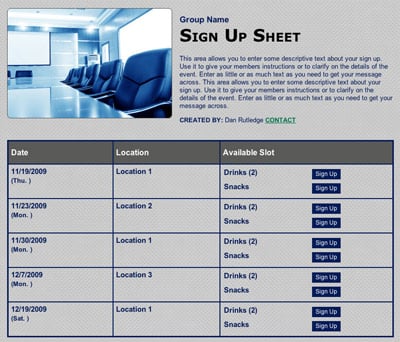 Service Related

Giving back will make your group members feel purposeful and connected in the community. Bonus - you get to see a different side of your co-workers.
Have each employee select a cause important to him/her: a book drive, tutoring, competing in a charitable event, and setting up a scholarship fund. Allow people a certain number of working hours to champion their cause.
Offer community service opportunities for the entire team. Volunteering at a food bank or homeless shelter or helping to build a Habitat for Humanity home could be a good fit for your group.
Collect school supplies or items for families in need during the holidays. Create a list on SignUpGenius to make it easy for you to manage and for employees to donate. SAMPLE
Fun

Don't underestimate the power of fun to enrich the work experience.
Plan a "get out of your comfort zone" activity, like a ropes course or horseback riding and campfire dinner.
Host a dinner at a local museum or attraction.
Plan a mid-day field trip to burn off steam, such as laser tag or bowling.
Form a hospitality committee with a small budget. Decorate cubicles for birthdays, throw a baby or wedding shower, design welcome packs, and organize cake in the conference room to celebrate birthdays.
Coordinate a potluck where each person brings something for lunch. Add a competitive nature, like our SignUpGenius Chili Cook-off! SAMPLE
Host a Bring Your Kids to Work Day, with an ice cream social in the conference room!
Have a "Decade Day" (employees wear attire from his/her growing-up decade), "Crazy Holiday Sweater Day," "Cruise Wear Day," or TBT (Throwback Thursday). Keep in mind that "funny" can really bring a team together.
Organize a cubicle-decorating contest. Give out awards for funniest and best effort. Some ideas include things people collect: toys, garden gnomes, kids' artwork, greeting cards, or photographs. A twist if you have the right group: "Steal" one and leave a funny ransom note.
Send out a link to a silly quiz and have everyone do a reply-all with his or her answers.
Celebrate a "Holiday in July" to boost morale during the summer. Organize a gift exchange, Secret Santa, or a potluck of holiday desserts! SAMPLE
Take everyone to lunch on an employee's first day, during the dog days of August, or the doldrums of January.
When carefully selected, team-building activities have the power to revive your group and also help employees grow professionally. Let us know which one you choose!
Emily Mathias is a freelance writer living in Charlotte, NC.