50 Scavenger Hunt Ideas for the Office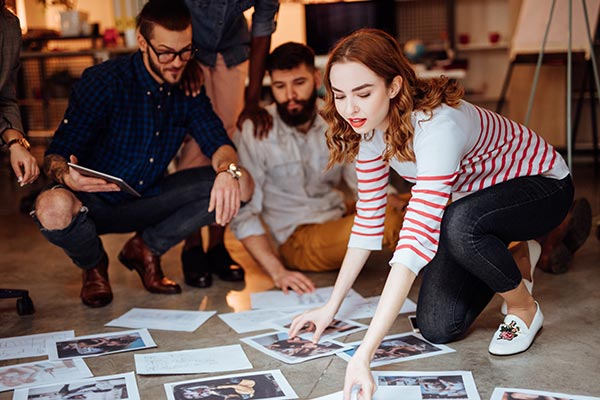 Office scavenger hunts are a great, affordable way to encourage team building. Almost all of these ideas require a picture or video proof of completion (internet searches for photos are not allowed), so be sure to have phones charged, and set up a screen where everyone can share the "spoils" after the hunt. Make it an all-day event with an office potluck to top things off.
Team Bonding
License Plate Tag - Find the team member with a five to six letter last name. Head to the parking lot and spell the name out of separate license plates letters (each letter must come from a different plate).
Stick People - Make a stick figure of one of your team members from items found around the office (consider having one feature to identify the person such as glasses, hair color, clothing, etc.).
Reflect - Get the entire team's reflection in something other than a mirror.
Sing-a-long - Video your group singing five lines of five different songs (usually one sentence or two, not the whole song). You must show some object mentioned in the line of the song for all five songs as you sing.
Mummies - Create two hand-holding "mummified" team members by using toilet paper to cover every limb in toilet paper.
Penny Pincher - Snap a picture line-up of coins, each from the year of a team member's birth. One coin per person, no doubling up allowed!
Exit - Find a doorway with an exit sign and video three creative ways to exit the building that don't involve walking or running. Have all the team members demonstrate.
Coffee Supplies - Create three work-related words out of coffee stirrers.
Attached Triplets - Have three members of the team become triplets who are connected at the hips and take videos of them walking through a narrow doorway, putting on each other's shoes and feeding each other cups of coffee.
Joke About It - You can make an entire hunt based on riddles and jokes as the clues. Come up with your own creative clues or search the internet for inspiration.
---
Register team members for your scavenger hunt with a sign up. View an Example
---
Holiday Season
Gift Wrap - All except one team member finds unique or odd things around the office and wraps them up in gift wrap as well as possible. The clueless team member is recorded opening all the "gifts," thanking the giver and saying one nice thing about each gift.
Stage a Photo - Google an awkward family holiday card photo and recreate it with your team.
Human Tree - Find items around the office to hang on a human to create a human-sized tree out of one of your team members.
Drama - Go into an empty restroom and reenact the scene in the movie Elf where Elf discovers the toilets are "ginormous." You can do a whole hunt/challenge just recreating scenes from holiday movies!
Desk Scene - Find five things that are red, five green things and two paper snowflakes to create a winter scene with them on someone's desk.
Field Trip - If you don't mind an off-campus challenge, send teams to look for the biggest holiday yard inflatable or over-the-top light display and document it with a photo or video.
Supplies on a Shelf - Create your own "elf on the shelf" out of office supplies and place them in the office along with a hint for coworkers about where to find them.
Act it Out - Set up a Hallmark movie challenge by recreating a two-minute scene of a holiday Hallmark movie including some of the trademark moments like hiring a boyfriend or girlfriend for holiday dinner, awkward relationship advice from a parent, or the iconic airport and Christmas tree farm scene.
Backward Carols - Video the team singing 30 seconds of a holiday song, but the words have to be in reverse order (ex: snow the through dashing, sleigh open horse one a in). Bonus points for somewhat sticking to the original tune!
Dress Up - Have the team construct a wearable head-to-toe Santa or snowman costume for one of the team members to model using only copy paper, tape, paper towels and markers.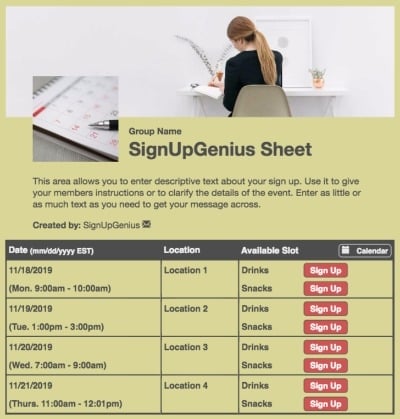 Talent Show
Cooking Show - Create an episode where members try to make a meal out of items from the staff lounge or lunch box donations. Every cook briefly explains their creation, and then company leaders surprise the team by providing a full lunch.
Marketing Reading - Team members participate in a dramatic reading of marketing materials (including brochures and website copy) using their best Shakespearean interpretation.
Artwork - Record the process of team members holding a paper plate on their head while trying to draw a picture of their desk or cubicle (with one distinctive feature) without looking. The team needs to have one drawing that best represents a desk to get the full points.
Crumpled Paper Basketball - Have a team member with an impressive hook shot? Film a team member hitting the office trash can from an amazing angle or distance. This can be judged with a measuring tape or voted on by a panel of unbiased judges.
Foreign Language - Any team member who knows a foreign language, teach the team a song in that language and take a video of everyone (trying) to sing it together.
Get Crafty - Google search for "sticky note crafts" and create three unique crafts out of sticky notes to share with your audience.
Acrobat Skills - Create an office-friendly mini Cirque de Soleil routine with any team member sharing unique acrobatic talents (or make up a few).
Write a Song - Select a product or service your company provides and write a jingle for it. Bonus points if you use homemade instruments and your whole team is part of the "making of the band."
Neon Dance - Teams use glow-in-the-dark bracelets and choreograph a two-minute dance routine recorded with the lights off. The organizer will need to purchase the bands beforehand.
No Talking - Have team members perform "silent talents" (such as juggling, making crazy faces, sharing a double-jointed elbow, etc.)
---
Organize conference room reservation with a sign up. View an Example
---
Turn Up the Drama
Teams act out the following 30-60 second "dramas" — these can be silent films or with dialogue (costumes are optional). Movie tickets make a great reward for the winning team.
Celebrity Treatment - A Hollywood red carpet with each person getting interviewed and asked what they are wearing and describing their clothing. Set up a step and repeat backdrop for silly photos.
Upset Families - A grouchy family is trying to get holiday dinner on the table.
John Hughes - Recreate an iconic scene from a John Hughes film (Ferris Bueller's Day Off, Sixteen Candles, Home Alone, etc.)
Spies - Secret agents are entering the building to find a hidden object of great importance.
Creative Commercial - Select a popular commercial and do a spoof of it with a surprise twist at the end.
Emergency Room - Operation with doctors, nurses, assistants and a surprise object found at the end of surgery.
Take a Non-Acting Challenge - Name five movies that are based on books.
Doppelgangers - Find everyone on the team's famous "doppelganger" and be ready to present impressions of them for judging.
Music Video - Reenact one minute of any famous music video, from Madonna to Kenny Rogers to Whitney Houston.
Fairy Tale - For the final challenge teams pick a fairy tale or famous movie out of a hat and have to reenact it charade-style and only get points if the impartial judge can tell what it is.
---
Coordinate your company event planning committee with a sign up. View an Example
---
Out of the Office Theme
This one requires the use of transportation, so plan ahead by asking coworkers with larger seating capacities to
volunteer to drive for team transportation
. Base the teams on how many people can fit into each vehicle.
Out of the Ordinary - Find an exotic type of food within a five-mile radius of the office (or more if needed) and take a picture of the team eating it.
Go Outside - Weather permitting, choose the best spot for an outdoor break or picnic and re-enact a picnic scene using only office supplies.
Interpret Nature - Take a photo of the team interpreting nature with their bodies (e.g., posing like a tree under a tree). Points for creativity.
Sports Fans - Find a nearby sports apparel store and have the team take a picture supporting their favorite team (or two rival teams).
Thrift It - Give each team $3-5 and challenge them to find a unique item at a nearby thrift store. Bonus points if you can keep whatever you buy in the office as a reminder of the fun day.
Park Visit - Take a picture of the team going down a park slide at the same time.
Hunt for Books - Hit the local bookstore and give each group a title to find. Team members video each other reading a page or paragraph of the book, or one team member reading to the rest of the team in the children's area.
Fuel It - Go to a nearby gas station and offer to pump gas for a stranger, take video of team pumping gas and cleaning windows — maybe offering the stranger a free cup of coffee too!
Play Place - Get a picture of the entire team in a ball pit or other playground equipment.
Inked - Buy a package of temporary tattoos at the store for every member and get a group photo of the new tatts!
Scavenger hunts at the office are a great way to break down professional pretense and strengthen relational connections between coworkers. Use any number of these hunt ideas to create a fun and memorable office bonding opportunity for your company.
Julie David is married to a worship pastor and after 20 years in ministry together with three daughters, she is still developing the tender balance of thick skin and gracious heart. She currently leads a small group of high school junior girls.