25 Lunch and Learn Ideas for Work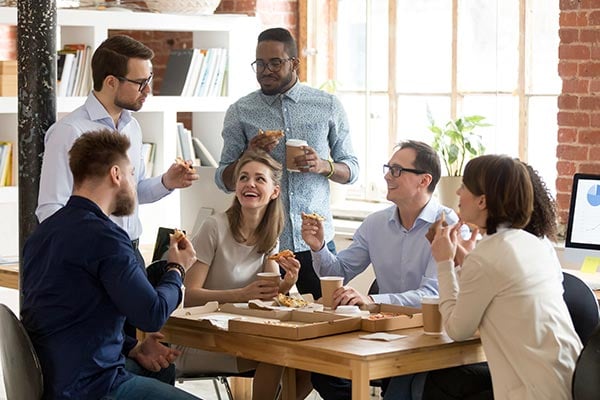 Lunch and learn events are a great way to offer employees something informative and fun to do during their midday break. Usually comprised of a short presentation by an expert, lunch and learn events can cover a variety of topics, from career-enhancing tips to personal goals.  Bring in a catered lunch for the crew and start learning with these 25 lunch and learn topics. 
Technology and Communication
Social Media 101 - Have your marketing or public relations professionals host this lunch and learn, where they can teach other employees about social media best practices. Give basic info for social media newbies (what is a hashtag anyway?) before hitting the highlights of your company's social media strategy. Want employees to post fun photos from work-related events and tag your business? Show example posts and explain how engagement online can benefit your bottom dollar.
Elevator Speech Networking - Bring in an expert to help employees sharpen their rapid-fire networking skills. Have them craft an elevator speech with relevant professional information and then tell them when and how to use it.
Public Speaking Primer - Public speaking is useful for everyone — from your employees who speak at large conventions to people giving small presentations to their teams. Find a professional from an organization like Toastmasters or simply get your company's best public speaker to lay out some of the best ways to fine-tune speaking skills.
Email Communication 101 - Everyone hates the exhaustive small talk-laden intro. List some email communication "Dos" and "Don'ts" and encourage attendees to talk about their email pet peeves. Finish by including email best practices and tips.
Simple Website Coding - Have someone from your IT department teach employees basic coding shortcuts they can use at work every day. It can be as simple as making a signature bold in an email or as complicated as building an entire (simple) website.
Productivity Apps - There's an app for everything these days, including productivity. Do some research and share your findings with coworkers with a list of apps that can help you get organized, plan time for healthy habits and more. Give employees an overview of the most popular productivity apps in the app store right now, and invite them to share which ones they use.
---
Ask employees to vote on lunch and learn options with a sign up. View an Example
---
Software Tutorial - Your company's resident Microsoft Office or Adobe Creative Suite experts could teach a series of lunch and learns on tips and tricks the average employee might not know about the software they use every day.
Get to Know Each Team - This would also work well as a series: each department head could give a quick and fun spiel on his/her department including what a typical day looks like and how the team contributes to company goals. End each lunch by having department heads give the "peak" and "pit" (favorite part and most challenging part) of their jobs.
Time Management Timer - Popular in the 1980s, the Pomodoro time management technique purports to help users meet deadlines by working in short increments enforced by a timer. Give employees the bullet points of this or another time-management technique as a creative way to stay on top of their to-do list.
Cut the Cord on Cable - Have a tech-savvy employee outline different options for ditching cable or satellite and switching to streaming services. They'll need to cover the basics like what hardware to buy and which services to subscribe to. 
Home Security - Teach employees about different types of security systems and provide tips for making their homes less of a target for burglars.
Smart Phone Photography - Find a photographer to teach employees how to make the most of their phones' camera feature — what lighting is best for taking photos, which apps to use for editing, etc.
Consumer Reports - Give tips for how to research large purchases and explain how to understand online rating and review sites. Provide "go-to" websites for trusted consumer information.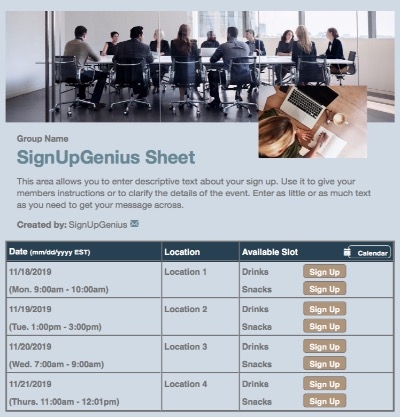 Health and Wellness
Financial Health - Your benefits department can help with this one, as can an outside financial advisor. Suggest different investment, budget and financial planning options your employees may be interested in, and show them what services they'll need to use to get the ball rolling.
Stress Management - This theme would work well as a series of lunch and learns. Bring in weekly or monthly experts on health and wellness including meditation, yoga, essential oils and more — whatever stress relief methods your team wants to learn more about.
Conflict Management - Have your HR team offer conflict resolution ideas for scenarios that arise in the workplace.
Power Through the Afternoon Slump - Bring in a nutritionist or a personal trainer to help employees learn how to pick the right foods, drinks, exercises and more throughout the day to keep productivity high after lunch.
Workplace Exercises - Bring in a personal trainer, ergonomic expert or one of your most fitness-minded staff members to teach a crash course on how to stay active while sitting at a desk for eight hours a day. Whether it's gadgets like standing desks or simply finding time to stretch or walk around the block, just about everyone can learn something new about being more active during the day.
Home Organization - Get an organization expert to talk about simple ways to keep your home and closets tidy. Include cleaning hacks and budget-friendly ways to live clutter-free.
---
Coordinate meal choices for a company lunch and learn with a sign up. View an Example
---
"Adulting" Classes - Bring in experts to teach employees how to do some "adult" tasks like changing a tire, basic home repairs and the like. Ask employees what "adult" skills they'd like to learn and bring in the appropriate experts (mechanic? handyman?) to point them in the right direction.
Goal Setting - Consider offering a series of lunch and learns how to create and accomplish life goals and then offer to follow up with "how-to" classes. For example, how to stick to a budget, save for a vacation, prepare financially for a new baby, earn an advanced degree, etc.
Give Back by Volunteering - Ask someone from United Way or a similar volunteer-based organization to talk about different ways employees can give back to the community.
Estate Planning - Bring in an attorney to outline the laws in your state and explain the importance of having a will, no matter how old you are.
Easy Weeknight Dinners - Pick your office's resident amateur chef to lead a lunch and learn on slow cooker and instant pot meals and other dishes that can be prepared quickly or even in advance. Have coworkers submit their favorite recipes, print them and bind them to hand out at lunch or as a follow up to the event.
Sleep 101 - Bring in a sleep expert to teach employees how to get more and better sleep, and how their quality of sleep affects their quality of life.
How do you decide which theme or themes will work for your company? Survey your employees to see what they'd like to learn. You can find "experts" inside your business or bring in outside professionals. Whatever you decide to do, know that lunch and learn events are a fun alternative to working through lunch. 
Sarah Pryor is a journalist, wife, mom and Auburn football fan living in Charlotte, N.C.