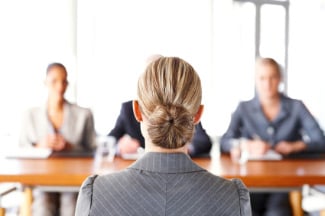 In this current economy, it's best to look for ways to stand out to employers that are looking to grow their companies. Additionally, as an employer looking to hire, you have the challenge of sorting through the overwhelming number of applicants competing for the limited number of positions open. Figuring out the most efficient place to start can be a challenge. SignUpGenius is an easy tool to help you organize the process.
Tips for Employers
Cast a Wide Net
You may have a clear idea of what you're looking for but don't immediately rule out candidates. Look for unique things that catch your attention even if they don't seem like a perfect fit from the first pass at their resume.
Schedule and prepare possible candidates
Arrange time slots with SignUpGenius to organize candidate interviews. This will allow you to easily schedule people and remind them of any specific items you'll need them to bring to the interview—writing samples, portfolios, sample products, etc.
Familiarize yourself with all resumes and the exact job description
A good candidate will come prepared for their interview and you should do the same. Have a clear description of the position that you can share and be sure you know a little about their experience so you can ask the right questions.
Be clear about what you're looking for and what the job entails
Having a clear idea of the position will allow you to effectively organize the interview and will ensure that you get all of the information you need from the candidate so you can make an informed decision.
Don't be afraid to dig deep
With the number of applicants you receive it may seem easier to quickly interview candidates so that you can fill the position and get on with your day to day. However, it's best to take the time to thoroughly meet with interviewees so that you can hire the right person for the job.
Keep your company culture in mind
Good candidate. Good experience. However, their personality or some other factor may not be a good match for your company.
---
Schedule and track responses for your group's next training session. SAMPLE
---
Keep the lines of communication open
As best you can, be communicative. Let candidates know if you have no intention of moving forward with them. Same with candidates you would like to see again before making a final decision.
Follow up on References
Be sure to check references and ask questions about your potential hire that reveals valuable information regarding leadership qualities and accountability.
Act Fast
If you find someone that is a great fit for the position and company culture quickly extend an offer. You don't want to end up with second best or start the process over because they accepted a position elsewhere.
Tips for Employees
Use SignUpGenius
Create an employment search support group of unemployed friends or people in your community. Use each other's skills to continuously improve your resume, connect with each other's networks, and practice interviewing. This will also keep you positive when you don't get the job offer you want.
Use your Network to Get in the Door
Don't be shy about reaching out to previous employers (if you left on good terms, of course) or former colleagues to inquire about open positions, forward your resume to people they know, or get information about a particular company or position.
Keep Your Resume Current
Your resume should be a continuous work in progress. You should keep your resume refreshed and interesting especially if you're noticing the resume you use isn't getting any bites.
Prepare for the Phone Interview
Lots of companies use phone interviews as the first introduction to a candidate, this is as important as a face to face. Be prepared with a series of answers. Also make sure to be sincere and enthusiastic.
Dress for Success
Dress for every interview as if you've already got the job.
During the Interview
Be confident and clearly convey why you would be a great addition to the companies team.
Follow Up
Send a thank you email within 24 hours to remind the interviewer(s) of your skills or cover any important points you didn't have a chance to discuss during your interview
Be Persistent, Not Pushy
If you haven't received a response within five to seven days of your thank you email, feel free to send another email asking about the progress of the interviewing process. If you continue to hear nothing, follow up again in another week.
Be Gracious
Unfortunately, there's no guarantee you'll receive an offer, even if you do everything right. Be sure to thank the potential employer for the opportunity to interview. You never know what opportunities may open down the road.
Best wishes to you in your search. Keep the faith - the right person, or position, will come along. Just keep your head in the game and interview smart.

Aubrey LeGrand is a sales and marketing professional.