How to Host a Webinar

A webinar can be a great way to host an event — whether it's a topical webinar open to the public, an important presentation at work, a team banquet or a fundraiser. Although many of these things used to be in-person gatherings and have now shifted to become online events, they can still be very engaging. Here are some tips for hosting a webinar and putting on a successful virtual event.
Pick a Platform - Choose a platform for your webinar — popular options include Zoom, GoToWebinar, ON24 and Livestorm. Do some research to find one that is a good fit for your group's size and is easy to navigate for both the organizer and the participants.
Brainstorm Details - Decide what format best suits your needs. Will this be a panel discussion with a moderator, a product demonstration with one main speaker, a fundraiser, a board meeting, a speaker on an interesting topic, a how-to tutorial or even an interview with an industry leader?
Schedule Smart - Select the right day and time for your webinar based on the people you hope will attend.
Consider a Host - Think about having a host or emcee to keep the webinar moving and on track. This is especially important for a fundraising event or awards banquet.
Select Spokespeople - Choose the right people to speak. Make sure they're comfortable on camera (talking to a camera is different than speaking in front of a room full of people or a live audience). Make sure they are engaging and know their stuff.
Coordinate registration for a university admissions webinar with a sign up. View an Example
Mic Up - Be sure you have the right equipment. There are inexpensive microphones you can purchase that will offer better sound quality than if you rely on the audio from your computer. You can also use a headset or wireless headphones.
Stay Connected - Make sure your internet speed is fast enough and won't cause any "screen freezing" or delays. Turn off any email notifications that might pop up on your computer or other technology and distract from the webinar. Consider having a backup computer ready to go.
Hard Copy - If you'll be doing a slide presentation, print a copy for yourself so that you can use it as a reference in case anything doesn't work as expected.
Get the Word Out - Promote the event in advance on social media, in industry publications and through company newsletters. You can even send out an online sign up.
Promote Your People - Include presenter bios on your information page to help generate interest from people considering attending.
Track Attendees - Ask people to register so you know who will be attending and how many people to expect.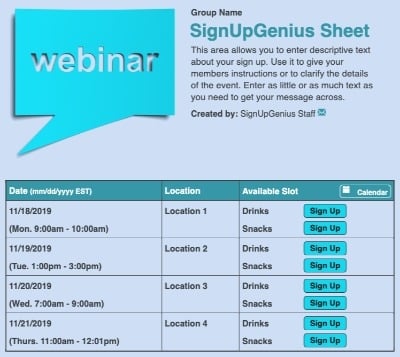 Save the Date - Send reminders about the webinar in the days just before the scheduled time.
Write a Script - This should be more than just an outline. Write detailed plans about who is speaking when and what they're saying. This will help the host and the technical team stay on the same page. Time it out beforehand so you have a good idea of how long the complete program will take.
Do a Dry Run - Technical glitches can happen, and the best thing to do is troubleshoot before the big event. Practice everything ahead of time, consider even asking friends and relatives to take part in a rehearsal so you can spot potential pitfalls.
Product Demo - If you'll be showcasing a specific product in the webinar, consider recording the demonstration and playing the video during the live event. That way you ensure nothing can go wrong. If there are multiple speakers, you may also want to consider recording some of the content in advance. Anything you can pre-tape will help prevent potential technical glitches on the day of.
Host sign ups and collect fees for online pop up classes with a sign up. View an Example
Live Auction or Contests - If your webinar has a live element like a fundraising auction or contest with giveaway items, consider making an online version available ahead of time to allow for some of the action to take place in advance of the event.
Inviting Intro - Start with a slide that has a fun visual or your company logo and lets attendees know they're in the right place and their software is working. You can include phrasing like, "We're just minutes away" or "Stay where you are, we're about to get started." A countdown clock can also be fun and help people know when they have to be "in their seats."
Engage People - Have a chat function so people can ask questions during the presentation and offer a Q&A session at the end. Encourage engagement with both the presenter and other attendees by taking a poll or asking specific questions.
Bring the Music - If this is intended to be an upbeat and lively event, consider having live music. Find a local DJ or musician willing to perform a song or two to get your crowd excited.
Follow Up - After the webinar, follow up with attendees. Survey them to see what worked and what could use some improvement. If it was a fundraiser, send a thank you and offer other ways they can stay involved. Consider recording the webinar and offer a link to attendees so they can refer back to it or send along to anyone else who might be interested.
Technology allows us to do incredible things, but it can also be glitchy. Following these webinar guidelines should help you avoid major issues and leave your attendees feeling like they got something valuable from the experience.
Michelle Boudin is an investigative reporter for WCNC TV and a freelance writer.