50 Fun Employee Engagement Activities and Training Ideas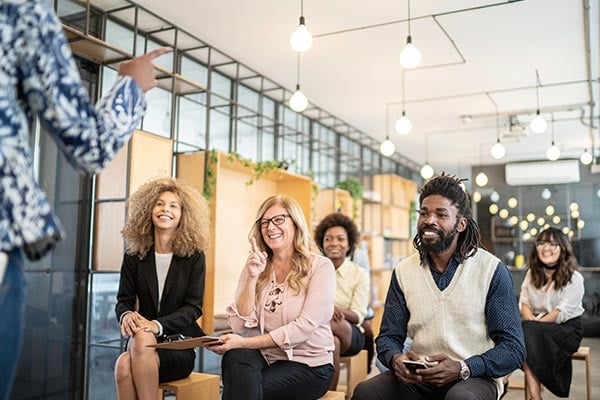 There are many ways to inspire and engage your team members. Choose an idea that fits with your company culture and your teammates' interests and you'll see success. 
Fun Activities for Employee Engagement
Teams that laugh together often communicate better. Plan a few of these activities for your organization or your work team. Make fun a priority for you and your team. 
Compete - Play a game of laser tag, mini golf, traditional bowling or duckpin bowling. Keep track of points and give the winner a trophy for his or her desk.
Make it an Adventure - Surprise the team with an unexpected activity like ax throwing, scavenger hunting, ziplining or shooting skeet. Provide fitting prizes for the winning adventurers. (Camo, anyone?)
Volunteer Together - Get your team out into the community and volunteer as a group. If you have multiple offices around the globe, have every location pick a local partner to serve. Have work teams grab a meal afterward and debrief all they learned together.
Host a Collective Day of Fun - Ask each team member to choose their favorite activity and spend a day trying a variety of hobbies. Plan to include 45 minutes to an hour for each activity and be sure to factor in transportation and meals. Maybe you start off with coffee at a teammate's house in the morning while you go over the plan, then go bike riding through downtown or skateboarding at a skate park, eat at a new restaurant for lunch and have everyone try a new food, learn to play a new sport or a popular video game, plan an office prank, do a DIY craft from Pinterest or learn something new from a YouTube tutorial.
Creative Arts - Plan a day of creativity including an art class, museum tours, music lessons, pottery decoration or a drawing class.
Dance it Out - Hire a choreographer to get your department's team into a flash-mob routine then spring the surprise on the rest of your coworkers at the most unexpected time. Be sure to have someone turn up the music so it is nice and loud as you dance!
Escape Room Experience - Sign up for an escape or breakout room adventure where your team has a limited amount of time to solve a problem and escape the space. Search online and see what experiences are offered near your location.
Movie and Popcorn - Treat your team to their favorite movie showing and a gift card for popcorn, drinks and candy. They will talk about this experience all year long!
Mystery Dinner - Have you seen those murder mystery dinner party kits where team members come dressed as a certain character and spend the time trying to figure out whodunit? Make that idea your own and create a murder mystery lunch for employees.
Host a Gameshow - Ask a leader to set up a game app like Kahoot! ahead of time so questions are programmed in, or create your own version of popular television shows like Hollywood Game Night, Jeopardy and Let's Make a Deal. Buy fun buzzer devices on Amazon and use them for activities all year long.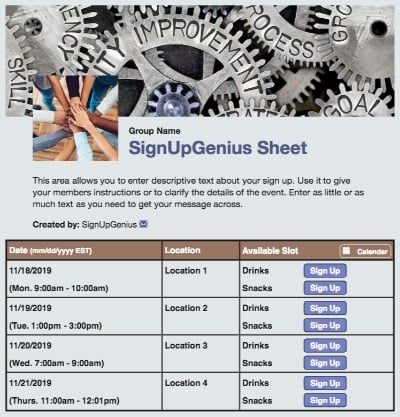 Local Food Trucks - Invite the local food scene to stop by your office and treat your employees to lunch. Top it off with a dessert food truck selling cupcakes or snow cones, whatever is most desired in your area. Consider inviting food influencers to come by and meet your staff and post photos on social media.
Cooking Show - Make it a corporate cooking team challenge or a baking field trip to a local cupcake shop to sample and enjoy sugary goodness.
Racing - Go Karts, Mario Karts and even boat races, the possibilities are endless. Race to the finish line, zoom, zoom!
Class Games - Put a new spin on trivia, Pictionary and bingo by making the questions your own and involving company jokes and fun facts about team members.
Get Outside - Plan a full day of fun at a local state or national park. Include activities your team members enjoy like hiking, camping, BBQ and s'mores. Make a full day out of it with a few hours of structured team time and then offer free time for the rest of the day. Invite families if you're looking for a family experience.
Go Organic - Plan to tour a local farm, creamery or orchard and learn about how they harvest their produce and care for their livestock. Structure team building exercises around aspects of the location such as berry picking, feeding time or farm maintenance. Also be sure to sign your team leader up to learn how to milk a cow! If you aren't up for the full farm experience, feel free to tone it down a bit and find local farmers markets to visit as a team throughout the year. Plan a farm-friendly scavenger hunt for team members and support local small businesses at the same time.
Food Service - Employees love easy options for meals, groceries, snacks and more. Make it easy for team members to order and pick up food with daily office meal options or a food service. In addition, secure a simple way for employees to order groceries or offer a farm-fresh subscription box service to be delivered to a centralized office location or an employee's desk. Everyone loves fresh produce.
Office Perks Account - Allow your employees to pick which perks they want and spend through a Lifestyle Spending Account, an employer-funded account for team members. HR teams or C-level teams set up these accounts and have employees log in and personalize them so they can use company perks to improve their lives.
Incorporate Animals - Go back to childhood joy as you take your team to the local zoo or aquarium for a day of team fun. Plan fun surprises like a tour from the staff, a dolphin experience or a behind-the-scenes view of the organization's operations and work culture with one of their leaders as a key speaker for your meeting. Research to see if there is a unique space your team can meet and work on projects, development or trust-building exercises. For example, one aquarium invites groups to sign up to spend the night sleeping under their shark tank, another has a conference room overlooking the monkeys.
---
Schedule company training seminars with a sign up. View an Example
---
Seasonal Group Activities for Employee Engagement
Use a specific time of year or a special holiday as an excuse to have fun and celebrate with your team. 
Celebrate Birthdays - Every workplace has its own way to honor employees. Consider making birthdays an occasion for fun or generosity. Gift the employee a gift card on their special day or gift an office plant, their favorite office supply or fresh cut flowers. Whatever you decide, make sure it's a universal experience where everyone is celebrated and treated the same.
Spring Fun Run - Do you have a group of active runners at work? Ask them to organize a fun run your company can sponsor and participate in. The community engagement will benefit the company and employees will accomplish finish line goals with one another.
Earth Day - Plant trees, host an environmentally friendly meal, volunteer in the community to do yardwork for those who cannot do it themselves, and gift every employee an indoor plant for their desk. Find creative ways to celebrate the Earth and have fun at the same time.
Basketball Bracket Challenge - Host a March Madness watch-a-thon and a chili cook off competition on the first day of the tournament. If you already celebrate March Madness, then take it up a notch this year and plan to cater in food on multiple days. Your employees will appreciate the free meal and it will put everyone in a great mood, even if their brackets are busted early on.
Cinco De Mayo - Cater tacos for the whole office and celebrate with alcohol-free margaritas. Decorate the office with colorful flags and play some Latin music. If you aren't catering the meal, consider hosting a guac-off for employees to bring in their best guacamole and you provide the chips. Use a sign up to have cooks reserve their competition spot and judges volunteer their time. Be sure to number each guacamole option and give the winner a gift card to your favorite Mexican restaurant in town.
Summer Family BBQ - Choose a casual location with enough space for everyone and host a BBQ or picnic for all employees and their families. Set up the grill and have people bring their own meat, or consider providing meat options and having people bring sides to share. Use a sign up so you are sure to get a good variety of dishes. Take the opportunity to set up games for the children, a nursing mother's room for little ones and even some family competitions to add extra energy.
Autumn Events - With hayrides and harvest parties, fall is the perfect time for a corporate activity or event. Plan a mountain retreat or a festive trunk or treat. Want to stay in the office and still have fun? Host a Halloween costume party for your employees and offer prizes for the winner. Give prizes for scariest costume, most innovative idea and best overall. Create a shared playlist around the event and have everyone contribute their favorite song as it relates to your event.
Christmas Cookie Bake - Who will win? Classic sugar cookies or gingerbread? Challenge your employees to bake and bring in their wonderful creations to share with the team. Award prizes based on categories. Serve the cookies with hot coffee and hot chocolate. Instead of hosting the company holiday party on an evening or a weekend, do it during the cookie bake and make it more casual for hosting it during a workday. Team members will appreciate the simplicity of it during a busy holiday season.
Giving Tuesday - Plan to give back to your company's partner nonprofits or causes that your employees choose on Giving Tuesday.
New Year, New You - Plan a host of resources for your staff teams to utilize for their goal-setting in January and flood their inboxes with helpful options. Offer videos on setting goals, eating well and managing time. Offer coupons and discounts for vitamins and health food stores. Bring in a local chef to talk about meal planning and healthy living. Partner with community races and provide perks for those who participate.
---
Plan several lunch and learn events with a sign up. View an Example
---
Professional Training for Employee Engagement
In addition to employee satisfaction, it is incredibly important for companies to provide fun ongoing learning and development opportunities for employees. Use these easy ideas to incorporate learning into your corporate culture. 
Lunch and Learn Events - Bring in a guest speaker or have a subject matter expert from your team teach on a highly sought-after topic. Make it all about life skills, internet security, caring for aging parents, doing your own taxes, or self-care and health-related topics. Better yet, ask your employees, in a survey, what topics they would like to learn more about and plan accordingly. The key to getting people to this meeting is by offering stellar free food, so don't skimp out on the catering. Tip: If your event happens in the morning, call it a Brunch and Learn.
Cross-Functional Teams - Bring people from various teams and organizational levels to serve on strengths-based teams where they can contribute in meaningful ways. Make these team experiences fun by bringing in food for meetings, starting with an icebreaker and celebrating wins together.
On Demand Learning - Consider offering software demos, social media best practices or employee development portals in video or slide format so employees can reference policies in an engaging and searchable way. Make it fun by offering rewards and points just like a video game. Or get a group membership to an existing learning site and allow employees to take online classes on demand as a part of their professional development.
Personality Assessments and a Discussion - Choose from a variety of assessment options such as the Enneagram, Myers-Briggs, Strong Interest Inventory, StrengthsFinder and DISC to name a few. Hire an organizational development consultant to ask people to take the assessment ahead of time so you can compile the results and have them ready for a fascinating discussion when you meet as a group. Get ready for new insight and understanding.
New Ideas - Find ways to move your teams from producing to innovating as they produce. Create a general email address where ideas can be submitted, make an executive available for brainstorming lunch dates or have those at the top of the organization interact often with those at other levels. Then host brainstorming meetings about relevant topics like how to improve the office, ways to encourage creativity, or perks employees would like to see. The more employees are asked to contribute new ideas and feel heard and valued in the process, the more likely they are to thrive.
Emotional Intelligence - Read a book together about emotional intelligence or provide an audiobook for employees to listen to and then get together and discuss. Form a book club out of it.
Develop Managers - Bring in an executive coach to work with your leaders and conduct 360 feedback as to how they need to grow. Teach managers how to move from transactional leadership styles to transformational and servant leadership styles. Get individualized growth plans for every manager and work with him or her throughout the year. Retain this executive consultant, so employees have a resource for expert leadership and management knowledge and resources.
Feedback Loops - Create a process for two-way interaction on work-related topics and make it fun for employees to submit feedback about projects, what it is like to work with their peers and a way to honor those who go above and beyond.
Webinars - Host or attend a webinar and learn something new in a practical format.
Online Conference - Find a relevant online conference and provide logins and work time for employees to take part in watching the sessions and sharing on social media.
Health and Wellness Training - Survey your employees to ask what type of health and wellness perks they would like. Consider offering gym memberships, fitness challenges and on-site yoga classes. Bring in experts throughout the year to teach on topics like nutrition, stress management and more.
Create a Relational Culture - Start meetings with brain teasers, would you rather questions, or two truths and a lie exercise. This is an easy and quick way to set the stage for a collaborative meeting.
Reflective Practice - Writing is a magical tool that allows employees to process and share what they are thinking and feeling. This practice also makes room for reflection which is a catalyst for personal and organizational change.
Active Listening - Pair off in groups of two and provide general topics to each team written on note cards. Player 1 draws a card and needs to talk about the topic for three minutes. Player 2 listens and later reflects back to player 1 the essence of what he or she described. Debrief as a full group afterward about the experience.
Ergonomic Consultant - Hire an ergonomic consultant to walk through your office and be available to anyone needing a workspace evaluation. Also ask this consultant to set up a few permanent fun, ergo-friendly workspaces around the office for people to utilize whenever they want. These spaces can be phone booths for taking calls, tables with open seating, standing desks, collaborative gathering space or comfortable sitting areas for small groups.
Training Through Local Associations - Professional organizations and nonprofits provide trainings, meet and greets, webinars and industry events that employees benefit from attending. Research your local associations and join today.
Refresh - Everyone wants an extra day of rest. Give your team an unexpected day off or give them a restful activity. Take them on a daylong silent retreat, a workshop about mindfulness or bring in massage therapists to de-stress your staff with chair massages between meetings.
Search Resources - Teach team members how to do in-depth research using free tools like Google Scholar, local library online resources and apps, in addition to public statistics and government sites.
No Meeting Fridays - Provide a meeting-free day for your employees to grind out their work and recharge. If you can't do a full "no meetings day," maybe limit the times they are offered (no early or late meetings) or do a walking meeting – something to switch up the normal routine.
Teach Communication Skills - Everyone can grow and learn in the area of interpersonal communication. Teach employees how to encourage one another and congratulate others on wins. Teach conflict resolution skills and lay out best practices for how your company tackles common issues.
Change Management - Leading change is tough, implementing the day to day steps of change is even harder. Host an interactive workshop on change management and teach managers how your company plans to handle upcoming internal and external changes. Collect ideas, feedback and input. Walk through John Kotter's steps of change management with the team and provide a handout for them to take back to their desks.
Nothing beats a team laughing, having fun and learning with one another. Plan an activity or a training and share memories that will spark conversations for days and weeks to come.
Erica Thomas is a marketing strategist at SignUpGenius and always enjoys team fun and learning.