25 Career Advice Tips to Advance in Your Job
The pandemic inspired millions of people to find new jobs and switch careers. A record 4.5 million people quit their jobs in November 2021, and many more are looking for a leg up or a change of pace in their current role. If you're hoping to move up or just want to be ready for an unexpected opportunity, we've got 25 tips to help advance your career.
Keep Your Resume Updated - You never know when an opportunity will pop up and you often need to formally apply, even if you're trying to move up within your own company. Remember to include professional development courses and certifications. Ask a trusted friend to review your resume and share feedback.
Network - Whether over Zoom or in person, look for ways to connect with people in other departments and at other companies. Check for local chapters of groups focused on your industry or experience level (such as young professional groups). Ask friends and colleagues for ideas and plan to attend an event together.
Be Open - You never know who or what is going to lead to the next opportunity, so always be open to new people, assignments and ideas. Saying yes to a meeting or a new project can challenge you to discover new strengths and interests.
Always Keep Learning - Take classes, forums, seminars — anything you can do to stay educated and ensure you know the latest practices and research in your industry. There are many virtual opportunities to learn insights and strategies from experts from the convenience of home.
Find a Mentor - No matter where you are in your career, it's always good to have someone in your corner with whom you can share ideas and learn from. Managers and colleagues from past jobs can be ideal mentors, so make the effort to cultivate those connections after you leave for a new role.
Sample Sign Up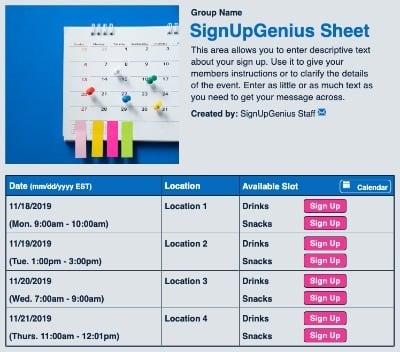 Do Salary Comparisons - Money can be a challenging topic but it's important to know that you're being compensated fairly and identify your target salary if you have your eye on a promotion. Do your research and find out what people are earning in comparable roles (Glassdoor is a great resource to see estimated salaries) so you're prepared when starting a negotiation.
Dress for the Job You Want - Dressing for success will vary across industries and doesn't have to mean wearing a suit. Coordinate a few outfits that will give you a boost of confidence for that big meeting, interview or presentation.
Work Harder (and Smarter) - Showing up early and staying late may make sense on occasion, but you can show your dedication without adding (much) more stress to your life. Focus on boosting your time management and seeking out leadership opportunities to show your work ethic is worth rewarding.
Keep Track of Accomplishments/Awards - It's always good to keep a running list of your accomplishments for your performance review and to make the case for getting that raise. Keep a journal and note your successes throughout the year so you'll remember those wins when it matters most.
Update Your Boss on Your Big Wins - Share your successes when appropriate and make sure to give credit to the team members who contributed to the effort. Use the opportunity to also share what you learned and new ideas to reach your team's goals.
Simplify scheduling for job interviews with an online sign up. View an Example
Ask for What You Want - This can include asking for more support or resources for a project or making your case for the raise or promotion you have been hoping for. Think about your main points ahead of time, if possible, so you can stay focused when you have the floor.
Prioritize your Work/Life Balance - Prioritize keeping a good balance of work, health and fun. Making time for your relationships and interests can help avoid burnout and ensure you are always putting your best foot forward at work.
Meet Regularly with Higher Ups - Look for opportunities to connect with senior leaders to learn what the company is focusing on, get feedback on your work and find out about new projects.
Be Open to Feedback - Ask for feedback on your work and use what you learn to improve your performance. It can take time to adjust to receiving critiques but finding out how you can grow is a golden opportunity to advance your career.
Set Goals - Goal setting gives you a path to grow in your job or motivate your search for new opportunities. Set short-term and long-term goals that are measurable and track your progress.
Be a Team Player - Volunteer to help your colleagues and leaders whenever you have the capacity. They'll be grateful for your support, and you'll have opportunities to grow your work relationships and broaden your understanding of the business.
Challenge Yourself - Getting out of your comfort zone can be the best way to learn a new skill or discover you are more capable than you realized. If you are comfortable in your current role, look for ways to take on new challenges and grow your experience in new areas.
Know Your Options - Is there a lateral move that is a great fit for your interests and skills? Is there room to grow in your company or do you need to look elsewhere to climb the ladder?
Organize a training seminar for your team with an online sign up. View an Example
Leverage Your Strengths and Plan for Your Weaknesses - Identifying and embracing your strengths can help you shine and empower others to show their own skills. Look for chances to share your talents and bring in colleagues who excel in areas outside of your expertise. You can use assessment tools, such as StrengthsFinder, to identify your core strengths.
Create Your Own Advisory Board - Pull together people in your life who you trust and can provide honest feedback when you need a sounding board. Run work issues by this group when you need insight or ask their thoughts on opportunities to grow or shift your career.
Take (Smart) Risks - Sometimes all it takes to get ahead is taking that risk. It's easy to stay in a job where you are comfortable, but you can continue to learn and challenge yourself at every stage of your career. Whether it's seeking out a new position or taking on more responsibility in your current role, betting on yourself can pay off big.
Be Willing (and Prepared) to Negotiate - Whether you're discussing a project deadline or advocating for a better assignment or more pay, consider where you will stand firm and where you can be flexible. If you all keep an open mind, you can agree on a solution that will satisfy everyone.
Stay in Touch - Thanks to email, social media and LinkedIn, it's easier than ever to stay in touch with people in your industry and in your community. Send a note to check in or offering congratulations on a recent success or promotion. And don't forget the value of meeting in person when possible.
Say Thank You - Remember to thank people who have contributed to your success at work or helped you find a new opportunity. Return the favor whenever you have the chance, and you'll continue to have a loyal group of people in your corner.
Celebrate Your Accomplishments - When you get that promotion, new job, or wrap up a successful project, take time to celebrate! You've worked hard and taking the time to celebrate makes all the effort worth it.
Whether you're new to the workforce or a longtime employee hoping for a shot at something better, these tips can help you get what you want and deserve. 
Michelle Boudin is an investigative reporter for WCNC TV and a freelance writer.