40 Back-to-the-Office Tips for Social Distancing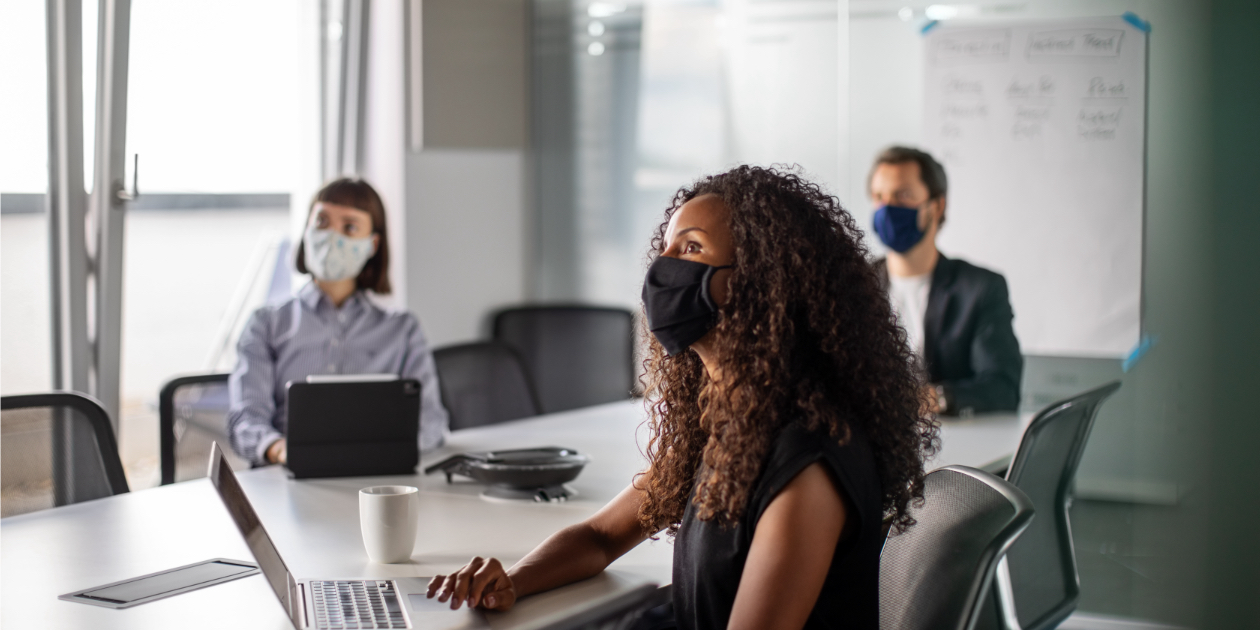 The COVID-19 pandemic is fundamentally changing the way we operate across industries, with a rise in remote work and in some cases full companies working from home.
"Expensive big city offices may be a thing of the past," Barclays leader Jes Staley said early in the pandemic, as the company's 70,000 employees went remote and executives began work on a long-term adjustment in location strategy. But onsite work will continue to be essential in many industries. Opening the office might be a needed option to provide employees a productive space outside the home.
How do we reinvent work and offer safe office environments in this new era? Below we've included our top 40 back-to-the-office tips for social distancing. Visit the CDC for more comprehensive guidelines and tips.
Develop a Socially Distanced Plan for Your Team
Research - Before you decide your plan to bring people back to the office, it is important to keep your options open and explore the risks and benefits associated with each scenario. For example, offering part- or full-time remote options may open a wider pool of talent and advance your company, but not having everyone under one roof may pose challenges. Plan to conduct significant research on COVID and onsite/remote work before establishing solutions.
Hire an Expert - If your company is able and it makes sense for your overall operations, it may be worth hiring a qualified occupational health and safety advisor, industrial-organizational psychologist, epidemiologist or management consultant.
Survey Your Team - Send an online survey to ask your employees about their experience working remotely. Ask about their ideal work environment during this time and what challenges have arisen during the office shutdown.
High-Risk Individuals - Recognize and plan for some people to continue remote work due to medical risks or other factors such as remote learning, childcare or caring for elderly family members. Address this need and provide a pathway for these people to be identified and approved to work remotely.
Network - Talk with other business leaders, associations and thought leaders and ask how they are navigating the return-to-work decision. Offer to brainstorm with them or help however you can. Sometimes supporting someone else can help us be more focused and inspired.
Conduct a Risk Assessment - Form a risk assessment team with the goal of creating a safe environment for your employees. Consider professionals across the organization, not just your well-known executive leaders. It is important to have buy-in from all levels of the organization and create a space for voices to be heard. Set a timeline for the assessment, consider engaging consultants to glean expertise from, look at ways to limit liability and create a format for a final written report from the team.
Think Short-Term and Rationally - Focus on the facts and provide hope for your workforce by offering clarity about how your company will socially distance and communicate in a calm and confident way. Focus on the upcoming 6-12 months, not the next 5-10 years.
Gatherings - Decide if you will allow gatherings for meetings or conferences at your space and if you do, keep people socially distanced from one another with masks on. If you are not hosting or allowing gatherings, consider turning your unused conference or break rooms into individual offices.
Establish Accountability - Create consistent accountability for team members working in all locations. Maybe your daily meeting turns into a virtual post on your internal communications platform or project management board or you spend 20 minutes together on Zoom in the morning to drink coffee and talk projects.
Revise Policies - Before your employees return to the office, look at your HR policies and adapt them as needed. Consider your policies for working from home, relocation or residency, travel and expected quarantine time, paid leave, layoff procedures, food and drink at the office, visitors at the office and more.
Focus on Prevention - Create a plan to prevent the virus from existing in your office space and stick to it. Communicate clearly and trust employees to honor and follow the guidelines. If someone tests positive what are they to do and when? Will your company conduct contract tracing or engage a local organization to do so?
Invite employees to attend a training seminar with an online sign up. View an Example
How to Get Ready for Office Reentry
Talk to Your Managers - People who supervise others usually have a good pulse on how things are going for individuals and for teams. Create opportunities for managers to provide feedback or suggestions given what they know.
Scheduling - Do you offer a work from home option and make coming to the office optional? If so, how do you schedule shifts and limit capacity to make everyone feel safe? Online sign ups serve as a scheduling solution for teams and slots can be set to close once a timeframe is full.
Office Layout and Seating Plans - If your office has reduced capacity, how will you space the workstations and make sure everything is sanitized? Create a digital design plan for seating that allows 6+ feet between workstations and get executive approval for the plan.
Food Consumption - Decide if you will leave the kitchen areas open if your office has them. Are employees expected to leave the office to eat or can they eat at their desks? What about drinking beverages like coffee and water?
Create Outdoor Environments - If you are limiting in-office food consumption it may be worth utilizing your outdoor space to create tranquil eating spaces, delivery drop-off stations and designated smoking and non-smoking areas. Do this by placing picnic tables with umbrellas, clear signage, strong Wi-Fi, park benches, lounge chairs, and additional seating for employees to effectively distance and even work outdoors.
Collect Organization-Wide Data - How do you store and share your employee data? You will need a full list of employees, contact information and a digital process for acting if or when an employee tests positive. Find an employee management system to centralize the data.
Install Panels and Partitions - Have a professional walk through your intended office layout and install room panels, Plexiglas barriers and partitions as needed.
Priority COVID-19 Testing Sites - Consider making it simple for your employees to get a test onsite or at a drive-thru facility nearby. Simplifying the process and creating a reliable way for testing to happen will benefit your company and your employees.
Schedule socially distant office shifts with an online sign up. View an Example
How to Effectively Social Distance at Work
Personal Protective Equipment - What PPE will you provide for your employees, so they feel safe and are still able to work comfortably while in the office? After you provide the equipment, what is the expectation for wearing the items? To make sure you get the most protection from preventative measures, it is critical to explicitly state expectations.
Supplies - Invest in a stock of cleaning supplies and plan to order them in bulk as shortages or shipping delays may mean they don't arrive promptly. Make sure employees know where they are stored.
Cleaning Protocols - Will employees be responsible for cleaning or will you hire a cleaning team/staff? To keep employees focused on their work priorities, it may be best to hire staff to come in and clean the facility including common spaces, entryways and personal workspaces.
Set Expectations - If someone isn't social distancing and an employee feels unsafe how should they address the situation? As other conflicts arise in the office, what is the new normal for addressing issues in person? Setting expectations will provide a framework for employees to follow and the bumps in the road will feel less personal.
Learn as You Go - As the pandemic continues, it is important to keep a pulse on employee health, job satisfaction and engagement. Plan to create two-way communications channels and a communications plan to last throughout the crisis and inform executives about what is gathered. Always be ready to adapt as needed.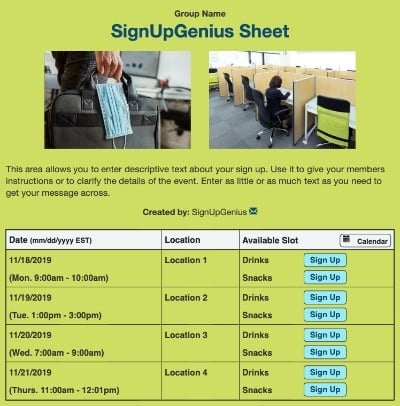 Prioritize Your People
Show Appreciation - Write handwritten notes, gift a branded pen or a new device that not only meets a need but warms your employee's heart and communicates value. Some ideas for fun swag include T-shirts, water bottles, phone sanitizers, holographic stickers. Add this line item to the budget.
Honor Loss - Address hardship and grief head-on by providing paid leave for bereavements, extended COVID care, or hospital stays. Recognize that various populations are impacted in disproportionate ways and do what you can to show value to your employees while distancing. Be prepared for the impact on payroll and have a plan for cross-training employees on areas of ownership so they can substitute for peers who are out due to these circumstances.
Mental Health Awareness - Ask your employees how they are doing. How are their family members doing? Create safe spaces where work and mental health overlap. This could be through a lunch and learn about practical topics, gifting everyone a grocery or food delivery service, or administrative leave time if they need to care for a loved one who has COVID. Get creative and reinforce that you care about every part of your employees' lives, not just what is produced and plan for the budget to reflect this value. Genius Tip: Read tips from a licensed mental health counselor on how to make mental health a priority at your company during a pandemic.
Be Transparent - Be honest with your workforce. If the company takes a hit profit-wise, explain that and be transparent with the numbers so your team knows what to expect.
Embrace Hospitality - Invite food trucks, ice cream trucks or snow cone vendors to your location on high capacity in-office days. Pay for your employees to enjoy coffee and espresso from an outdoor station in the morning hours and set up a schedule to ensure social distancing. Find ways to be hospitable even amid a global pandemic and your employees will thank you for it.
Organize company volunteer opportunities with an online sign up. View an Example
How to Boost Morale in a Pandemic
Create Flexible Options - Providing choice for employees is seen as an act of trust and respect in the COVID-era. When possible consider offering your employees the choice to work remotely, in the office or a hybrid of the two. Workplace flexibility and trust cultures are real and can be the make it or break it factor for your retention numbers.
Communicate Value - Tell your employees that they are your greatest asset, and their health, safety and wellbeing is the most important part of your company. Take action to show how much you value your employees by increasing respect and sensitivity for mental health issues and stress and encouraging them to put down their work and take walks, breathe fresh air or practice self-care.
Model Self-Care - Manage your own stress level and wellbeing so your employees see you model what you are teaching. Embrace creativity and curiosity in your work and your life and it will inspire those around you. Avoid bias and educate the company as needed on topics of wellbeing, diversity and self-care.
Reinforce Your Organizational Culture - Anxiety levels are high during a global pandemic, as employees experience stress about the unknown, loved ones, job stability and more. Rely on your company's values and core principles to help you as you guide your team through the unknown.
Give Back - Continue your philanthropy programs if you can and explore ideas for your team to volunteer virtually. Patagonia's 1% for the Planet initiative, where 1% of sales is committed to environmental causes, is an example of businesses continuing to giving back, even during a pandemic. Finding safe ways to volunteer can help your team stay connected to their local and global communities during this time when we are apart.
Embrace Diversity - Consider cultural differences or customs. Employees will differ in upbringing, how they respond to the pandemic and how loved ones are impacted. Make space for inclusion and acceptance in your organization.
Don't Cancel Fun - The pandemic can feel exhausting! Recognize this and find simple ways to spark employee engagement in socially distanced ways. Host a virtual competition, fantasy sports league or a virtual fundraiser event. Offer social times to connect virtually and think about adding a game or two to your office meeting in the upcoming months. Laughter is good for the soul.
Prioritize Professional Learning - Did a favorite conference go virtual or become free? What online courses can advance employees' knowledge and help accomplish your goals? If possible, invest resources into your team during this challenging time and motivate them to learn and grow. Factor this into the budget and make a list of free growth opportunities.
Encourage Family Time - Parents are dealing with a lot during the pandemic and are often educating children at home while working. Think through ways to create a family-friendly work culture where employees can log off during the day and make up the time as their schedule allows. Learn the names of family members and ask regularly about how they are doing. Allow personal and professional to blend a bit to create more trust and care between teams.
Create Clarity - Leaders can create clarity and set expectations even if you don't have all the answers. If you aren't ready to commit to a full in-office plan, then set a date to reevaluate the topic and let your workforce know you will be remote until then. If you aren't concerned about your employees showing up in the office because their productivity is high at home, then make the decision early on and abandon the in-office expectation altogether as companies like Facebook, Twitter and Nationwide have done. Either way, communicate clearly in multiple ways and have others proofread your communications to be sure they share exactly what you have in mind.
Respect Differences - Whatever your social distancing plan looks like it is important to expect a wide range of preferences and comfort levels with potential exposure to the virus. Create a workplace that welcomes diversity and affirms each person where they are. The pandemic has impacted people differently across the globe.
As leaders, it is important that we not only understand the science of workplace health but also abide by the CDC standards for opening office spaces. Remember that change is constant and change management is an area of business worth studying during this global crisis. Every company must decide on a unique plan as there isn't a one-size-fits-all approach.
Erica Thomas is a marketing strategist here at SignUpGenius and studies organizational life and business.