50 Gift Ideas for Administrative Professionals Day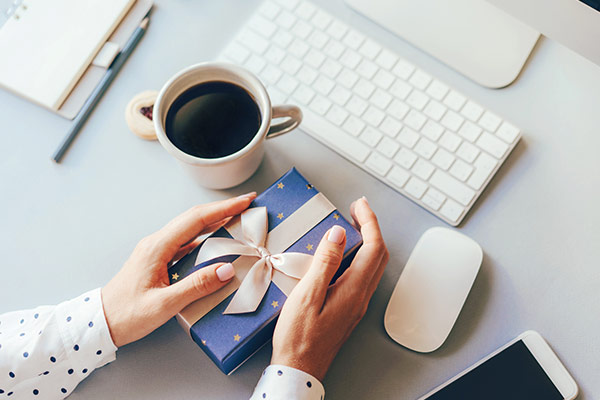 Anyone who is lucky to work with a top administrative professional knows they are the true office superhero. From organizing meetings to ensuring everybody has what they need for a successful week, they make work, work!
Administrative Professionals Day (also known as Secretaries Day or Admin Day) is observed on Wednesday during the last full week in April each year. From homemade gifts to pulling out all the stops, these 50 gift ideas are sure to make your power-player feel appreciated and valued.
Donate - Does the employee you could not live without have a cause close to his or her heart? Take up a collection from everyone in the office and make a donation in his or her name.
Spa Day - Treat your administrative professional with a basket full of bath goodies like sweet-smelling soaps and lotions or take it to the next level and send him or her to the spa for a day of well-deserved pampering.
Make a List - They keep the office running smoothly, so show your appreciation with a list of all the ways they make a difference.
Award Day - If your team has more than one administrative professional, host a breakfast or lunch award ceremony and recognize each individual for all that they do.
Meal Delivery - Arrange to have dinner delivered straight to their door.
Stock Up - Make the workday a little brighter with colorful sticky notes, an automatic stapler, cool ergonomic mouse pad, awesome writing tools of their choice and a gift card to the office supply store for a supply shopping spree.
Class Act - Give him or her a gift certificate to participate in a painting class, computer design course, acting lesson — whatever you think they might enjoy.
Goodie Jar - This easy two-for-one gift is a great way to make your admin feel special. Purchase empty mason jars and fill them with sweet and savory treats. Once the jar is empty, they will have a beautiful keepsake.
Magic Mug - Gift a fun mug that represents their alma mater, favorite cartoon character, sports team, or personalize it with quotes and words of thanks.
Notecards - Notecards are perfect for any occasion. Make it personal with a special design or monogram.
Big Ticket - Go big or go home when you purchase your admin a ticket (or two) to a popular concert, exciting sporting match or cultural event.
Picture Perfect - Add a personal touch to their office with a digital picture frame they will enjoy all year.
---
Register people for your company's golf tournament with a sign up. View an Example
---
Flowers - Flowers and plants are a beautiful way to show appreciation. Surprise them with a special arrangement delivered to their door.
Zen Garden - Give your "ohm" master a mini Zen garden kit. He or she can be centered no matter how hectic the day becomes.
Gift Card - If you know where they love to shop, you are on your way to the perfect gift.
Day Off - Nothing says "we appreciate you" like a day off — or two!
Transportation Card - Make the work commute a little happier with a gas card, train pass or Uber credits.
House Cleaning - After a long work week, coming home to a clean house is a dream come true. Hire a cleaning service to keep your admin's pad looking good. Be sure to get his or her approval first.
Grocery Delivery - Make meal planning easy and get the work week off to a great start with groceries delivered to their door!
Pet Project - Does your admin have an idea to share? Maybe they have a suggestion about how to run a better meeting, or thoughts about planning the next conference. Take time to actively listen to his or her ideas, and make sure to implement them as you can.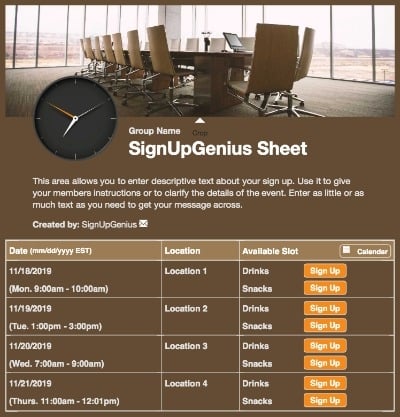 Collectibles - Add to his or her favorite things with a special collectible. From coins to dolls, crystals to dishes, a memorable gift will mean a lot.
Car Detail - While they are at work, surprise him or her with a mobile car cleaning or detail service. They will love driving home in their clean ride!
Health Club Membership - From yoga studios to a stretch clinic, support their fitness goals with a health club membership or class pass.
Gift of the Month - Celebrate all year with a gift of the month subscription. Try wine or chocolate, cookies or steak!
Decorate - Start Administrative Professionals Day off with a bang by decorating the office with balloons, streamers, banners and confetti. Bring in coffee and donuts or bagels for everyone in honor of your awesome admins.
---
Plan a staff potluck gathering with a sign up. View an Example
---
Personal Letter - Tell your right-hand man or woman how much you appreciate what they do with a personal letter from each member of the team.
Smart Speaker- Every assistant could use their very own assistant! Purchase a smart speaker to make time at the office more fun and efficient.
Sports Jersey - Show them who's number one! Give your star player a sports jersey from their favorite NFL, NBA or college team.
Streaming Service - Popular streaming services like Netflix or Hulu are inexpensive ways to treat your hard-working administrative professional to a well-deserved binge.
Magazine Subscription - Going to the mailbox to find a glossy magazine every month is a real treat. With thousands of topics to choose from, you are one step closer to the perfect gift.
Local Getaway - Give the much-needed gift of rest and relaxation with an in-town getaway at a hotel or retreat. He or she can rest, order room service and own the remote control. Perfection!
Coffee! - If caffeine and your admin are best buds, fuel him or her with either a coffee basket with everything needed for a great cup of joe or go the extra mile with a fancy cappuccino maker or French press.
Water Bottle - An environmentally friendly water bottle with a fun design, fruit infuser, team logo or favorite color will fill him or her with joy all year.
Cozy Footwear - Perfect for after work (or long hours at the desk), surround your admin in comfort with a pair of fuzzy slippers, UGGS or other cozy footwear.
Office Furniture - They spend hours sitting down to make your work stand out, so pull funds together for a comfortable and functional desk chair to keep them smiling.
Coffee Table Book - Add to their home decor with a coffee table book! Choose one with glossy pictures featuring their hometown, Irish pubs, famous authors, scenic national park images or whatever piques their interest.
Business Card Holder - Keep them looking work chic with a business card holder that reflects their style.
---
Coordinate your team's lunch and learn opportunities with a sign up. View an Example
---
Warm Up - A hat and glove set or fabulous scarf will have them thinking warm thoughts all year.
Bookends - Great for home or office, a set of personalized bookends is a simple gift idea that leaves lots of room for creativity.
Calendar - Your admin is the master planner! Give him or her a beautiful calendar and include a surprise each month like lunch out, a half day off or breakfast delivery.
Bulletin Board - Brighten up his or her workspace with a personalized bulletin board with a fun pattern or design.
Hot Sauce - Your admin spices up even the most mundane tasks, so return the flavor (get it?) with a collection of special hot sauces and classic seasonings for the grill.
Socks - Contribute to his or her fashion-forward sock game with cozy footwear.
Drink Coasters - Drink coasters are a practical gift and come in all shapes and sizes. Cheers!
Spice Garden - Beautiful and fragrant, a live starter spice garden will add flavor to any meal — homemade or takeout.
Office Tote - Make their day with a quality backpack or smart tote to help them stay organized and look fantastic.
Kitchen Gadgets - Add to his or her culinary adventures with a big-ticket item like a KitchenAid or Instant Pot. Don't forget the cookbook!
Homemade Desserts - An affordable gift that comes from the heart, homemade fudge or cookies are sweet ways to say thanks. Remember to consider any food allergies when deciding what to make.
Grill Master - Does your admin double as a grill master? Keep the fires burning with new tools and toys for the grill.
Money - Money is the one gift that always fits, and no one returns! Take up a collection and pair it with a thoughtful card for the sure-fire win.
Treat your admin and keep the good work vibes going all year!
Courtney McLaughlin is a freelance writer in Charlotte, N.C. She gratefully shares her life, home and heart with her daughter and their dog.