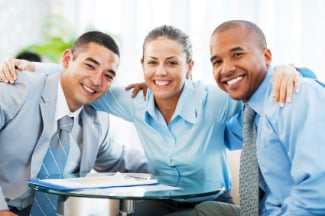 The summer is here and while kids are dreaming of water parks, BBQs, and time at the beach, many adults are inside an office working. However, that doesn't mean that summer isn't nostalgic—snow cone, anyone?
The summer's sweltering heat can be punishing, but your office team shouldn't feel like they're being punished for having to work through it. This season is a great time to reconnect and show them how much they're appreciated.
1. Summer Fridays
Fridays are special. Summer Fridays are magical. Propose an adjusted summer schedule that will allow your team to take Fridays off and jumpstart the weekends. Monday through Thursday 10 hour work days or 80 hours over 9 days for every other Friday off sounds about right.
2. A Company Picnic
Serve hot dogs, hamburgers, salads, and lemonade. Invite employees and their families and use SignUpGenius.com to coordinate the activities, sports, and games. Your team will be talking about it until next summer. 
---
Coordinate your company picnic on a sign up. SAMPLE
---
3. Half Day Brainstorming Sessions
Sticky summer weather can lead to sticky summer brain. Brainstorming will get everyone unstuck. Spend half a day brainstorming on special projects and ways to grow the company. Provide visual prompts or other things that may get the creative juices going. Take the meetings outside for added freedom. Just be sure you have a way to capture all the creative nuggets that will come.
4. Set Goals for the Summer
Summer haze can create a foggy path. One way to beat the haze is by setting benchmarks and providing small incentives when those goals are achieved to keep everyone focused.
5. Casual Fridays…Mondays, Tuesdays, Wednesdays
You get the point. Unless you're expecting a client or other guests in the office during the week, allow your team to come to work in clothes that beat the summer heat.
6. Bring Your Kids to Work Day
Summer's in and school is out. Allowing one day a month for kids to join their parents in the office may be a great way for them to connect while they have the summer off. With SignUpGenius.com you can easily create a sign up to keep track of who will be bringing their kids in. That way, you can make sure you have plenty of fun summer snacks! 
7. Discounted Corporate Rates
Folks are always looking for cool things to do during the summer weekends and a discounted rate at a local amusement park, waterpark or museum would be greatly appreciated.
8. Stock the Office Freezer
Keeping a cool head during the summer is imperative. So stock the office freezer with lots of popsicles and ice cream, and you'll be sure to please.
9. Drinks Anyone?
Coffee that is—Hire a Barista one morning a week to come in and make specialized coffee (and tea) drinks for everyone. Don't forget the blender.
10. Work From Home Option
Summer productivity may seem to be an oxymoron, but one way to achieve it is to allow employees to work from home a couple of days a week. Answering emails or creating spreadsheets may seem less like work if done from the front yard.
---
Collect money for a company outing to the ball field using an online sign up. SAMPLE 
---
11. Encourage a Company Sports Team
Is there a member of the team always getting your group through in a clutch or someone that you can depend on when you need a Hail Mary—those skills may translate onto the field. Encourage a team sport to get people moving and as a way to foster team building skills. If possible, offer to sponsor the team.
12. Summer MLB Baseball Lunches
The boys of summer are in action on the ball field and everyone gets excited to watch. Provide a television for lunchtime viewing of a MLB day game and use SignUpGenius.com to coordinate a potluck once or twice. It's Easy! 
13. Start a Company Summer Blog
A company blog is a great way for people to share with one another (internally and externally) what exciting plans they have for the summer. Pictures from vacations and after work ventures are a great away to get people virtually out of the office.
14. Keep Company Goals in Site
Creating a board of overall company goals for everyone to see is a good way to remind the team that work continues after August.
15. Host a Cook Off
Cook offs allow people to showcase their secret (or not so secret) cooking skills. Pick a food theme of your choice (BBQ, chili, salads, baked goods, etc) and use SignUpGenius.com to coordinate the competition. 
16. Yoga Lunch
Invite a certified yoga instructor to transform a conference room into a Zen garden. Cooling off internally is just as important as that A/C blasting from the office vents.
17. Outside Weekly Status Meetings
Moving your weekly status meetings outside may provide some respite from the day-to-day routine.
18. Bring the Summer to the Office
Who wouldn't enjoy sitting on a Hawaiian beach, sipping a cool refreshing drink, while working on their tan? You may not be able to offer your employees those benefits but playful decorations and lively music may make them feel a little more relaxed.
19. Lunchtime Ice Cream Social
Bring in all the fixins' and allow your team to create ice cream creations that would make any five-year-old jealous. Coordinate it with the Bring Your Kids to Work day for extra fun.
20. Be an Example
The summer can be a wonderful and energizing time for the workplace, but the lure of outdoor activities is always tempting. As you show by example the way to have fun but get the work done, you'll help your team do the same.
Aubrey LeGrand is a marketing manager for an educational publisher. She lives in Charlotte, NC with her husband and daughter.