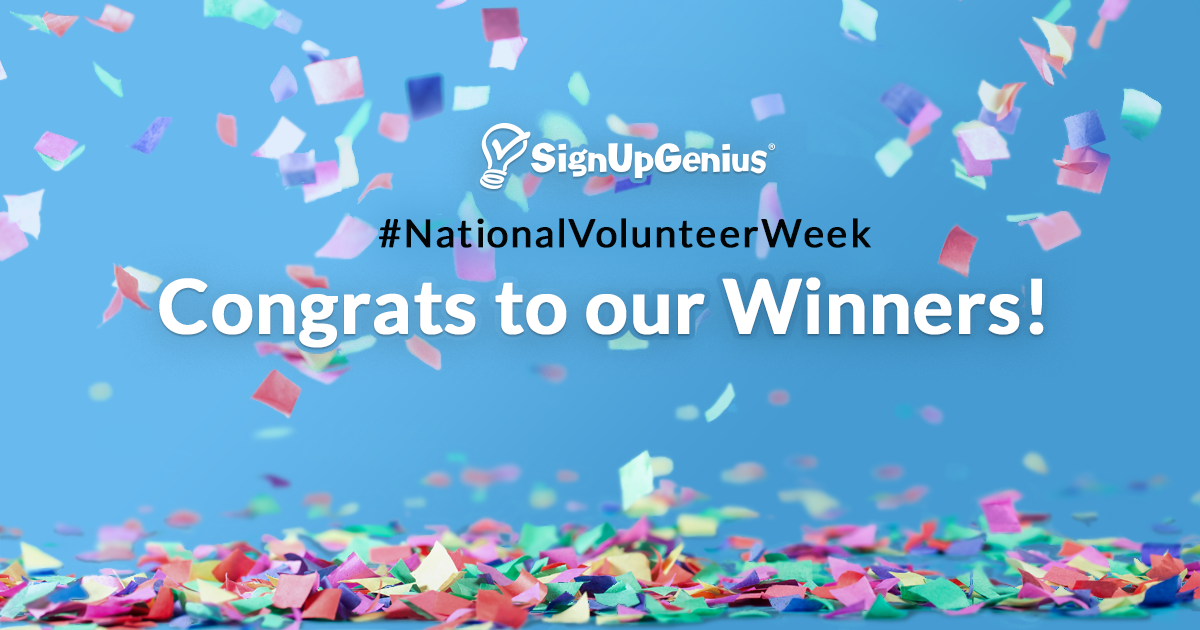 In honor of National Volunteer Week, April 23-29, we celebrated all of our favorite volunteers (hint: you) with five days of giveaways on our Facebook page. Thanks to all who participated, and congratulations to the following winners and organizations!
Day 1: $500 to Your Favorite Nonprofit
Lucy Pasquiér Plyler nominated Victory Junction
Day 2: 10 T-shirt Winners
Heather Alling
Lesley Chao
Dayna Sanders Davenport
Deena Dorsey
Tasha Dunbrack
Lisa Canupp Guy
Mandy Hammons
Jodi Pace
Kristin Phipps 
Beverly Dougherty Redstone
Day 3: $50 for You, and $50 for a Friend that Inspires You
Jessica Herndon nominated Susan Rosian
Joe Albair nominated Gail Albair
Ashley Busse nominated Bernadette Lane
Adaria Johnson nominated James Flagg
Shannon Garrett nominated Jessica Massaway
Day 4: FREE SignUpGenius Pro Gold Subscription (3 Months)
Amanda Martin
Day 5: $250 to Five of Your Favorite Nonprofits
Nicole Christine nominated The Kady Haynes Beauty for Ashes Project
Yazmin Gonzalez nominated Carolina Waterfowl Rescue
Shelby May nominated A Tail to Tell, Inc.
Chris Tidd nominated Interfaith Food Alliance
Amy Vaught nominated Stars and Stripes Honor Flight 
Congrats again to all of our amazing winners. Look for our next giveaway soon!
Curious about SignUpGenius and want to get started?