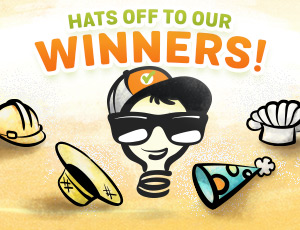 Our hats are off to all of the geniuses who entered to win $1,000 for a nonprofit of their choice! After nearly 11,000 entries were submitted in our volunteer appreciation giveaway, we chose five winners at random.
Each individual will receive a $50 Visa gift card along with the donation to their charity. Meet the winners: 
Bicentennial PTO (Nashua, New Hampshire) — Nominated by Julie Connolly. She's the mother of 11-year-old triplets and serves as a room mom in one of the girl's classes, where she's used SignUpGenius to manage events and snack donations. "I nominated the Bicentennial PTO because I have seen all the great things first hand the PTO has done to enrich the students' overall learning experience, including purchasing technology, bringing in external speakers and performers, organizing field day and other events, enabling after school enrichment programs and more," she says. "It is a wonderful, supportive learning community!"
Charlotte Hounds Foundation (Charlotte, North Carolina) — Nominated by Rachel Foxx of Huntersville, N.C. The Hounds are a lacrosse team in Charlotte (SignUpGenius' hometown), and the foundation has helped establish new lacrosse programs in 13 regional schools by providing equipment and education. She's one of "The Foxes" a group of philanthropic women that also serve as the official dance team. With the money, they plan to create a "Junior Fox" program. "The goal is to create a youth program for girls that want to help volunteer in the community, learn public speaking skills and become ambassadors for the sport of lacrosse," Foxx says.
Junior Woman's Club of Loudoun (Leesburg, Virginia) — Nominated by Trina Behbahani of South Riding, Virginia. "JWCL is celebrating it's 65th anniversary of service, and it seemed fitting to nominate this organization that with only 35 members, no paid staff and a shoe string budget helps to improve the lives of others through volunteer service," she says. Behbahani uses SignUpGenius to coordinate the nonprofit's volunteer services, including coordinating RSVPs and collecting donations and supplies.
Mattie Miracle Cancer Foundation (Arlington, Virginia) — Nominated by Heidi Anderson of Alexandria, Virginia. "MMCF was established after Vicki and Peter Brown lost their only child, Mattie, to childhood cancer. MMCF is dedicated to addressing the psychological needs of children and families living with childhood cancer as well as educating health care providers on the impact of such a diagnosis on children and their families," she says. Anderson uses SignUpGenius for volunteer duties at her school and church, and Mattie Miracle Cancer Foundation uses SignUpGenius to organize volunteers for their annual awareness walk.
St. Jude Children's Research Hospital (Memphis, Tennessee) — Nominated by Zach Bentley of Vanceburg, Kentucky. If you're not familiar with this large nonprofit, consider this: The nonprofit has more than 9 million active donors to help accomplish its mission of eliminating pediatric cancers.  "Thanks for holding this wonderful giveaway. I've wanted to donate to this organization for quite some time," Bentley says.
In addition, SignUpGenius users who purchased SignUpGenius Pro during National Volunteer Week were automatically entered to win one of 20 free T-shirts. 
Here are the 20 t-shirt winners: 
Alice Tarkington
Karen Romadka
Michelle Abel
Lindsey Kell
Janet Schmieder
Susie Gabel
Nathan Bledsoe
TechCrunch Disrupt
Natalie Kebe
Hogan Lovells
John Brandt
Jennifer Swenson
Heather Mersberger
Polly Crisson
Teena Singh
Brandy Marion
Laura McKenzie
Ashley Anton
Lisa Mitchell
DePaul Admissions
 Congrats to all!