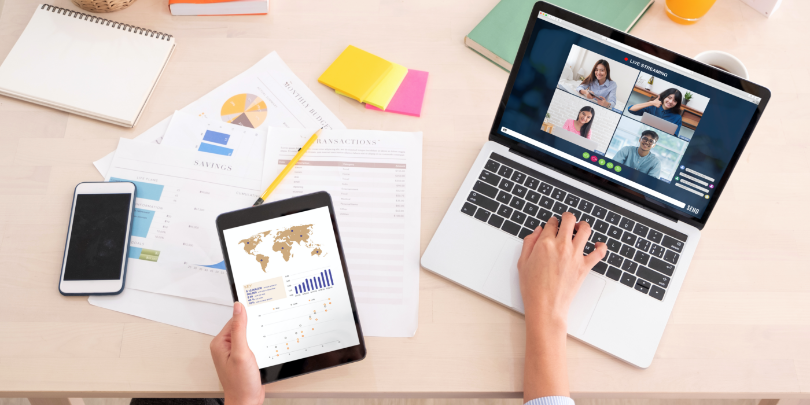 Event planning can be a daunting task with endless meetings and details to organize, and the same can be said for virtual events — just minus the physical location. At this moment in time, there's no need for you to cancel or postpone your upcoming events! The digital market provides countless opportunities with different software and programs to help you broadcast meetings, schedule appointments, manage projects and communicate with people all from a laptop away.
How do you start looking for the best options for your goals? We have gathered a range of ten tools to help you be more productive when organizing your next virtual event.
Zoom

We start off with one of the premium virtual meeting apps on the market. Zoom has an incredibly easy interface to work with so you can host one-on-one meetings or video conference calls to keep your project on track. There are multiple cool tools on this platform such as creating breakout rooms, raising a virtual "hand" to ask questions, and a screen sharing function to share slides and content.
Pros:
Easy-to-use interface
Free and affordable options
Mobile app
Google Calendar integration
Ability to participate in a video call only using audio
Cons:
Need a strong internet connection
No option for interface customization
Time cap (40 minutes) and participant limit (100 people) on free version
Potential for unwanted guests (to avoid this, make sure to follow Zoom's security recommendations)
Google Meet/Google Hangout

In recent months, Google has taken new measures to ensure that all consumers can remain productive during this time of uncertainty. Previously known as the paid, business-oriented platform, Google has recently rebranded Google Meet to be available for all types of consumers by making the service free for anyone with a Google account.
Its smaller platform, Google Hangouts, is still available for consumer use, but Google is recommending everyone take advantage of the awesome tools that Google Meet provides such as a large number of participants per meeting, international dial-in access, adaptive layouts, live streaming, and recording a meeting.
Pros:
Choose who joins the meeting
Free and affordable options
Adaptable interface
Integration with entire G Suite
Cons:
Only compatible with Gmail accounts
Time cap (60 minutes) and participant limit (100 people) on free version
Problems with audio quality on calls with larger groups
Whova
While its original intent was meant for in-person events, Whova is an all-in-one event management software that can help you through all the steps of creating a virtual event. If you are in the process of moving an event such as a large conference or networking function online, this product would be ideal for you.
Whova has won numerous awards in the technology industry and provides its customers with invaluable tools for event registration, event marketing, creation of an event website, agenda management, attendee check-in, and a conference app making participant interaction a breeze.
Pros:
Great for large conferences
All-in-one software
Collaboration between event attendees
Agenda management
Cons:
Messaging platform becomes cluttered
Must receive a quote to determine price
No integration with other platforms such as LinkedIn
Learning Stream

Learning Stream exists to help you get all registrations for your event online and in one location. With its focus on education and training, Learning Stream has excellent project managers that will work with you to help design your platform that can include features like multi-class management, tracking continuing education credits and generating detailed reports. This registration management system can also be integrated into existing websites for easy management of your product.
Pros:
Cost-Effective
Customizable
Great support team
Built-in reports
Cons:
Learning curve
Hidden add-on options
Must take data outside of software
GoToWebinar

If you are looking for a solid webinar and video conference system to help you be productive and plan your virtual event, GoToWebinar can help. The price plans vary based on the number of attendees and offer unlimited meetings along with features to help you plan, organize and launch your event with ease. You can choose from tools like custom webinar invitations, email and registration automated reminders, analytics and reports, and presenter tools so you can execute your goal flawlessly.
Pros:
Easy to use interface
14-day free trial
Feature-rich
Automatic meeting transcription
Cons:
Expensive, no free plan
Difficult to find support
TimeTap
Ensure maximum productivity when organizing and carrying out your virtual event by using TimeTap to help allot your time. Whether you are scheduling meetings for personal business or new appointments with clients, TimeTap is an innovative software that helps you schedule your time without the back-and-forth emails. The possibilities stretch near and far with TimeTap, such as handling online payments, working with reservations, scheduling events and job interviews.
Pros:
Highly customizable including a personalized link
Helpful customer service
Waitlist functionality
Synchronizes with Google Calendar
Integrates with CRM systems Salesforce and Infusionsoft
Cons:
High learning curve
Difficult to find customizable features
SignUpGenius

SignUpGenius is an online sign up software that makes coordinating volunteers and events easier than ever. With an abundant suite of features and tools to get you started, the site can streamline your efficiency, and you will have your event organized in no time. In addition, SignUpGenius has plenty of helpful integrations with other applications like Zoom, Facebook and Gmail to kick start your virtual planning process.
Pros:
Easy-to-use and customizable
Free and affordable pricing options
Automated event reminders
Numerous integrations with other applications
Advanced reporting feature
Award-winning customer support
Cons:
No CRM system (can integrate with one)
Advanced features can be tricky at first
No check-in feature
Trello

Keep track of your progress and manage all of your ongoing projects with Trello. This software creates a virtual board so you can see how far along you are on your work and which tasks still need to be completed. When working with other people, Trello makes sure that geographical differences are never obstacles and there are no barriers to communication with the ability to move task cards, comment and tag people.
Pros:
Add labels to indicate priority
Automatic email notifications
Mobile app
Easy-to-use
Free and affordable subscription options
Cons:
More suitable for smaller operations
No built-in functionality for reporting
No Google Calendar integration
Slack

Slack is a messaging platform designed to facilitate collaboration and communication between team members in a more natural and efficient way than email. Each project can have its own designated channel, where people working together have a space to share files and discuss ideas. For any functionality that the software may not directly support, Slack has an incredible selection of add-on apps and bots that make it a perfect communication tool.
Pros:
No training required for use
Centralizes communication
Reduces email traffic
Keeps archived messages
Continuously updates and brings new features
Cons:
Paid version is a bit higher in cost than competitors
Can be overloaded with notifications
Bloomfire

With Bloomfire, you can centralize brainstorming sessions and important information on your event for volunteers and staff to access easily. Bloomfire has a unique Q&A aspect where people can ask and answer questions, and the conversation is kept so that information can be a guide for others. This platform is a great hub where people can access and share knowledge at all times.
Pros:
Highly customizable
Many integrations including Slack, Salesforce, Chrome and OneDrive
Mobile app
AI-powered search
Advanced analytics
Cons:
Difficult to manage users
Search results can be cluttered
No free trial or free version available
Start off by creating your goals and objectives, and then identify areas where you could use some help from digital tools that will save you time in the long run. Don't forget, mixing and matching solutions is a great way to maximize your productivity so you can organize an awesome virtual event!