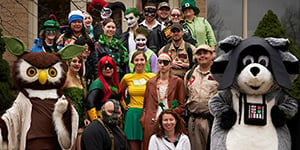 In Fort Collins, Colorado, you can find action heroes, comic book characters and sci-fi geniuses all in one spot.
Fort Collins Comic Con — an annual convention that encourages youth literacy through comic books and other pop-culture mediums — raised $45,000 for the Poudre River Public Library District in two years. All of their badge sales go to the library district.
In addition to the annual Comic Con, the group organizes events throughout the year that focus on what co-founder Nick Armstrong calls "inclusive, representative geek family fun."
"We typically enlist the help of between 50 to 300 volunteers each event," Armstrong said. "SignUpGenius has been essential to building a dedicated volunteer base for Fort Collins Comic Con."
Fort Collins Comic Con also organizes events such as an annual Star Wars Kessel Run 5K Fun Run/Walk and a Harry Potter Pet Walk and Craft Night.
"Because each of these events have wildly different scales, we tend to focus on similar scopes for each volunteer position," Armstrong said. "Most of our events require two or more lead organizers who pull together the vision for the event, along with several sub-organizers who pull together individual areas, activities or programming at the events."
After leaders outline different volunteer opportunities, Fort Collins Comic Con lists those opportunities as slots on a sign up, and then volunteers can choose where they want to help.
"Logistically, SignUpGenius makes it easy for our volunteers to pick out the spots they want to participate in," Armstrong said. "SignUpGenius also makes it very easy for volunteers to sign up with their friends and identify remaining open spots, meaning that our volunteer needs are filled more quickly than if we ran a manual sign up sheet."
SignUpGenius is happy to help groups like Fort Collins Comic Con leverage genius fun to bring people together and raise money for a good cause!
Photo courtesy of Mike Barry at FortCollinsPhotoWorks.com