Blog
/
Inspiration
/ SignUpGenius Helps Fitness Trainer Organize Personal and Group Classes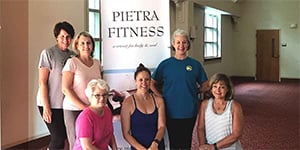 Betsy Hoyt is practically Wonder Woman.
A personal trainer, nutrition coach and small group fitness instructor, Hoyt specializes in perinatal fitness, teen athletic conditioning, as well as senior citizen and de-conditioned adult training.
She started her personal training business, EDH Solutions, LLC, in 2015 with the purpose of "promoting the feminine genius through intentional fitness and nutrition." She teaches the Pietra Fitness technique, a holistic "body and soul" exercise program.
With more 350 clients every quarter and five classes per week, Hoyt needed an efficient way to organize participants.
"Using SignUpGenius has transformed my ability to organize and streamline customer service for my clients and class participants," she says.
Hoyt, who is based in Huntersville, N.C., offers classes throughout the Charlotte region. She says one reason she loves using SignUpGenius is it allows her to reach people in specific areas by creating localized sign ups.
"I can count several occasions when inclement weather caused class delays or cancellations," Hoyt says. "With just a few clicks I was able to send a quick message to the participants. I can also reach out to all of the participants with new program offerings and promotions, and it's all just a few clicks away!"
Other features that Hoyt finds useful are automatic confirmations and reminders (which allow her to "reach out to new participants immediately in order to personally connect and encourage their participation") and the ability to export reports.
"I have benefitted in so many ways by using this 'genius' service," Hoyt says. "In my business, I have been able to plan and forecast accordingly, as well as accommodate the needs of the people I reach through reports and data capturing."
And Hoyt doesn't just use SignUpGenius for professional purposes.
"I was able to set up a huge (sign up) for a friend who had a terrible loss this past spring. Her 22-year-old son was killed in an auto accident on Mother's Day," Hoyt says. "I was able to assist in organizing funeral arrangements as well as meals. If I didn't already have the tremendous confidence in the service I would not have been able to assist in the way I was able to."
We are honored to help Betsy make a difference at work and in her community. That's genius!