New Jersey Teacher Rallies Support for Local Front-Line Workers and Restaurants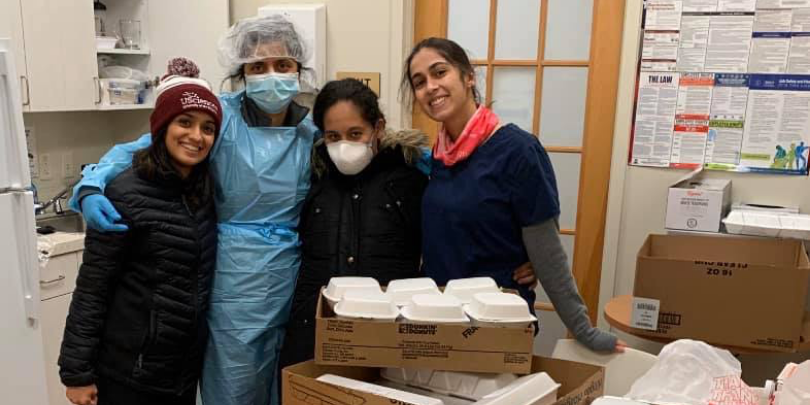 People are organizing extraordinary efforts to support their communities during the COVID-19 pandemic. Even with social distancing, groups are finding meaningful ways to connect and care for others.
Shawn Temple, a high school English teacher, wanted to show appreciation to the front-line essential workers in her hometown of Somerville, New Jersey. She started a local chapter of FLAG (Front Line Appreciation Group) to provide meals to staff at Robert Wood Johnson University Hospital in Somerville. The original FLAG group started in the Madison/Chatham area nearby, and chapters opened have around the country.
FLAG Somerville supports local restaurants as well as healthcare heroes. Temple was familiar with SignUpGenius from her class events and used the site to create a sign up with slots for breakfast, lunch and dinner. Volunteers sign up to sponsor 10-20 meals prepared by a local restaurant and delivered directly to RWJ Somerset hospital. The group's hospital contact delivers the meals to staff in particular departments based on need.
"Right now, we have various COVID-19 units (in the hospital), so they are very busy and swamped," says Temple. "The food delivers both nutrition and hopefully a little increase in morale — just to know that the community cares so much and thanks them so much."
Organizing with SignUpGenius helped Temple see the enthusiasm for her idea and gave her confidence to establish the FLAG Somerville group. Volunteers powered the new chapter with excitement to help both local healthcare staff and businesses.
"What I enjoyed so much about SignUpGenius was the ease to create a sign up and the ability to email the participants," says Temple. "The features really allowed me to communicate with others (who I don't know) and to get the word out there. The social media feature is also key because it was easily shared among friends and community members."
FLAG Somerville doubles its impact with a mission to uplift front line workers and local restaurants. We're inspired to see their volunteers grow a movement of generosity during this critical time.