Surviving Summer (with Kids)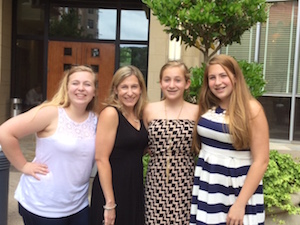 Our Senior Support Analyst, Amy, has been with the company for over 4 years. We asked this former teacher and mom of three, who lives and breathes Auburn football, to spill the beans on her tactics for "surviving" summer. She shares: 
Moving into our 3rd office since SignUpGenius began, I have been a little nostalgic as I reflect upon the changes in our company and in my own family over the past 4 years. With 17-, 15,- and 12-year-old girls, our summer days look much different than when they were 13, 11, and 8. It really does go by fast. Here are just a few activities that get us through those hot, summer days… then and now! 
THEN:
Library visits: free books, magazines, and DVDs
Pools and splash parks
Craft classes: many at Michael's, Home Depot, Lowes
Playdate swaps = break for Mom
Free movies (bonus: air conditioning, naptime for Mom)
Video game rentals
Attending Vacation Bible School (VBS)
Beach boogie boarding, sand castle making, and flying kites.
NOW:
YMCA Memberships
VBS volunteering
Going on mission trips
Babysitting, pet sitting, plant caretaking, part-time jobbing
Beach sunbathing, walking, and reading
Overnight camps/retreats
Netflix binging
Shopping
Then, we made dinner together. Let's face it, now we're lucky if a) there is food in the house for dinner and b) there are people there to eat the food. 
Then, we got a little sick of each other. Now, we miss each other. 
My takeaway? It's not so much about what you do together, but more about being together. Show your family they matter. Rest assured, fall (and Auburn football) will be here before you know it! 
Need some memory-making inspiration this summer? Be sure to check out our tips for making family memories and unique family night ideas! 


Amy Tidwell
Senior Support Genius