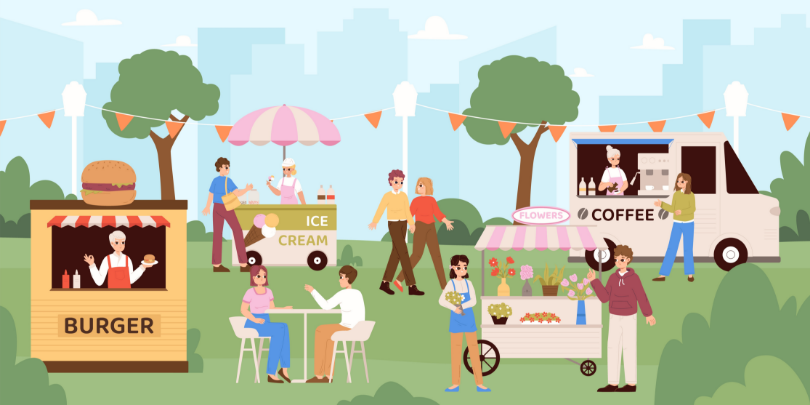 Organizing a food fundraiser is a rewarding way to gather your community, indulge their taste buds, and raise funds for a worthy cause. Whether it's the heavenly aroma of baked goods, the sweetness of candies, or the smoky allure of BBQ, food fundraisers have an innate ability to bring people together.  
However, orchestrating such events requires meticulous planning and efficient execution. That's where SignUpGenius steps in, empowering you with innovative features to streamline your food fundraiser planning.  
In this blog post, learn four essential features that will help you make the most of SignUpGenius to organize a successful food fundraiser. 
1. LumaPay: Elevate fundraising with easy online payments 
In our digitally driven world, online convenience is paramount. SignUpGenius uses LumaPay, powered by Stripe, to offer an online payment solution that makes your food fundraiser even more accessible and efficient for participants.  
When you create your sign up, it's easy to assign optional or required payments to sign up slots.  
Use LumaPay in your food fundraiser sign ups to: 
Accept online payments for pre-orders 
Gather donations 
Get payments for t-shirts or event supplies 
Attendees will love the convenience of signing up and paying on one platform, and your team will appreciate the peace of mind knowing that payments will be automatically transferred to the designated account. It can even eliminate the need for paper money and payment volunteers at the fundraiser.  
It's easy to get customizable payment reports at any time for accounting purposes, helping you better plan for next year's event. In just a few clicks, you can take care of sign ups, payments, and next year's planning. 
2. Auto-populate time slots: Effortless volunteer scheduling 
A successful food fundraiser relies heavily on the dedication and enthusiasm of volunteers. SignUpGenius empowers you to efficiently manage volunteer shifts by quickly adding time slots to your sign ups. Whether it's helping with promotion, preparing food, or managing the event logistics, volunteers can easily select their preferred shifts, ensuring a well-organized and smoothly executed fundraiser. 
Auto-populated time slots take care of the busy work of building your sign up so you can focus on the areas that matter most. Find this feature in the Add Dates button from the Slots tab of the sign up builder. You can choose any time increment you need – from just a few minutes to hours – and the sign up will automatically create those time slots for you. You can then assign any quantity of volunteers that need to fill that shift, from one volunteer to hundreds. 
3. Customizable sign ups: Include all your event's delectable details 
For a successful food fundraiser, you want to make it easy for potential attendees and volunteers to recognize your event branding and easily find information. SignUpGenius offers customizable sign ups that enable you to do both.  
Sign up creators have access to hundreds of sign up themes built by professional designers for a range of events, seasons, and layout preferences. If your fundraiser has a logo or photos, you can easily add them to your sign up theme. With a subscription, you can even customize the sign up's layout and colors without having to use a pre-built theme. This ensures your event branding stands out to participants and delivers a professional, organized look and feel. 
While design is important, attendees and volunteers can use your sign up as a resource for event information and instructions. You can add any information needed to the description field, and further customize the font type, size, and color to match your sign up. Not only will your sign up be a place for registration and payments, but participants can use it as a quick way to get up-to-date information about your fundraiser. 
4. Automated confirmations and reminders: Boost engagement and attendance 
It's one thing to get attendees and volunteers signed up for your fundraiser – but it's another thing to make sure they attend the event on time and at the right location. With automated confirmation and reminder messages, you can have peace of mind that you're doing everything possible to keep your event top-of-mind for participants. 
SignUpGenius will automatically send confirmation emails to participants immediately after they sign up. This message will include the date, time, location, and quantity they signed up for. They will also be able to download a calendar invite for their sign up, allowing them to add the event to their personal calendar.  
Sign up creators can also set up automated reminder messages, scheduling them to send however many days before the event they prefer. SignUpGenius will automatically send reminders to participants with their specific sign up information. This makes sure your attendees and volunteers don't forget about their commitment and get access to the information they need before the event. 
A food fundraiser isn't just about raising money or good food; it's a chance to unite your community around a shared goal and create lasting memories. By incorporating these four essential tips and harnessing the versatile features of SignUpGenius, you can elevate your food fundraiser from ordinary to extraordinary.